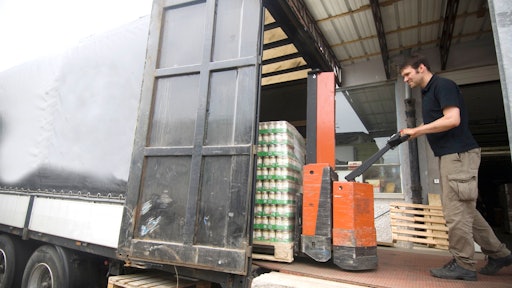 Getty Images
Look around your warehouse, and you'll see tons of products, carefully packaged and stored. Take a fresh look, and you'll also see opportunities to improve efficiencies and sustainability, in everything from packaging to pallets.
Collaboration helps us find and capitalize on those opportunities. Working with strategic partners empowers us to do a better job of meeting expectations faster, easier and cheaper, while shrinking the impact of operations.
Learn From the Leader
One of the best examples of effective collaboration is Walmart's Project Gigaton. With this initiative, Walmart is working to take out a gigaton (one billion metric tons) of greenhouse gases from the global value chain by 2030. By creating the program and rewarding suppliers that make progress, Walmart is improving operations and sustainability throughout the supply chain. It's strategic collaboration at its best.
Happily, companies don't need to be the size of Walmart to form powerful partnerships, improve efficiencies and help the environment. Companies of all sizes are finding that working together works. It's a matter of finding the right partners for specific programs.
A Perfect Partner Can Be Within Your Existing Suppliers
It might surprise you to learn that the right partner could already be one of your existing suppliers. By working with others in a similar space or adjacent industry, companies are collaboratively unlocking value throughout the supply chain.
Such strategic partnerships begin with open discussion. It's important to have shared goals that lead to value creation. Establish metrics. Then, move forward.
For example, how many empty miles are in your supply chain? Wasted trailer space has become a major issue for the food industry, and throughout the supply chain. While year-to-year statistics vary, U.S. trucks drive billions of miles without cargo annually. Those empty miles burn billions of gallons of fuel, and contribute to the environmental issues we all want to address.
Working together, we can reduce empty space and its negative impact. Collaborative transportation solutions use data obtained by new technology to identify transport flows, match shipment needs among companies with complementary routes, and eliminate empty miles. The technology enables efficiencies.
Are you maximizing trailer space today and, if not, could you share any empty space with an industry-adjacent company? Possibly. Would both companies, and the environment, benefit? Definitely.
A Juicy Success Story
Packaging presents another opportunity for sustainable operational improvements. Look at how your goods are packaged, whether you're using corrugate or a shared and reusable plastic container. How about shrink wrap? Are you using the optimal amount? Remember: As your warehouse team breaks down the unit load, improved packaging can reduce costs, drive efficiencies and boost sustainability.
One great example: Packaging was a top concern for Harvest Hill Beverage Company when it acquired Juicy Juice. The company wanted to ensure the product packaging, transportation, shipping and handling protocols were as efficient as possible. Was there a better approach to unit loading? Could product damage be reduced?
To answer those questions, Harvest Hill traveled from its home in Connecticut to collaborate with an ISTA-certified facility in Florida. The company brought 18 different Juicy Juice loads, including bottles, pouches and boxes. Harvest Hill tested different sizes, packaging, case dimensions and unit load configurations. When the results were in, Harvest Hill had the data needed to achieve greater efficiency, reduce product damage and generate supply chain cost-savings.
Don't Go It Alone
If your company is already considering how collaboration outside your walls can improve your supply chain, fantastic—you're one step ahead. However, for many companies, collaboration is not second-nature; they cling to the misconception that they can go it alone. They're pretty sure they have the best mousetrap.
If that's your thinking, you could be right. But keep this in mind: Someone else might have better cheese. Collaborate, and find out.