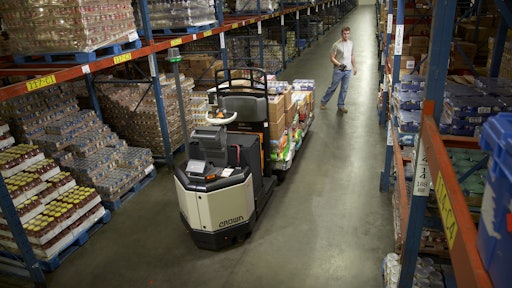 Crown Equipment Corp.
After speaking to executives at several leading lift truck manufacturers, it became increasingly clear what has been behind a wave of innovation in materials handling equipment—the access to labor.
According to Yale Materials Handling's Director of Industry Sales Will Brinson, technology is being used by many of today's businesses to reduce the pain point or risk of an ongoing labor shortage. In order to maximize the use of labor (and because the need for lift truck operators isn't going anywhere), Brinson says companies are now focusing on how technology can make their operators as efficient as possible, so labor can be repurposed for other applications inside a customer's facility.
"The food and beverage industry is pretty seasoned in what they do and how they do it. What we're seeing is, 'How do we continue to be as efficient as possible in those applications with the changes that they're dealing with?'" says Brinson.
The following article explores a few of the technological advancements aiding companies in adapting to industry changes—from self-driving and telematics enhanced lift trucks to virtual reality-based training modules.
Automated Lift Trucks
Many lift truck manufacturers have introduced semi- or fully-autonomous lift trucks over the last few years, driven by the labor shortage and a need for efficiency and safety.
Crown Equipment Corp., like many forklift manufacturers, has taken a dual-mode approach to self-driving forklifts, which means offering a vehicle that can operate by itself but can also be operated manually if needed.
"What you're starting to see more and more is a need for autonomous vehicles and people to work together," says Jim Gaskell, director of global technology business development for Crown Equipment Corp. "There are parts in the process where the vehicle arrives in a certain area and you might want an operator to drive it deeper into the aisle or a line-side delivery, and then send it back on the long-distance travel by itself."
In fact, the biggest opportunity for automated materials handling equipment, he adds, will be eliminating man-powered horizontal travel.
"Customers would like to do that without having a person on it, and then use the people to do the more complicated tasks like loading the vehicle," Gaskell explains.
Crown offers a semi-autonomous truck that allows an operator to stay off the vehicle and operate it via a remote control that they wear on their hand. The operator can keep the vehicle ahead of them, while they de-pick and build the pallet.
"We've eliminated some of the steps that it takes for them to control the truck and build the pallet. He can just push a button, and the vehicle will self-navigate itself down the aisle to get to the next slot," explains Gaskell. "What that's doing for the customer is improving their productivity by many times, double digits."
Automating repeatable tasks is another big benefit to automated lift trucks. Robotic lift trucks can not only move product horizontally, but they can move material up and down an application, such as putting away pallets or taking pallets out of racking. These lifting abilities eliminate some of the more mundane tasks, leaving human operators free for more complex tasks.
"The robotic lift truck can maintain this over a longer period of time, meaning you don't have to worry about an eight-hour work day; you don't have to worry about coffee breaks or restroom breaks. You've got a lift truck that will do a continuous cycle until you tell it not to. And then you can take an operator that was doing that and put them in an application that requires human intervention," explains Yale's Brinson.
Telematics
here has been a proliferation of low-cost telematics on lift trucks for a number of reasons. According to John Rosenberger, Raymond's director of iWAREHOUSE Gateway & Global Telematics, a push for safety is a big one, as well as the potential for increased efficiency, especially in the food and beverage industry where they are consistently looking to optimize the processes of the warehouse.
"You want to get efficiency up because margins are always getting thinner. We have to move a lot more product, move a lot different product. It's not just moving whole pallets of things anymore; many warehousing applications now move cartons or even items. Thus, you try to optimize those types of things," he explains.
But you can't optimize unless you measure. 
"You don't know what's going on unless you measure something. The telematics systems that you're seeing proliferate throughout the warehousing equipment are for that purpose," Rosenberger says.
Telematics systems aid in this by broadcasting and recording information that a lift truck is naturally keeping as a part of its day-to-day routine—whether that's hour meters, particular checklists or movement inside a facility—so that an individual customer can keep track of their own KPIs.
In general, Yale's Brinson says what telematics are really tracking "is what lift trucks and material handling equipment is doing in its environment."
"The telematics device allows that information to be read, so that we're no longer looking at just data. We're transitioning that data into information that can provide solutions or recommendations for ongoing best practices," he adds.
Those best practices include better maintenance management, driver best practices and training, and more.
"When you monitor how the person is using the truck…you can start instilling best driving practices…that can lead to improvements in my bottom line as a warehouse manager or owner of the corporation," explains Rosenberger. "By being able to capture that type of data from the vehicles in real time, over the course of days or weeks or months, companies can analyze that data to make more informed decisions."
Lift Truck Simulators
While finding good labor is an obvious struggle in almost every warehouse across America, retaining that labor after they're hired can be even more challenging. This trend has led to a slew of creativity in training modules, including the use of virtual reality technologies to attract and train lift truck operators.
"If we look at the generation coming in to fill those workforce gaps, it is millennials, and they're really intrigued by technology; they're tech savvy," says Stacey Patch, business manager, Raymond Virtual Reality Simulator. "[Virtual reality is] interesting to them, but it's also helping to enhance their confidence; it's engaging them.
"We can use this tool to help that learner become comfortable and confident on that lift truck, so that they can go into the warehouse and operate and hopefully maximize their efficiencies as they're picking. Using these types of technologies is really helpful for engagement and enhancing the overall learning experience," Patch adds.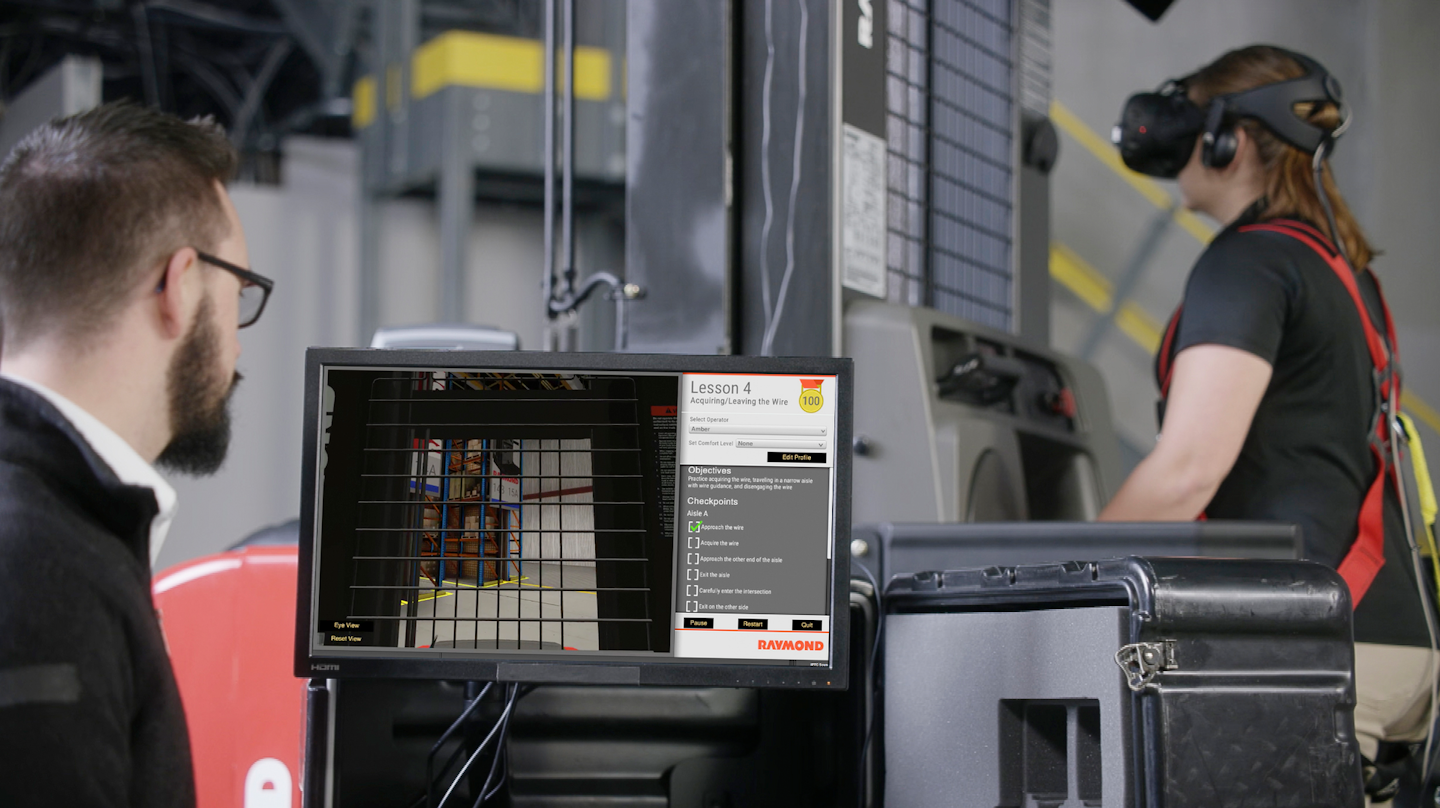 Virtual reality simulators appeal to a younger workforce and have the potential to reduce turnover by providing a more engaging training method.The Raymond Corp.

Raymond offers a simulator that utilizes the actual lift truck and controls the operator would be using on the job. New hires undergo a series of lessons based on the customer's unique operation. For example, one lesson could teach operators the step-by-step process of engaging a pallet within a narrow aisle—basics such as: what steps are required to do it properly and avoid incidents within the scenario?
"It's teaching best practices from the perspective of somebody brand new to operating…and allowing them to grow their skills in a really immersive environment," says Patch.
Raymond has also found that utilizing a VR simulator in an environment with reduced distraction can help enhance the retention of information. Traditionally, a significant part of the warehouse had to be carved out when training on equipment to ensure a safe and secure environment.
"The safety quotient of the VR simulation is that you don't have to use that real estate," says Raymond's Rosenberger.
While Crown doesn't currently offer a VR simulator, Gaskell says they continue to talk to customers about its potential.
"They're trying to figure out where it fits in the training plan—either because of the high turnover of training operators or they're trying to supplement training with simulation—and it does have some benefits. It's not a replacement for [traditional methods], but it certainly could help enhance training." 
Follow Amy Wunderlin on Twitter.