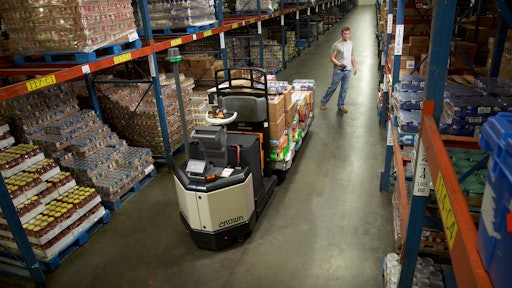 Whether it's a counterbalance forklift truck, reach truck or hand pallet truck, it is imperative that, in order to select the ideal lift truck, you must first sketch out the specifications and features necessary for its intended application—in other words, there is no such thing as one-size-fits-all lift truck. You must determine what your operations call for in terms of the type and configuration of lift truck, quantities of product to be moved, categories of inventory, product flows and options that may improve the productivity, safety and efficiency of not only the tasks at hand, but also work well in the environment in which it is operating.
Do you need a lift truck that functions in a cold chain or otherwise harsh environment? Requires telematics? Is fully or semi-automated? Aligns with the estimated total cost of ownership allocated for procurement? Ensures ongoing and consistent performance, while needing little maintenance? Luckily, all of that is on the market and more, not to mention many solution providers are performing their own custom lift truck engineering for even more targeted applications. The trick is to find the right combination of form and function.
It can be daunting when determining application requirements for the food and beverage industry, particularly when dealing with refrigerated, frozen, organic and other products that require special attention due to freshness and quality thresholds. Mick McCormick, vice president of warehouse solutions at Yale Materials Handling Corporation, suggests having a detailed dialog with potential lift truck solution providers to pinpoint the demands of each application. He offers an example: "Cold environments present special maintenance and ergonomic challenges. Equipping trucks with the proper ergonomic features like heated floors and handles, and spacious operator compartments that account for bulky clothes and gloves, provides a higher level of comfort for operators and allows them to be more productive for longer periods."
"By understanding short- and long-term goals for growth in either inventory and product movement (or both), and then working with a material-handling supplier that can help quantify the type of forklift and quantities needed, the supplier should have the tools to effectively analyze the customer's needs using its experiences and resources to develop a solution that will benefit the end user by providing sound, proven alternatives and technology choices," elaborates Perry Ardito, general manager of warehouse product at Mitsubishi Caterpillar Forklift America (MCFA) Inc. Therefore, it behooves food and beverage organizations to enlist prospective solution providers as early as possible. They can help speed the vetting process by establishing concrete short- and long-term supply chain goals earlier, while ensuring a better alignment of lift truck performance to the application and environment.
Greater Storage Densities Drive Lift Trucks to New Heights
Due to social media, the 24/7 news cycle and ever-expanding delivery services, contemporary consumers are more informed and more demanding than ever before. They know what they want, and how and when they want it. For instance, consumers now demand a bottle of artisan blueberry-infused seltzer instead of a bottle of water. This product stratification translates into the need for more SKUs, but also more ways of efficiently storing and moving those SKUs in a constrained space, and more channels to sell and distribute those SKUs.
More and more, food and beverage organizations are meeting consumers' expectation of more SKUs by adding capacity to warehouse and distribution centers vertically as opposed to horizontally—or up instead of out. Jim Gaskell, director of global technology and business development at Crown Equipment, notes, "Industry research shows that it is less expensive to gain pallet positions by going up rather than expanding the warehouse footprint. To give our customers the ability to place heavier loads at higher heights, [Crown Equipment] introduced a number of lift trucks that offer faster speeds, more capacities, higher elevations and greater operator control."
With SKUs literally reaching new heights, so must lift trucks. Ardito confirms that, with the deluge of SKUs, the food and beverage industry is redesigning racking systems to increase storage density to deal with the extra inventory. This translates into the need for narrower lift trucks with the capacity to reach higher racking levels. He says food and beverage companies must be able "to access most SKU locations and, therefore, are using order picking forklifts, or order pickers, to get personnel elevated into the racking to select cases of product (as end users do not always order a full pallet and may only need a few cases picked). The capabilities of the lift truck should include the required capacity to handle the picked products, the lift heights needed for access, and technologies that would make the operation and operators more productive and safe."
In order to accommodate these new heights, lift trucks intended for this specific use need to be extra stable, not only for employee safety, but also employee confidence in their safety, so they can be as productive as possible. Ardito says, "The stability of the lift trucks is really dependent upon the design and engineering, and in Europe, where lift heights typically exceed North American markets (although we are catching up), there has always been a strong focus on ensuring that the truck and operator have the capability, at any height, of feeling secure due to the enhanced stability."
In addition to stabilizing employees so they feel secure, lift trucks going the proverbial extra vertical mile in the warehouse should also offer a wider range of visibility, so operators can better see what they're doing. According to Sue Rice, product manager of pallet trucks and stackers, and Susan Comfort, product manager of narrow-aisle products, The Raymond Corporation, "With taller buildings and racking systems, many customers rely on cameras and laser guidance systems on the forks of a truck for more precise and safe product placement in racking. Laser lines directed into the pallet opening help the operator to see where the forks must go. Shelf-height selectors automatically stop the forks at preselected heights."
Shortage of Labor to Spur Use of Automated Lift Trucks
The chronic shortage of qualified labor in the food and logistics industry is boosting interest in automation, including automated lift trucks, also known as automated guided vehicles (AGVs). Removing labor from the equation not only saves on costs, but also reduces the safety risks that comes with employing people, especially those performing dangerous or repetitive tasks that threaten or strain the body. Every three days someone is killed in a lift truck-related accident, according to Jeff Christensen, vice president of products at Seegrid, who likes the burgeoning technology because it not only takes humans out of harm's way, but also eradicates 72 percent of the total cost of lift truck ownership by phasing out labor.
Christensen continues, "Companies in the food and beverage industry need to remove costs from the distribution system and reinvest those savings into prices on the shelf to remain competitive. Employing automated lift trucks is advantageous because they simplify processes, thereby making tasks more efficient, which subsequently drives down operational costs and allows for operators to be off the floor more, reducing accidents and driving value-added work."
Although AGVs were invented in 1953, according to Christensen, the technology is exponentially evolving. While infrastructure, such as the use of magnets, wires, sensors and lasers on and under warehouse floors, is still in vogue to guide the autonomous lift trucks, advanced vision technology is quickly becoming the new norm. Because this advanced technology doesn't require any infrastructure, AGVs are free to move wherever they need to without having to follow rigid pre-determined guidelines.
McCormick explains, "[Many] robotic lift trucks leverage advanced sensor technology for guidance, creating an internal map of their surroundings and comparing it to what their vision systems see. This infrastructure-free navigation enables reduced startup time and cost, and easy adjustment to changing layout configurations. Ideal for a wide range of load transportation applications, these robotic lift trucks independently pick up, transport and drop off pallets anywhere on the floor, improving labor productivity by executing low value-added tasks and minimizing unnecessary stops."
With the newfound freedom of movement of autonomous lift trucks, however, comes the responsibility of personnel and equipment safety. Since there are no visual markers or infrastructure to avoid, the onus of safety shifts from the employees to the AGVs themselves. Christensen notes that these AGVs are typically equipped with sensor technology that detect obstacles and halt the lift truck when necessary, while also being "programmed to move at a calculated speed, which prevents spilling or damaging goods if the vehicle detects an obstacle and is forced to stop abruptly."
If you think that, because this technology is so forward-thinking or technologically advanced, it'll be forever out of your price range, you may want to reconsider. Gaskell notes, "We are starting to see new lower cost sensors and other improvements in technology that should make AGVs more practical for a wider range of applications in warehousing and distribution in the near future. While the vision of a food and beverage warehouse with all tasks being performed by automated vehicles is still in its infancy, there are some tasks that automated vehicles can deliver an acceptable return on investment today."
Some of the tasks that today's AGVs excel at or environments that may be good candidates for lift truck automation include:
Picking product that would require an operator to get on and off the truck multiple times in the same aisle.
Repetitive, horizontal or long-haul travel along the same route.
Distribution centers with a three-shift operation in place. Instead of hiring more employees to work multiple shifts or peak seasons, AGVs can accomplish the work for all three shifts without needing to stop.
Larger, more complex environments where flexibility is a must.
Better Connectivity Equals Better Decision-Making
The future of the lift truck is now. These vehicles are not only moving product from Point A to B, but they're evolving to become an even more critical component of the warehouse or distribution center as a vessel for data, with the use of the Internet of Things (IoT) propelling it even more rapidly. Gaskell says, "Because of its role and close proximity to warehouse activity, the lift truck is one of the primary data collectors in the warehouse. Crown envisions a connected warehouse in which the forklift becomes not only a roving sensor that reaches parts of the warehouse no other system is reaching, but is also a hub that collects data from various other devices, acts on this data, and consolidates and analyzes it for other systems."
Many lift truck solution providers are already implementing these features and technology to varying degrees. For example, Crown is beginning to deliver interactive dashboards that provide fleet-wide visibility into myriad data, such as battery usage, impact history, truck utilization, maintenance needs and more. Similarly, Yale Materials Handling Corporation put its data to use when a client "noticed a high frequency of impact alerts in the same location at a common time of day. Management discovered condensation accumulated on the floor during those hours, causing a slippery surface conducive to a loss of traction and impacts. This insight gleaned from telemetry data led to a layout adjustment in response to real-time environmental conditions," alludes McCormick.
Expect this kind of insight to occur more frequently in the years to come as you upgrade your lift truck fleet. Not only can new lift truck capabilities help fork over more productivity, safety and efficiency for warehouse and distribution operations, but they can also help you make better business decisions overall. If that doesn't lift your spirits, what will?
Companies in this article