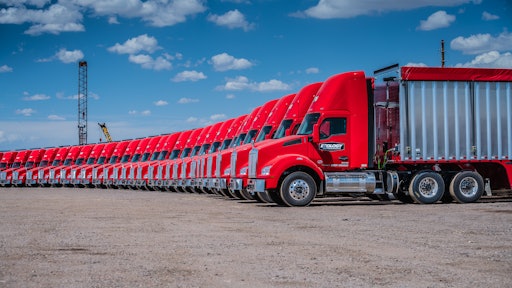 As Food Logistics wraps up our final issue of 2016, we take a look back at our analytics for the year to see what exactly our readers were most interested in. The following list includes the top 10 most clicked stories at FoodLogistics.com in 2016 as determined by our readers.
1) 2016 Champions: Rock Stars of the Supply Chain
By Editorial Staff — March 2016
Following the inaugural Food Logistics Champions: Rock Stars of the Supply Chain award in 2015, readers of Food Logistics nominated nearly twice as many exemplary industry professionals this year. The award is a way to recognize influential individuals in our industry for their hard work, vision and leadership in shaping the global food supply chain.
2) Food Logistics' 2016 Top 3PL & Cold Storage Providers
By Editorial Staff — August 2016
No one can debate the role third-party logistics and cold storage providers play in today's challenging cold supply chain is an important one. This year's Top 3PL & Cold Storage Providers list recognized the top 3PL and cold storage companies for their commitment to continued improvement in temperature-monitoring technologies, transportation management systems and warehouse management systems. To help logistics professionals know whom they can turn to for help in temperature-controlled issues, Food Logistics offers this annual award as a handy resource to transportation decision-makers, giving them an up-to-date snapshot of the capabilities of these companies and the geographic region(s) they serve.
3) Warehouse Software: Innovation Tracks Changing Market Demands
By Elliot Maras — February 2016
This January cover story explores the various types of warehouse software available in the food and beverage (F&B) supply chain industry, such as warehouse management systems (WMSs), warehouse control systems (WCSs) and warehouse execution systems (WESs). Management software has long played an important role in a company's ability to efficiently manage warehouse operations. This article looks at how the right software enables a company to deploy structural changes in the warehouse operation as it grows or if it wants to change its strategy. Such changes can include introducing warehouse automation, adding new services (such as refrigerated inventory handling) or consolidating facilities.
4) Buying Versus Leasing: Factors to Consider
By Elliot Maras — October 2016
The decision to buy or lease vehicles is one of the most important choices a fleet owner makes, given the amount of capital involved. For most fleet operators, the choice isn't an either/or type of decision. Each option has benefits. Hence, many fleets mix both options as tools to maximize their use of capital. This comparison weighs the pros and cons of each decision based on several key factors, which include the type of operation, vehicle configurations, organizational or managerial preferences, routes, work seasonality and financial considerations.
5) Leveraging the Power of Your 3PL
By Mindy Long — March 2016
An open, consistent flow of information is the first step in getting the most out of your 3PL. According to several industry-leading 3PLs, communication and collaboration are the most critical factors in establishing a successful relationship between F&B customers and their providers. The right information enables them to improve inventory turns, cut costs and improve service, especially early on in the partnership. As outlined in the cover story, in addition to having operating information and timely data, a defined common goal can lead to continuous collaboration and a healthier business relationship.
6) 2016 Top Green Providers List
By Editorial Staff — June 2016
Our annual list of Green Providers offers logistics professionals a guide to the providers, manufacturers, and software and technology companies that are finding new ways to promote sustainability throughout their operations and those of their customers. This year's list consisted of transportation providers, 3PLs, cold storage providers, technology companies, pallet manufacturers and many others who stepped to the front to become the leaders in supporting a more sustainable global food supply chain.
7) F&B Tackles Supply Chain Traceability Head On
By Elliot Maras — March 2016
Supply chain traceability has taken center stage in the F&B industry like never before as the finalization of the Food Safety Modernization Act (FSMA) forced the industry to scrutinize its food safety practices. As supply chain companies work to comply with the new law, an emphasis on improving traceability throughout the supply chain has been ongoing. A special report featured in the March issue of Food Logistics helped to define traceability, and explored what it means for the industry now and in the future.
By Elliot Maras — April 2016
In the wake of E. coli and norovirus outbreaks that took restaurant chain Chipotle Mexican Grill by surprise, Maras reports how the leader in casual dining responded to consumers' demand for fresher, locally sourced products. Chipotle's answer to the outbreak signifies challenges that the food industry as a whole faces in the modern environment. The April cover story dives deeper into advances in safety technology and traceability, and how the F&B industry can learn from Chipotle's mistake.
9) Pallet Solutions Concerns Expand Beyond Sanitation and Sustainability
By Elliot Maras — May 2016
While the Food Safety Modernization Act (FSMA) focuses much attention on sanitation and traceability in the food supply chain, when it comes to pallets, these are only some of the concerns facing today's food supply chain decision-makers, according to this May feature story. The FSMA requires that transportation equipment be adequately cleanable for intended use to prevent food from becoming contaminated, but beyond legal requirements, F&B companies are looking to validate safety and quality assurance programs in their supply chains. This article looks at how the industry is evolving to offer more customizable pallet options.
10) ERP Takes on a Bigger Role in Managing Supply Chains
By Elliot Maras — May 2016
In his May feature story, Maras explores a trend toward acquiring enterprise resource planning (ERP) software as companies grow and tasks become more complex. ERP allows companies to manage data for multiple business activities, such as product planning, cost analysis, manufacturing, service delivery, marketing, sales and more, in a supply chain where growers, processors, packers, distributors, transporters, retailers and food service operators have to collect more product information than ever and organize it for more uses.