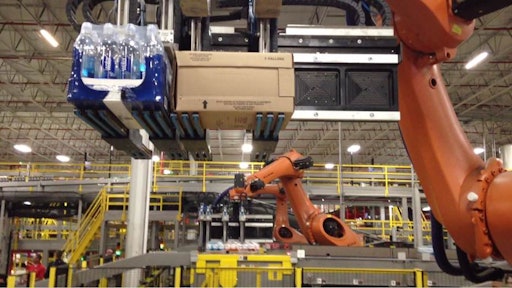 Big data and analytics have become a necessary tool for every business involved in every stage of the global food supply chain. The same can be said for publishing too.
As a fun way to wrap up our coverage in our final issue of 2015, we decided to take a look at our analytics and see exactly what articles from this past year have had the most impact on our readers. The following list is the top 10 most clicked on stories at FoodLogistics.com in 2015 as determined by our readers and our own "big data."
1. Food Logistics 2015 Top 3PL & Cold Storage Providers By Editorial Staff – August 2015
The trend for providers in the third-party logistics and cold storage sectors on our annual award issue in August were noted for adding new services to their portfolios to meet industry demands, which range from compliance with food safety and transportation regulations to customer driven requirements for real-time tracking of cargo and temperature-monitoring. The list recognizes 3PLs and cold storage providers for their commitment to improving their existing services to achieve more accuracy, improved efficiencies and cost reductions.
2. The Warehouse As A Competitive Advantage By Elliot Maras – January/February 2015
The warehouse plays a bigger role in driving growth and profitability in the food supply chain, and according to January/February's cover story evolving warehouse automation technologies is the main reason. Automation continues to add ways to streamline inventory flow as companies install automated storage and retrieval systems, automated guided vehicles, goods-to-person picking systems, voice recognition picking and software managed inventory systems to improve operating efficiencies.
3. The 2015 Food Logistics Champions By Editorial Staff – March 2015
Our inaugural "Food Logistics Champions: Rock Stars of the Supply Chain" recognized influential individuals in the industry whose achievements, hard work and leadership have shaped and helped reach milestones in food safety, efficiency, productivity and innovation throughout the global food supply chain.
4. How Robots Will Tackle Challenging F&B Demands By Elliot Maras – August 2015
The expansion of goods-to-person picking in food and beverage operations has brought about a bigger role for automated material handling systems, including more complex systems such as robots, according to this warehouse sector report from August. Robots, defined as machines that resemble humans and perform tasks on command, are still rare in food and beverage facilities in the U.S., but as technology solutions continue to evolve it will only increase the transition to more robots in the warehouse.
5. Traceability Toolkit: Software, Automation, Data Standardization By Elliot Maras – March 2015
Food and beverage shippers have a host of technology tools available to improve traceability in their supply chains, according to our feature story from the March issue. Shippers looking to improve food safety and meet stricter government regulations are finding that traceability tools also yield additional benefits like improved inventory management. As the global food supply chain adopts uniform data standards, many find these standards allow them to track inventory faster.
6. Want A Safer Warehouse? Start With Forklift Users By Eric Sacharski – January/February 2015
This warehouse sector report from the first issue of the year looked at how keeping lift truck operators safe plays a major role in improving overall warehouse safety. It also explored the safety features that lift truck manufacturers introduced at the start of 2015, and how data is used to manage a fleet of trucks to pinpoint forklift safety issues.
7. How Agile Are Today's Foodservice Supply Chains By Elliot Maras – October 2015
The cover story from our most recent issue details how the U.S. foodservice industry can try to capitalize on growing demand for immediate consumption food, and the key supply chain challenges the industry faces in accomplishing the task. The supply chain must allow foodservice providers to meet stricter safety rules at a time when foodservice faces rising commodity costs, higher transportation expenses, increasing labor costs and the need for more sophisticated management tools.
8. Mobile Apps Evolve, Empowering Managers And Employees In The Food Supply Chain By Elliot Maras – June 2015
Food and beverage businesses are now using smartphones, tablets and PCs to manage their operations, according to this software/technology sector report from the June issue. The tools give both managers and employees real-time feedback and direction; and work on a range of operating systems to improve performance in nearly every type of work environment. While these mobile networks are largely in their infancy, growers, processors, wholesalers, distributors, retailers, carriers and 3PLs are all finding mobile management makes them more productive.
9. Food Logistics 2015 Top Green Providers By Editorial Staff – June 2015
Our annual list of Top Green Providers represents the best of transportation providers, 3PLs, cold storage providers, technology companies, pallet and facility manufacturers and other companies helping to support a more sustainable global food supply chain.
10. Analyzing The Rise In Global Cold Storage Capacity By Elliot Maras – January/February 2015
In his Cool Insights column to kick off our first issue of 2015, managing editor Elliot Maras summarizes the results of the Global Cold Storage Capacity Report released by the International Association of Refrigerated Warehouses (IARW) and the Global Cold Chain Alliance (GCCA). To nobody's surprise, the report detailed how total capacity of refrigerated warehouses was up 20 percent at the end of 2014 and how analysts predicted this year to continue along the consistent growth curve. Judging by all of the announcements this year of new cold storage construction projects in the works, the report for 2015 could bring similar news for 2016.