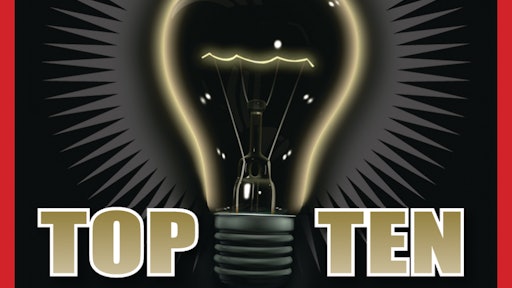 [1] Sustainability Soars at US Foods
US Foods' new rooftop solar installation at its Perth-Amboy, NJ distribution center will supply nearly 85 percent of the Metro New York division's annual energy consumption by July 2012.
The solar installation is the fourth for this foodservice giant.
Once the installation is complete, the solar panels will generate more than 10 million kilowatt hours of energy per year, which is enough to power more than 870 average American homes for an entire year.
In addition to the Metro New York division facility, US Foods recently installed solar panels at its distribution centers in La Mirada, California; Phoenix, Arizona; and San Francisco.
US Foods is pursuing sustainability in other areas. For one, the company is also certified by the Environmental Protection Agency (EPA) as a SmartWay Partner. In fact, the company's initiatives on the transportation side of the business, including reduced idling times, more efficient routing of deliveries, and more energy efficient lighting has saved the company more than $22 million in energy and fuel costs.
[2] Goya Foods Brings More Technology to the Table
Goya Foods, Inc., the largest Hispanic-owned food company in the U.S., is a leader in Latin American food and condiments. The company manufactures, packages, and distributes over 1,600 high-quality food products from the Caribbean, Mexico, and Central and South America. It celebrated its 75th anniversary in 2011.
"We've built our company on maximizing our sales by neighborhood, and that approach has worked very well since 1936," says Peter Unanue, executive vice president of operations and logistics. "But as Goya has expanded, that targeted sales strategy has added incredible diversity to our product line. In just the last five years, the number of SKUs that we carry has grown by 60 percent. That diversity gives us a significant competitive advantage, but it also has added a lot of supply chain complexity," he explains.
Goya chose several solutions from JDA Software to help eliminate manual processes and more efficiently manage its demand and fulfillment processes.
Four different JDA solutions were implemented, including JDA Demand, JDA Demand Classification, JDA Fulfillment, and JDA Order Optimization. In addition, the process was supported by JDA's Education, Implementation, and Support Services, along with JDA Performance Engineering.
"We found JDA solutions to be highly configurable, both in their functionality and user interfaces—although the solutions are very sophisticated and powerful in running algorithms in the background," says Unanue. "The people who were assigned to our project from JDA got to know our business, and that enabled them to configure the system in a way that fits our needs."
[3] Wringing Out Supply Chain Costs at P&G
Procter & Gamble announced last month that it would cut $4.5 billion from its supply chain as part of a larger plan to cut $10 billion in overall costs.
The supply chain savings will come from reductions in raw materials, transportation, and warehousing costs, says P&G's CEO Bob McDonald.
"We're working to create substitute materials that deliver the performance customers expect while saving money and increasing sustainability of supply," he adds, referring to the use of more efficient packaging to cut material and logistics costs.
More efficient packaging was one goal behind the design of the company's new Tide Pods—small, liquid detergent-filled tablets that are easier to use and less messy than traditional laundry detergent, and less costly to ship because the container is smaller.
[4] L&M Transportation Services Drives Collaboration, Visibility
North Carolina-based L&M Transportation Services (LMTS) has always worked to improve collaboration and visibility with its trucking partners and customers.
For example, the company was an early adopter of TRANSFLO Express, the document imaging and transmission technology from Pegasus TransTech that makes it easier and faster for truckers to get paid.
"The technology helps us be more responsive to our carriers, many of whom are small firms or single owner-operators," says Doug Stoiber, vice president of produce transportation operations at LMTS.
That same awareness prompted LMTS to recently invest in an upgraded transportation management system (TMS) and redesigned Web site to enhance collaboration and enhance real-time visibility.
LMTS chose MercuryGate's TMS, says Stoiber. "We were very impressed with their personnel, their services, and their level of sophistication." MercuryGate's expertise in the transportation sector was also important, he notes.
The customers' demands are becoming more complex, Stoiber says. "They need more information faster, and they need to access that information via multiple platforms and in multiple formats," and MercuryGate's ability to offer TMS via the Web was therefore a key factor for LMTS.
Likewise, the redesign of the company's Web site to accommodate the soon to be rolled out MercuryGate TMS was also a key component of the overall project.
"When we envisioned the project, we knew that we wanted to create a fully functioning electronic marketplace for our carriers and customers," says Stoiber.
[5] Infratab Tags a Winning Solution for Seafood and Shellfish
Maintaining viable seafood levels in the world's oceans while keeping it safe and fresh throughout the cold chain is high on the agenda for Infratab, the Oxnard, California-based company whose innovative approach combines EPC (UHF Electronic Product Code) and NFC (Near Field Communication) technology into one RFID tag.
The dual purpose tag allows Nicaragua's Fish Ministry to spot-check boats, buoys, and traps for licenses, while packing houses use it to receive and record daily catch and freshness (with the EPC part of the tag). Fishermen and lobstermen rely on the NFC part of the tag to identify GPS locations of traps and associate the locations to the quantity caught and other data.
According to Infratab's Terry Myers: "The results are in progress, but the benefits are significant in terms of sustainability, traceability, and freshness. When supply is in danger, as it is with the langouste (spiny lobster) population in Nicaragua, being able to have a tagging solution that is hard to counterfeit and easy to enforce, while also offering GPS tracking and monitoring of boat and temperature specifics for compliance with EU and U.S. food safety regulations, is key to enabling Nicaraguan packing houses to export lobsters harvested by artisan fishermen and ensures their freshness, too."
[6] Peeling Away Inefficiency and Finding New Opportunities at LoBue
When LoBue Citrus, a family-run grower and distributor of oranges based in Lindsey, California, was looking to automate their manual processes and boost their tracking capabilities, they were expecting to find savings in man-hours. But, they didn't quite expect to discover as many other opportunities that the implementation of technology would reveal.
A few years ago, the company participated in a pilot project that was headed up by C.H. Robinson, FoodLogiQ, Intermec, and Bayer CropScience to study food traceability, explains Tom Clark, operations manager at LoBue. Following the project, LoBue purchased Intermec's CN4 mobile computer, the PB50 rugged mobile label printer, and the PB40 portable printer.
"Prior to the implementation, just about everything we did at LoBue was manual," acknowledges Clark, including daily physical inventories, once at night and another in the morning, at two separate facilities.
What used to take about 32 man-hours shared between two employees each day was reduced to 3-4 hours for one person, who performs periodic cycle counts three or four times each week.
The other opportunity came in the way of business analysis and operational management, says Clark.
Specifically, "We're now able to use some of the cultural input from our growers, such as pesticides that may have been applied, and we're able to track that back to a specific lot via the new system."
Clark adds, "We can also give our growers feedback on how their fruit is holding up, so the technology is helping with management practices throughout the supply chain, too. Now there's interaction from the field all the way to the retailer."
[7] Silver Eagle Distributors Turns to Paylode to Fill a Void
Texas-based Silver Eagle Distributors, the nation's largest Anheuser-Busch distributor and one of the largest Grupo Modelo distributors in the country, recently turned to Paylode Cargo Protection Systems to literally 'fill a void' in their fleet operations.
In particular, Silver Eagle was experiencing damages in its route trucks used to ship cased beverage skids in 20-bay roll-up trailers.
"There was a gap between the side walls and the skids of approximately 6 to 10 inches, which was causing the pallets to shift," explains Justin Stovall, business development manager, Paylode Cargo Systems.
Silver Eagle took a look at different companies' solutions to "fill the void" in the trailer, but settled on Paylode.
"Paylode engineers designed and developed a customized, reusable void spacer that is comprised of 100 percent recyclable material," says Stovall. "Silver Eagle was able to eliminate damages due to load shift. Also, the plastic void spacer 'nests' down to 1 inch, so it takes up very minimal warehouse space."
[8] Ergologistics Gives Workers a Hand with Lift 'n Buddy
It's a bold statement to describe your product as the "Future of Hand Trucks," but Ergologistics, the manufacturer of the Lift 'n Buddy, is living up to the claim.
Lift 'n Buddy is a mobile lifting device that combines the best of a standard two-wheeler's durability and functionality, with automatic lifting and lowering capabilities.
"We're targeting the manufacturing, warehousing, distribution, supermarkets, and route-based delivery sectors," says James Dravitz, director of operations. However, it's the catch-all "miscellaneous" category that's also generating a lot of interest in the product.
The miscellaneous category is largely made up of the hospitality industry, says Dravitz, in particular, hotels, restaurants, and bars—workplaces that are associated with a lot of heavy lifting but that can't accommodate a larger piece of equipment.
Think of the range of employees who work in hotel bars and banquet departments, lifting beer kegs, boxes of beef, and beverages to refill the vending machine, and you can get an idea of how valuable the Lift 'n Buddy is in this setting alone.
According to Aaron Lamb, the company's president and founder, the ongoing improvement in worker safety standards, especially in Canada and the EU, and to a lesser extent in the U.S., are helping drive interest in the product, which can reduce worker injuries and a company's liability.
[9] Psion Finds Value in Modularity, Community
Psion's commitment to giving customers a solution that protects their investment earns them a spot on this year's list. The company's Omnii handheld products, which can be configured for a variety of users and environments, are also highly cost effective due to their modular design and use of shared components.
The Omnii platform allows companies to save up to 30 percent in hardware costs over the life of the product, according to Psion.
But, it's Psion's IngenuityWorking.com Web site that really establishes the company as a logistics innovator.
"IW is an open community, an open source environment," says Mike Wills, Psion's vice president, North America. The Web site has been up and running for just over 2 years and has attracted over 18,000 unique subscribers. It's a community of users, developers, and others who exchange ideas and suggestions, which ultimately make for a better product.
"We're stronger because of the open commitment to the conversation flow and the input of ideas because of all the submittals, all the conversations, and all the strings," says Wills. "There's typically a diamond in there somewhere."
[10] Cheers to AstraPouch for an Alternative to Wine and Spirits Bottles
While consumers took years to adjust to the Stelvin screw cap on wine bottles, the transition to alternative packaging seems to be going a little faster. Undoubtedly, the wider acceptance of more environmentally friendly packaging has something to do with it.
The AstraPouch was first developed and launched in South Africa in 2008, but the company is growing quickly in the U.S.
Not only is the pouch a superior way to maintain freshness, it's great for shippers too. One truckload of empty AstraPouch packages is equal to 14 truckloads of empty glass bottles.