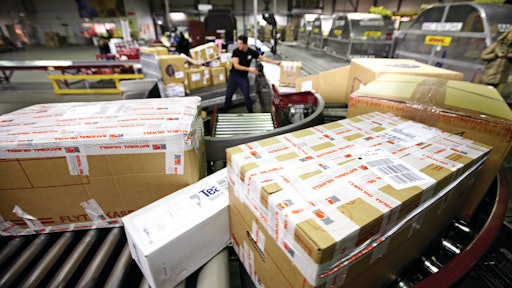 Dimensioning and weighing systems have come a long way over the years. Before cubing systems were conceived, measuring products and boxes in a warehouse was an arduous task done manually with tape measures and rulers. Manually measuring products with tape measures and rulers is not only prone to inaccuracies, but also slows down performance in the warehouse. Utilizing dimensioning and weighing systems is key to enhancing performance in the warehouse and also throughout the supply chain.
The benefits
Dimensioning and weighing systems can provide numerous advantages such as maximizing storage space, increasing sustainability in the warehouse and on the road, and managing and decreasing freight costs.
These systems better facilitate warehouse managers in their load planning process, which is essential to maximize storage space and make slotting decisions easier. When receiving food products that need to be managed and stored in the warehouse, knowing the products' dimensional information and weight information will help determine the best placement of inventory.
By verifying the correct weight it also confirms that the exact product(s) were placed into the shipping carton, says Sean O'Farrell, market development director of Grand Rapids, Michigan-based Dematic. "If the weight is over [or] under, then the shipping carton is sent to an audit area for resolution by a supervisor," says O'Farrell.
Moreover, knowing the exact measurements of a product can help food and beverage warehouse managers save costs while maintaining a greener footprint. By identifying the size and weight of individual items in the warehouse, the warehouse staff can choose the best sized package. On the other hand, when a box is ready to be shipped, but isn't completely filled, it's essentially the same as shipping air and excess corrugate, which is costly and not environmentally friendly.
"When you load those boxes that aren't full, that trailer or truck is then full of half filled boxes, so the truck is half filled," says Randy Neilson, director of sales and marketing for Farmington, Utah-based Quantronix. "You end up sending more trailers and trucks than you need, therefore you're going to pay more drivers [and] incur a lot more fuel costs because you may need fewer trucks if you have those boxes that are more efficiently filled with product."
According to Neilson, many carriers including UPS are beginning to charge by size and weight. For instance, if there is a large, lightweight box, carriers will charge by the size of the box because it will take up a significant amount of space in their trucks. With fuel charges continuing to rise, optimizing the weight and space constraints is crucial.
Understanding dimensional weight
The DIM Factor (Dimensional Weight Factor) is a formula used to calculate the dimensional weight of a package. To calculate the dimensional weight in pounds for a domestic shipment in the U.S., multiply (in inches) the length, the width and the height and divide it by a dimensional weight conversion factor of 166. For exporting and importing international shipments, multiply (in inches) the length, the width and the height and divide it by 139.
The DIM weight charge was primarily for air freight in the past, but it's now being applied to ground shipments as well. Although this is not a new trend, it still has a sizeable impact on the shipment of products.
"By getting the dimensions, you can charge your customer correctly and plan for it so you don't get back-charged," says Megan Bobel, segment marketing manager for Columbus, Ohio-based Mettler Toledo. "If there are any inaccuracies by the time it gets to the actual shipper, they definitely are checking the length, width and height that you put down compared to what it actually is, and if there's a differentiation, they'll back-charge customers."
Choosing the right product
Deciding between either a static dimensioner or a dynamic dimensioner is important and is based on each warehouse's operations. A static dimensioner determines an item's measurements and weight while the item is stationary, whereas a dynamic dimensioner measures and weighs items while they are in motion or moving on a conveyor line.
Measuring small, irregular-shaped items, such as cans and bottles, is a function more frequently requested of cubing and weighing equipment. In order to accurately measure irregular-shaped items, Quantronix offers the static CubiScan 125, which uses built in infrared diodes to precisely measure irregular-shaped items. It can analyze products up to 18 inches in length, 18 inches in width and 12 inches in height with a 50-pound limit.
"Our CubiScan 125 is our latest product advancement and the additional functionality of that machine is quite unique," says Neilson. "It's a portable cubing and weighing system that can be put on a mobile cart with a battery system in a warehouse to make it mobile."
When Ecuador-based freight forwarder Siati Group experienced a growth in customers and employees, along with more freight, they turned to CubiScan's equipment to streamline their operations.
"In December 2011, we were processing 2,500 warehouse receipts per day," stated Fernando Banderas, Siati Group's general manager, in a case study. "We worked all day, from 4 a.m. until 2 a.m. with 3 shifts of people every day. Trucks were lined up outside." Banderas said that while the company's database handled the extra business fine, it was "a wake-up call that we needed to improve our processes," he remarked.
According to the case study, the expansion of Internet retailing has driven a lot of growth for Siati Group, but there are some challenges. For instance, the Ecuadorian Customs agency penalizes shipments if the weight is under or over five percent of the declared weight. In order to avoid these types of weight penalties, Siati Group installed three CubiScan products.
"After we installed the first scale about a year ago, we added the smaller scales a few months after that," said Banderas. "The scales have paid for themselves many times over."
The CubiScan 125 measures regular-shaped boxes up to 24 inches in length, 24 inches in width and 36 inches in height and it can operate in temperature environments ranging between 32 to 104 F (0 to 40 C).
Additionally, Mettler Toledo offers static and dynamic cubing and weighing systems.
"Our products are designed in a very hygienic way," says Andreas Wilmers, global sales manager of CargoScan at Mettler Toledo. "We have all kinds of systems that guarantee the quality in the production process for the food and beverage industry."
The Mettler Toledo CSN210 MassFlow measures boxes and irregular-shaped items on a conveyor belt and it provides sorting efficiency. It can handle items as small as 2 inches in length, 2 inches in width and 1 inch in height, and as large as 98 inches in length, 78 inches in width and 36 inches in height.
Mettler Toledo's CSN840 pallet dimensioner measures a large range of pallet shapes at approximately 200 objects per hour. The CSN840 measures pallets up to 72 inches in length, 72 inches in width, and 102 inches in height.
Logistics provider Schenker Sweden managed their pallet measuring needs manually before switching to Mettler Toledo's CSN840 equipment. One of the key advantages in using Mettler Toledo's equipment was a noticeable boost in measurement accuracy.
"One of the biggest differences we notice with the results we get from the CSN840 is 100 percent data accuracy, which means that we have 100 percent correct invoicing," noted Christian Fabricius, development manager for goods at Schenker Sweden, in a case study.
"We notice now that customers were not always providing exact measurements. So most of the correcting we do is to make sure customers are not being under- or over-charged."
Software solutions
Software integration solutions are available for food and beverage managers in order to streamline warehouse efficiency. This allows for any dimension and weight data to be seamlessly integrated with other systems such as a Warehouse Management System (WMS) or warehouse load planning software.
Mettler Toledo offers their OCTO DataCapture Software solution, which can be used on any of their dimensioning equipment. The OCTO software helps prevent damage claims by capturing a picture of each product or pallet. It also provides a sorting and tracking solution that creates full visibility in the warehouse. OCTO software can help assure that food and beverage products get to the correct location.
"We're noticing some customers—that have load planning software—are using our data to populate into their load planning software to better mix their products when shipping on their own fleets," says Mettler Toledo's Bobel. Additionally, historical data can be used in the planning process in order to prevent bottlenecks from occurring.
Quantronix's CubiScan also offers software integration tools called Qbit-DB. Qbit-DB software gathers, archives, and manages dimension, weight and product data obtained from the CubiScan equipment.
"We have a very good software team that has fine-tuned this data collection and transfer solution to make it as convenient as possible, and make it as cross-compatible to any software system as possible, right off the shelf, without having to do customization," says Quantronix's Neilson. "We have the ability to customize the interface to a customer's software system and we have built some data integration to customers that are very customized for their needs."
Companies in this article