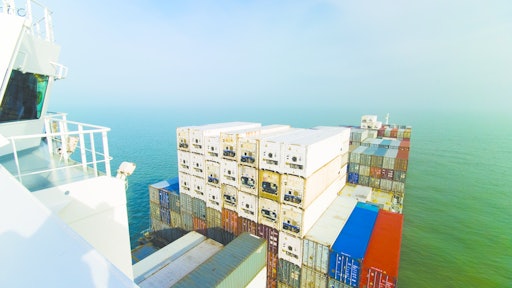 The Food and Agriculture Organization of the United Nations (FAO) has projected a global population increase that would consequently require raising food production by approximately 70 percent by 2050. With the population expected to grow by 2.3 billion people by 2050, the ability to effectively transport food is absolutely essential.
Some of the biggest challenges will be felt in the developing world, which is faced with sub-par infrastructure and high population growth.
William Duggan, vice president of refrigerated services for Maersk Line, North America, states that there is an increasing market growth in areas that have an emerging population, such as Eastern Europe, Africa and Latin America.
"There's been a lot of growth of refrigerated cargo moving to these areas," says Duggan. "People want access to better quality food for their family and that's one of the things we see moving forward." This trend implies that market demand for high quality food will continue to excel.
Additionally, in Europe and the U.S., there is an ongoing move towards creating more sustainable reefer trade. Consumers want to be sure they're getting the healthiest food products available while the refrigerated transportation market seeks a greener footprint.
Another noticeable trend is the movement away from conventional breakbulk to the containerization of food shipments. Maersk estimates that approximately 70 percent of refrigerated cargo is currently in containers. For example, in the banana trade, bananas were moving primarily in breakbulk three to four years ago, but have now moved toward containers.
"The movement has switched to about 80 percent containers, 20 percent breakbulk, wherein the past it was 80 percent breakbulk, 20 percent containers," says Duggan.
Lastly, reefer carriers are growing concerned that the financial feasibility in the refrigerated transport market is currently not being realized—to the point where it's no longer sustainable in some respects. In an effort to regain financial sustainability, carriers have started the process of increasing their reefer rates.
Rising reefer rates
There are various factors surrounding the increase in reefer rates, one of which is energy costs. An increase in reefer rates is one way to offset the current rise in fuel and electricity costs for both the carriers and refrigerated containers/equipment.
"The container itself is roughly three to four times more expensive than a dry container and the maintenance and repair of a refrigerated container is also much higher," says Vince Rankin, senior director of reefer trade for Scottsdale, Arizona-based APL. "The container [either] requires electric power when it's in the terminal, or on a ship it requires a generator, which burns fuel when it's being transported."
Port congestion is another issue that has an indirect effect on reefer rates. Port congestion can be caused by numerous factors such as bad weather, accidents, under-developed ports or a seasonal peak in volume. With ocean carriers focused on moving their shipments to and from ports in a timely manner, the cost of operating their reefers therefore becomes much higher when delayed due to port congestion.
In order to further alleviate port congestion and encourage growth in the reefer trade, many ports are undertaking projects to expand both port and cold storage facilities.
Port, cold storage expansion
In October, the Port of Miami, known as the Cargo Gateway of the Americas, announced plans to deepen the port's channel to 50 feet (15.24 meters). According to Port of Miami officials, the deeper channel is expected to double cargo traffic while creating approximately 30,000 jobs in the process. Construction is scheduled to begin in early 2013.
According to Janet Ramos, director of national accounts for Crowley Maritime Corporation, headquartered in Jacksonville, Florida: "The Port of Miami and Port Everglades, along with other Florida ports, are currently working together to obtain authorization to allow cold treatment-requiring cargo to come through the Florida ports. If this initiative is successful, it will effectively reduce the transit time of many perishable products that presently have to go through other ports within the U.S. to obtain the required treatment needed (cold treatment) before they're allowed to move elsewhere. There is a definite movement in projects geared toward cold chain, since it is such an important part of handling perishables."
In addition, the Panama Canal expansion project will create a more efficient navigational route for carriers and shippers, facilitating the transportation of higher volumes of cargo. The expansion project is likely to be finalized in April 2015.
Meanwhile Geneva, Switzerland-based Mediterranean Shipping Company (MSC) recently started weekly service between the Port of Miami and ports located in Central America. The new route will connect the Port of Miami with: Puerto Santo Tomas De Castilla, Guatemala; Puerto Cortes, Honduras; Freeport, Bahamas; and the Port of Jacksonville.
Crowley is opening a new cold storage facility in their Miami location called Crowley Fresh, which is designed to handle temporary or overflow storage for fresh flowers, produce and seafood. The 24/7 facility is equipped with state-of-the-art cooling and monitoring equipment that can be adjusted for various temperature requirements.
In addition to the new Crowley Fresh facility in Miami, "We also have a special USDA-approved cold chamber at Port Everglades that allows us to manipulate cargo when needed for fumigation," says Ramos. "We make these investments in equipment to ensure our customers always get the best, and that their product remains fresh."
For example, Crowley's Highly Mobile Actionable Pest (HMAP) refrigerated chamber helps customers avoid having to re-export fruit and vegetable goods due to pests.
In early November, the Port of Los Angeles announced a project to modernize one its primary container terminals, TraPac. The terminal expansion will increase capacity from 900,000 TEUs to 2.4 million TEUs by 2025, and it also includes the production of a new on-dock rail facility.
The improvements at TraPac will positively impact the global food supply chain. TraPac handles a variety of food on both the import and export side.
"Recently, the terminal began to handle Australian and New Zealand lamb products coming into the U.S., in addition to the many food products that routinely move through TraPac," explains Phillip Sanfield, director of media relations at the Port of Los Angeles. "So, having a more efficient terminal and on-dock rail will make the terminal more efficient and competitive. The terminal will also have the capability to grow as demand increases with both imports and exports. This growth potential also helps the global food logistics chain."
A number of ports around the world are undertaking major expansion projects to handle growing volumes of international trade. One example is China's Yuanhai Automated Container Terminal, which will become the country's first fully automated terminal. The facility, which will be located at the Haicang Port in Xiamen province, will encompass a length of approximately 1,765 feet (538 meters) and a depth of 1,010.5 feet (308 meters). It will also boast zero emissions.
The terminal's throughput is expected to range between 780,000 and 910,000 TEUs—a 20 percent improvement over the average throughput at similar terminals.
The impact of rules and regulations
The growing number of food safety and traceability initiatives in the U.S. as well as foreign markets is also driving developments in refrigerated transportation. Simply put, consumers want to know that their food is protected and state and federal governments are responding.
At the beginning of January 2013, the latest requirements from the Food and Drug Administration's (FDA's) Food Safety Modernization Act (FSMA) will be phased in. Chief among those is the FSMA's requirement that U.S. importers implement a foreign supplier verification program to guarantee all imported food complies with U.S. food safety regulations.
According to Section 3 of the FSMA, each importer shall execute risk-based foreign supplier verification activities for the purpose of verifying that the food imported by the importer is produced in compliance with the FSMA requirements and is not tainted or misbranded. Verification activities also include periodic inspections.
It's likely that increased inspections aimed at preventing the transportation of spoiled food products could result in additional costs for exporters and importers, says Crowley's Ramos.
During the China International Food Safety and Quality Conference and Expo held in early November, Michael R. Taylor, deputy commissioner for the FDA, discussed the increased focus on safety standards for imported and exported food goods.
"We are developing new prevention standards and new inspection and compliance strategies," he explained. "We are building an entirely new import safety system. And we are forging new partnerships with our states, with foreign governments, and with industry, academic and consumer stakeholders to foster and support widespread implementation of modern food safety practices."
Protecting food in transit
The latest products and services for cold chain shippers help protect food shipments from the point of origin all the way to the grocery shelf, whether the products are frozen, like seafood, or fresh fruits and vegetables.
Menlo Park, California-based Purfresh looks to reduce food waste while improving the food quality in the supply chain. Their solutions protect the quality of fruits and vegetables without the use of chemicals.
"Consumers expect fresh fruits and vegetables year-round, regardless of growing season," says Dr. Brian Westcott, president and CEO of Purfresh. "Purfresh is unique in that it is the only technology proven effective to minimize decay, control ripening, and enhance food safety without the use of chemicals."
Purfresh's solutions are targeted at protecting decay-prone or ethylene-sensitive produce during ocean transport, adds Westcott. Certified and approved by the FDA and the U.S. Department of Agriculture (USDA), Purfresh generates ozone to help control airborne microorganisms and increase the shelf life of the product.
In addition, the company's Intellipur solution provides a comprehensive look into the supply chain. "Intellipur provides role-based, real time atmospheric conditions inside the reefer, location data, automatic alerts and detailed trip report," says Westcott. "When unexpected conditions occur, such as changes in the temperature, relative humidity, oxygen, carbon dioxide [or] ozone, users automatically receive an alert sent to their computer or smartphone."
One customer, Uruguay-based Adano Fruit, protects their blueberries and mandarins from shriveling and producing mold during the ocean voyage from Uruguay to North America, Asia, and Europe.
"Purfresh allows us to reach destinations with confidence that the high quality standards of our products will be maintained when the fruit reaches our customers," said Alejandro Adano, director of Adano Fruit, in a press release. "Our customers are thrilled with the arrivals, and we will continue to utilize Purfresh for future shipments."
Orient Overseas Container Line (OOCL), Hong Kong also offers solutions to help trace and protect frozen commodities. Their tracking and tracing solution, My OOCL Reefer, provides more than just the location of the shipment.
My OOCL Reefer allows a customer to track the temperature and the humidity inside the container via computer, tablet or smartphone, says Frankie Lau, director of media and regulatory for OOCL.
OOCL's Advanced Fresh Air Management Plus (AFAM+) container solution, developed by Thermo King, slows down the aging process of products while reducing the water loss and shrinkage of the commodities and is designed primarily for perishable goods. Meanwhile, the Ultra-Cool Magnum container solution is designed for deep-freeze goods. The Ultra-Cool Magnum containers are capable of reaching temperatures as low as -31 F (-35 C).
APL offers a satellite tracking device that gives customers visibility via APL's website, called SMARTemp. SMARTemp offers a real time look into the supply chain by providing shippers with the exact position of the container along with temperature information. Shippers can also export and archive container data.
Furthermore, APL offers a cold treatment process for reefer containers to control insects, specifically the Mediterranean and certain other fruit flies and larvae. The process is environmentally safe and helps eliminate the need to use insecticides.