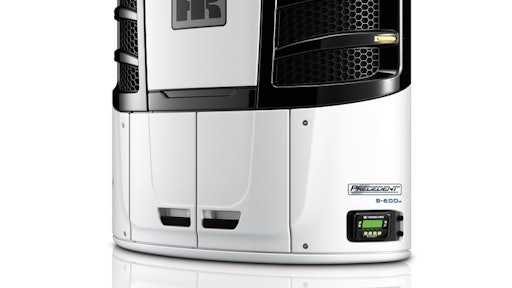 Cold chain management is critical to today's food supply chain, which is increasingly made up of fresh and frozen products carried further distances. Not surprisingly, there are more costs involved with refrigerated transportation. However, the good news is that equipment manufacturers and logistics providers are introducing more advanced products and services that result in better efficiency and integrity throughout the cold chain.
Really cool equipment
ArcticStore, a brand of Denmark-based TITAN Containers A/S, specializes in portable temperature-controlled storage containers and cold rooms. There are many storage and cold chain applications for ArcticStore's units, including easy and quick on-site storage capacity at supermarkets, outlets, distribution centers and production facilities for a wide range of fresh or processed food products, pharmaceuticals, chemicals and many other products. Other uses include events (ArcticStore containers were used during the 2012 London Olympics), emergency deployment (in the case of breakdowns or unexpected demand) and specific customer applications (a university uses the containers to store samples collected from Antarctica).
The ArcticStore container comes in standard sizes of 10, 20 or 40 feet. In addition, the company's SuperStores units are designed and built to be placed next to one another to create larger multi-pallet-wide single temperature zones. Both models come equipped with standard features such as high insulation values, hygienic interiors, accurate and reliable controls, temperature zones that range from -40 C to +60 C, flat floors, easy opening double doors with internal release, personnel alarm, and internal lighting. The ArcticStore containers' advanced cooling technology helps reduce energy costs required to operate the units by more than 50 percent in many cases.
During the IFDA (International Foodservice Distributors Association) show in October, Thermo King, a brand of Ingersoll Rand, unveiled its Precedent S-600M trailer refrigeration unit, described as the most environmentally sensitive diesel trailer temperature control system for multi-temperature operations. The S-600M is designed to meet both the U.S. Environmental Protection Agency (EPA) and California Air Resources Board (CARB) requirements in the greater-than-25 horsepower category, which include a 90 percent reduction in particulate matter and a 30 percent reduction in nitrogen oxide from the interim standards that have been in effect since 2008.
"We designed the Precedent S600-M to offer standard, rather than optimal, sustainability improvements especially for the multi-temperature needs of the food distribution and grocery industries in response to customer requests for a solution that reflects their commitment to environmental stewardship," says Tom Kampf, trailer product manager for Thermo King.
Klinge Corporation, with headquarters and manufacturing facilities in York, Pennsylvania, is a leading provider of specialized reefer and power generation equipment. They target commercial and military customers with custom-designed equipment that exceeds general purpose reefer equipment. Klinge Corporation's NMF-371 freezer unit is tailored for ocean shipments of ultra-low temperature cargo in the range of zero Celsius to 60 C. Its freezer unit is nose mounted to the container to allow for the use of an integral generator set in case of power loss at the seaport or during inland transport or storage. This feature makes ocean transport of ultra-low temperature cargo extremely safe and reliable.
"In addition to back-up power, customers transporting valuable cargo in our NMF-371 freezer unit are given added peace of mind through our satellite communication program," remarks Henrik Klinge, the company's president. "Amperages and pressures are measured, viewed and transferred to GSM modem and transmitted via satellite. This functionality allows customers to use their smartphone to text their unit."
The new design also allows for easier servicing when on board the vessel because all of the components can be accessed and repaired from the front of the container, including evaporator fans, temperature probes, compressors and condenser fans.
In early November, Carrier Transicold released its new Supra 60 series truck refrigeration units that boast improved refrigeration performance, enhanced reliability and compliance with the EPA's 2013 emissions requirements. The new Supra 60 series units are available in five single temperature models, which cover the full spectrum of straight truck refrigeration needs, with refrigeration capacities up to 32,000 BTUs (at 35 F).
"Supra diesel-powered truck units have a long-standing reputation for providing high performance and reliability by using systems engineered for lower engine and compressor RPMs than competitive models," remarks David Dunn, product manager, truck products, Carrier Transicold. "Lower speeds mean better durability, longevity and reliability over the life of the unit. Our new 60 series continues to build upon that legacy."
Utility Trailer offers two refrigerated trailer models, the 3000R and 3000R Multi-Temp refrigerated trailers. Recently, the company completed an expansion project at its Marion, Virginia reefer manufacturing plant, which included acquisition of over 100 acres of property adjacent to the facility to accommodate additional parking for up to 1,400 trailers. The new 50,000 square-foot modification center will be used for production of high option and complex refrigerated trailers. Utility Trailer has a second reefer trailer manufacturing facility in Clearfield, Utah.
After seven years of intensive in-house and real world testing, Great Dane Trailers' patented ThermoGuard refrigerated trailer liner has chalked up some impressive results. Specifically, fuel savings for a ThermoGuard-equipped trailer over the seven-year period average close to 1,000 gallons for typical reefer operations (excluding produce).
Rick Mullininx, executive vice president of engineering at Great Dane, notes that, "Our test data shows that most every refrigerated trailer owner can recoup the cost of the ThermoGuard liner in the first few years of operation through lower cooling unit fuel costs. After that break-even point, owners can pocket the additional savings for the remaining life of the trailer, while realizing other benefits such as reduced maintenance costs and higher resale value."
ThermoGuard is an impact-resistant, glass-reinforced thermoplastic liner made exclusively for use as original equipment on Great Dane's refrigerated trailers. As part of its lightweight composite construction, the liners feature a proprietary metal barrier layer that help seal the trailer's insulation from out-gassing and water absorption. Beginning in 2013, Great Dane will also include ThermoGuard on the trailer subpan to help keep moisture from entering the subfloor. Ocean carrier Maersk Lines also uses ThermoGuard for its marine reefer units.
Fuel savings and sustainability are also the goals behind Ryder's RydeGreen product line of tractors and trailers, which are designed to lower fuel consumption and greenhouse gas emissions. One of the vehicles in the RydeGreen program is the Durastar Hybrid from International, the first line-produced hybrid commercial truck in North America. The Durastar is designed for medium-duty, in-city use, particularly for beverage distribution, refrigerated food distribution, package pick-up and delivery, local and regional government transportation functions and utility boom work.
Ryder is qualified as an EPA SmartWay partner for both its Ryder-owned vehicles and its supply chain operations.
A positive outlook for the sector
Overall, the outlook for reefer manufacturers appears positive. During a third quarter earnings call on November 1, Dick Giromini, CEO of Wabash National, commented that he expects demand to "remain at strong levels for an extended period, driven by an excessively aged fleet, unprecedented pent-up demand following recession, regulatory drivers including CSA, hours-of-service and CARB, and a stable, but still growing economic demand environment that has continued to drive year-over-year truck tonnage growth."
Analysts for IBISWorld expect similar results. In its recent industry report entitled "Long-Distance Refrigerated Trucking," the research firm stated: "In the five years to 2017, the industry is expected to benefit from the recovering economy, with higher volumes of temperature-sensitive goods needing to be transported. Traded goods, demand from fruit and vegetable wholesaling and demand from meat, beef and poultry processing are forecast to increase. During this time, IBISWorld projects that industry revenue will increase, however growth will likely be hampered by competition and regulations. The Federal Motor Carrier Safety Administration's (FMCSA) hours-of-service driver requirements will increase on-duty non-driving time and will slightly cut into industry productivity. Competition from rail transportation and recent infrastructure improvements in that industry will put pressure on industry operators in the next five years."
Companies in this article