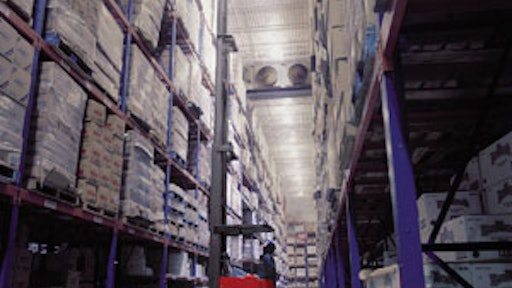 As the supply chain continues to evolve, so does the role and operation of the warehouse. Executives today are grappling with several challenges in warehousing as they go about their business of satisfying customer demands while remaining competitive. They range from shorter lead times and more demand for value-added services to labor management and keeping up with advances in technology and automation.
"But we're making progress," says Ken Ackerman, a consultant based in Columbus, OH. "The warehousing industry is healthier and stronger than it was five years ago. I don't see anything sliding backwards."
To determine the state of warehousing today, Food Logistics has put together a panel of experts. They include:
Bob Spieth, president, contract logistics, Ozburn-Hessey Logistics (OH Logistics); Brentwood, TN;
Dan Sanker, president and CEO, CaseStack Inc., Santa Monica, CA;
Thompson Brockmann, director, Tompkins Associates, Raleigh, NC;
Ken Ackerman, president, K.B. Ackerman Co.;
Rick Underwood, vice president of contract logistics services in the Americas for APL Logistics, Oakland, CA.
What are the key challenges that companies and executives are facing today and how are they dealing with them?

Shorter Lead Times
Sanker: The industry is constantly trying to find ways to reduce lead time. Although many suppliers and service providers are concerned, moving to shorter lead times can be positive, even for logistics providers. The faster we all move product through the system, the better we utilize assets. That means less cost-not more.
The reason so many people grumble about shorter lead times is that they aren't prepared for the changes that are required.
CaseStack's systems are newer and they are designed to manage the issue. Every load goes through a transportation optimizer to find the ideal carrier (least expensive, highest service transportation method that will get the product there on-time).
In addition, we have consolidation programs where we collaborate with retailers to ship using full truckloads instead of less-than-truckload. Truckloads go point-to-point, not through LTL break-bulks, shaving days (and cost) out of the system. The same systems are linked into the warehouses, so they can respond immediately to orders which are fed electronically from stage-to-stage, sometimes even cross-docked for immediate delivery.
Logistics providers who embrace shorter lead times by applying technology, collaboration and communication will benefit from shorter leads times by improving asset-utilization. To put it bluntly: The faster you turn pallets over the same warehouse footprint, the more money you can make. The same goes for trucking; the faster you get in and out-the better off you are. It completely depends on having up-to-date systems, collaborating with retailers, and over-communicating.
Spieth: Our business model is based on flexibility and having integrated systems and control over the product throughout the supply chain. This allows us to offer additional flexibility to our clients needing shorter lead times.
We are able to accommodate shorter lead times for a major packaged food manufacturer in a variety of ways. First, cross-docking allows us to meet shorter lead times since we have implemented the ability to immediately fill orders from receipt and by-pass the allocation process. This contributes to a reduction in labor hours and allows those hours to be utilized for completing other fulfillment tasks.
Interleaving also supports our ability to work with shorter lead times. The elimination of empty travel within the DC allows us to better utilize the man power available and complete fulfillment in a shorter window. Interleaving is accomplished by assigning work or tasks to a user via the RF system, based on the user's location within the DC and the location of the closest task.
More broadly, integrated real time transportation and warehouse management systems allow us to adjust priorities quickly, so as to best respond to our clients' changing lead times.
We pride ourselves on providing flexible solutions for our clients, so we continue to look for ways to respond effectively to lead time requirements. Sometimes lead time requirements can be met by optimizing the clients' network. Because of our multi-client campus distribution center environment and comprehensive transportation network, our clients are able to reconfigure their distribution network with OH Logistics to better serve their customers-and respond to shorter lead times.
Demand For Value-Added Services
Spieth: Demand for value-added services (VAS) is certainly on the rise and provides opportunities for supply chain companies to differentiate themselves and lower labor costs for manufacturers. We welcome the opportunity to provide value-added services and find that they can take various forms, including packaging solutions, display building, kitting, engineered solutions and consulting, as well as traditional repacking activities.
We perform many VAS services, including repacking specialized variety packs for a major packaged foods manufacturer to support their promotional activities throughout the year. We also support our clients' international requirements by relabeling, repalletizing and acquiring USDA stamps for shipments being exported from the US.
We perform full time repacking efforts for a major condiment manufacturer that include end of aisle displays, repacking of quantities, repacking of varieties, rebundling of quantities and varieties, inspection of product and packaging, reconfiguring pallet quantities and relabeling of product. All these activities ensure integrity and quality of the finished product. Our proximity to this client's largest manufacturing facility as well as our expertise and labor cost saving solutions have brought value to the client.
A client who manufactures nutritional beverages requires a quality assurance hold period of 72 to 96 hours after production to ensure there is no contamination. We provide this service for the client at our distribution center.
We also operate a photography studio so that our e-commerce clients' products look great online.
We believe in the customer benefits of providing value-added services in the distribution center and believe it will continue to represent a greater percentage of the services offered by supply chain management companies.
Sanker: There are major trends that will continue to prompt a growing need for value-added services-globalization, retailer specialization and competition and outsourcing.
A flattening world has allowed suppliers to offshore more and more manufacturing. If you think back to when steel mills were offshored, an unusual thing happened. A few smaller specialty steel producers in the U.S. prospered. The same is true for semi-conductors.
As more buyers sourced commodity products offshore, they needed even more specialty, high value-added work done in the U.S. The same thing will occur in the logistics industry--as companies source big projects offshore, they will need to fill in the gaps with smaller projects in the U.S. These are high value-added projects.
As the retail industry gets increasingly competitive, many retailers have made changes to their formats, created new concepts and have asked suppliers to give them special products-products that aren't just commodities. America's leading retailers will open over 94,000 new store locations over the next five years, according to The Nielsen Co.
If they fill shelves with all of the same stuff at the same prices, what's the point? How will they compete? They will increasingly work with suppliers to create chain-specific products, special displays and pre-assembled modules.
They'll also need to use tools (for example, RFID, direct-store-delivery, consolidation, etc.) to reduce costs to stay competitive. CaseStack's systems are new and designed to make these efficient.
Outsourcing is a trend. CaseStack is counting on more companies focusing on core competencies and outsourcing to qualified logistics service providers. That's exactly what we are seeing. We have a competency in value-added services-making them efficient-so our clients can focus on their strengths, but still be flexible.
Fuel Suppliers
Underwood: Fuel shortages and rising prices have been creating intermittent disturbances on the supply chain radar screen for decades. But we're quickly approaching a time when those disturbances won't be intermittent anymore. We might even have reached it already.
Political issues aside, all indications are that the world's fuel production is peaking while its fuel consumption is rising, especially as China and India create a growing middle class and a new universe of oil consumers. It's not just the U.S. making high demands for oil anymore.
Anytime demand outstrips supply, you can expect higher prices and those of us in the oil-driven, transportation-dependent supply chain industry are seeing that in spades. Now we have to face the fact that prices probably won't go back to the good old days.
Our challenge as supply chain professionals is to find ways to offset higher fuel prices with greater efficiencies in other areas.
Among other things, this involves smarter DC site selection. You can't afford to choose a remote warehouse location today, even if the community it's in offers you the sweetest tax incentives in history, because it will mean traveling higher distances and using more fuel.
It means eliminating or minimizing redundant transportation. For example, why send West Coast shipments to a Midwestern distribution center and then send them back to retail outlets on the West Coast later on when options like deconsolidation centers are available?
And it means making good use of more fuel-efficient practices like consolidating loads. If you don't have the kind of economy of scale to do this yourself, it will be important to consider using a 3PL that can help you do it by combining your goods with other shippers'.
You also can't put your head in the sand and assume things will stay the same and that it's just about prices. If fuel shortages come-and it's highly likely they will-mitigating actions such as lower speed limits and limited hours of permitted truck operation may be put in place as well.
And we as supply chain professionals must be ready to adapt. Investing in optimization tools and expertise will be vital, because they'll help companies find the best solutions under the circumstances.
Labor Management
Brockmann: Warehousing labor, whether union or non-union, permanent or temporary, temporary or standard, is always a challenge to manage effectively. As everyone focuses on continuously improving their supply chain and distribution center (DC) operations by implementing new facilities, equipment, systems and concepts, labor is the one constant that must be addressed daily, if not hourly.
At Tompkins, we have identified six key initiatives to strengthen and improve labor management. These initiatives are:
Labor retention: What drives turnover and how are companies working to keep staff from leaving?
Recruitment: What are the most effective recruiting methods?
Labor standards: How are standards being set, updated and monitored?
Incentives: How and where should standards be used as incentives?
Standard operating procedures: Where should SOPs be implemented? How often should they be updated?
Training: What level of training is being provided and is it focused on the right areas?
When these six initiatives were researched using the Supply Chain Consortium database, the members reported the following statistics:
Labor retention: The three largest contributors for turnover are (1) termination due to performance at 14 percent, (2) promotion or reassignment at 13 percent and (3) resignation due to working conditions at nine percent.
Recruitment: The two most important factors in recruitment were emphasizing company brand and personal growth opportunities with scores of 3.8 and 3.6 respectively, on a five-point scale.
Labor standards: At 45 percent, labor standards are most often set on an individual basis. Fifteen percent use group standards and 39 percent use a hybrid.
Incentives: Some 60 percent of warehouse employees qualify for some level of incentive compensation.
Standard operating procedures: Implementation of SOPs resulted in a six percent to 14 percent increase in productivity, accuracy, turnover, customer service and quality.
Training: Typically, a new hire receives an average of 70 hours of training, with over half of those hours dedicated to job process training.
It is clear that a vital part of DC operation improvement involves labor management. From a best practice perspective, a quality labor management effort must include:
Consistent operating processes as well as procedures;
Labor standards based on standard operating procedures;
An open channel of communication of standards and performance;
Classroom and on-the-job training of standards and performance;
Continuous improvement teams focused on day-to-day operations.
Keeping Up With Technology
Ackerman: Voice recognition technology is the most important technology gain that we've seen in the last quarter century. You have to go back to bar coding to have anything like it. There are a few reasons why I am enthusiastic.
One is a clear, demonstrated payback, usually less than a year, for most installations.
The payback is in greater productivity. We have a public warehouse client in Columbus that installed voice recognition for one of its customers. The installation was done a year ago. In the first full month they could track, there was a 10 percent productivity gain.
I'm sure they haven't hit their stride yet because people are still learning. So the productivity gain was virtually immediate and I'm sure will improve.
One of its greatest virtues is in a cold storage warehouse where you have to wear gloves. You don't need a pencil or have to take your gloves off. It's hands free. You just talk and listen.
Voice-recognition is not for everybody. It won't be justified in a low-volume operation because there's not enough volume to pay for it. It gets cumbersome in a situation where the SKU numbers are extremely long and you have to do a lot of talking. So it won't cure everything, but it's pretty close. I have yet to hear any significant negatives.