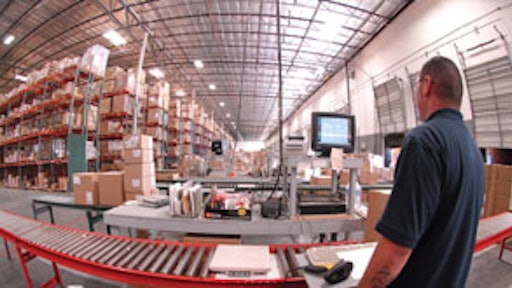 Today's food and beverage wholesalers and retailers are caught between a rock and a hard place. Rising labor and transportation costs are squeezing them on one side and increasing customer service demands and SKU complexity are crushing them on the other. In this low-margin business, it's a tough position to be in.
Automated material handling systems could be the answer, but many food and beverage companies have been reluctant to invest in these high-ticket solutions. Traditionally, the industry has steered clear of automation, taking a fairly manual approach to running their warehouses.
There are many reasons why companies are finally turning to automation, from better space utilization in the warehouse, to building "store ready" pallets for their stores, to dealing with harsh freezer environments.
Not surprisingly, skyrocketing fuel costs and the lack of truck drivers are making companies more open to the idea of automation, say solution providers. The systems can help companies build better pallets, as well improve trailer loading for better density.
"In the beverage industry, cube efficiency is typically in the 50 to 60 percent range on a route delivery truck," says Robert Lyon, senior solution consultant, HK Systems Inc., Salt Lake City. "We've installed an automated picking solution for one of our beverage customers which creates a more dense delivery system, so their trucks now are achieving 70 percent to 90 percent cube efficiency. And they've seen a 25 percent to 30 percent reduction in the use of vehicles for delivery because they were able to eliminate routes."
Other beverage companies, such as Anheuser Busch, are turning to automatic trailer loading vehicles, such as the Smartloader, from Jervis B. Webb, Farmington Hills, MI. The device is a fork lift truck that loads trailers automatically, without any operator involvement.
"In the past, companies might have had to modify their trailers in some way in order to use automatic loaders, such as by putting wires inside of the trailers or some kind of guidance system," says Sarah Carlson, marketing manager for Jervis B. Webb. "It would mean you would have to own your own fleet of trailers in order for it to work."
Carlson says that any conventional trailer that comes into the dock can now be loaded by the machine.
Anheuser Busch currently uses a number of the vehicles in its facilities to not only load and unload trailers, but to also move pallets around their warehouses and stack them.
One of the advantages to using the automatic loader is that it is capable of continuous operation due to its automatic battery exchange. "There is no downtime at all for lunch or shift changes," Carlson says. "It can also operate in a lights-out environment."
The Smartloader works off of a Vehicle System Manager that instructs it on the moves it is to make—where to go, what trailers to unload or where it is picking its load from. The machine's system can be tied into a facility's warehouse management system, in order to provide it complete control over inventory.
In addition, if the vehicle were to detect an obstruction, it can notify someone through the WMS system via their pager so they can come and remove it. However, if a warehouse isn't currently using a WMS, the VSM is capable of managing the Smartloader without it.
Automated Picking Solutions Take Hold
Many food and beverage companies are looking for automated picking solutions, according to Brian Sherman, business development manager, Witron Integrated Logistics Corp., Arlington Heights, IL. Witron offers a number of such solutions for supermarket retailers.
"Our customers are looking for a total picking concept," says Sherman. "We have solutions that offer fully automated picking where there's no human touch. We can pick a mixed order and ship it off to the store, without any touching of the case.
"For most retail companies, with manual solutions they try to arrange their pick slots in a sort of snake-like picking method where they pick based on weight and crushability factors, things like that. But you do not have much flexibility of changing that order or sequence," says Sherman. "What an automated picking solution does is allow us to set parameters for specific store friendliness and aisle friendliness, so when you actually get to the store delivery, it decreases the stocking time at the store. So not only are we saving labor in the warehouse, we're also saving labor in the store itself."
One of Witron's newest automated picking applications is its OPM (order picking machinery) system, which automates case picking. Sherman says OPM is a good solution for retailers that must supply thousands of SKUs to hundreds of stores each day. The system reduces operational and transportation costs and provides store-friendly as well as aisle-friendly sequencing.
One of Witron's customers is Sobey's Inc., Canada's second-largest grocery retailer. Sobey's will be using the OPM system in its new automated distribution center in Ontario, Canada. Witron is overseeing the planning and implementation of the material handling system, which will feature 11 AS/RS pallet cranes that service 38,000 locations and 32 AS/RS miniload cranes with access to 340,000 tray locations.
Most of the case picking will be automated through the use of the OPM system. Order pallets will be automatically assembled by 16 "picking machines" that are installed on two-levels of the warehouse. The picking machines will be fed by the tray AS/RS system, which will also be constructed on two levels. A three aisle "pick to pallet" system with voice control and automated replenishment will supplement the system to handle peak volumes as well as bulky goods.
HK Systems recently released its Case-A-Matic automated case picking system. The machine relies on seven load extractors operating independently to achieve throughput rates of up to 400 cases per hour. The company installed the system at a beverage distributor this past June and the customer plans to roll it out to locations around the country.
"We take full pallets from the conventional warehouse area and they're completely dismantled into eaches or layers and then stored as eaches or layers," says Lyon. "As orders come down to fulfill customer orders, the Case-A-Matic picks the individual cases and the layers and combine those together to make a customer-ready pallet. There are only three to five people supporting this type of operation—where you might have had 20 plus in a conventional warehouse."
Lyon says the system can also work for grocery selection. His company was just awarded a multiple site system for a food wholesaler that is in the implementation phase right now.
Layer Pickers Grow In Popularity
The use of layer pickers is growing in popularity, according to solution providers. Automated layer pickers rely on robotics to pull a layer of products—usually containing between 15 and 20 cases each—from storage and move the layer to an order pallet for shipment. The robots typically pull the products using drive belts, clamps, vacuum suction or lifts.
Some systems break down the pallets right at the receiving dock and store them in the racks as layers. Others store full pallets in the racks and those pallets are later moved to a picking station to be broken apart by the automated equipment.
The systems can also be used to depalletize whole layers to feed cross-docking applications or to replace pallets with slip sheets.
"If you can store and push out a full pallet load of product, it is still the most efficient way to do things, but many customers are not doing that now. Among DCs that serve retailers, a lot more is being done in layers," says Juergen Baumbach, director of consulting services for Switzerland-based material handling systems provider Swisslog.
"Pure pallet handling is more attractive, but many retailers are now looking for rainbow pallets to reduce the amount of inventory they carry," he continues. "The business case for them is lower inventory costs."
Where that is not possible, layer and case picking technology "is a benefit to whoever has to put together a rainbow pallet because you do not have to have people handling individual cases," says Baumbach. "In the time that a person can handle one case, automation can handle a full layer."
Typically, it takes about 40 seconds for an automated layer picker to grab a full layer of cases from storage and move it to an order pallet.
Danish material handling company Univeyor says its layer picking equipment can handle on average about 150 layers per hour, with 15-20 cases per layer. That equates to 3,000 cases per hour. To achieve anywhere near this level of throughput in a manual operation would require about 15 people.
At a Kuehne + Nagel facility in Holland equipped with a Univeyor layer picking system, the automated storage area requires only four workers per shift to supervise equipment operation, replenish picking areas and forward completed pallets to the dispatching area. The same area used to require at least 15 people per shift prior to the automation.
As labor is reduced, warehouse operators can also eliminate many of the occupational safety concerns associated with manual case picking because workers do not have to bend and lift cases to take them from one pallet to another. They can also reduce the amount of product damage and picking errors associated with it.
Pick-To-Light Systems Mature
Today's pick to light systems communicate to warehouse workers which items to pick and how many, via lighted numbers that appear above the sections of flow rack where items are stored. Modern systems use a buss bar that is placed along the rack which contains communications and power supply connections for the light modules used in the system. The modules are plugged into the buss bar.
"When you're designing a system, you look at a SKU analysis and with that analysis you do a slotting program," says Bob Rienecke, vice president of business development for Diamond Phoenix, Lewiston, ME.
Slotting programs change all the time, based on seasonal requirements—moving Halloween candy, for example, into easy-to-access areas of flow rack during Halloween and then replacing that with something more popular after the holiday is over.
"What you do is take that item out of the rack position, disconnect that light module off the buss bar and move it into a different area," Rienecke explains. "It's a very dynamic system. You can move things around based on what your order frequency rates or seasonal product demands are."
Companies that are employing older pick to light systems don't have the convenience of a buss bar design incorporated into their systems.
"With the older systems there is no buss bar for communication or power. When you plug the light module under the product, you almost have to daisy chain all the lights together."
He explains that this makes implementing new slotting strategies in the warehouse very difficult and time consuming. "If you're changing the location of these hard-wired devices, you have to go back to your software system and say: 'here's the new layout, here's how I'm wiring the system based on this location and this light ID.' It's a cumbersome, time-consuming activity." With the newer technology, changes to slotting strategies can be implemented in mere minutes.
"Some of the people who embraced light technology six-to-eight years ago are now saying 'okay, my business is changing and I really need to update my pick to light system to use this newer module buss bar system.'"
A twist on pick to light is being used by one of Diamond Phoenix's customers—Shopko, a Green Bay, WI-based food chain. In it DC, the company uses Phoenix's pick to light system as a "put-to-light" system. The set-up features flow racks, equipped with light modules, which are designated for each of ShopKo's store locations.
The work process involves the worker scanning different products located on the other side of him, which then prompts the light modules on the racks to tell him that he needs to put so many numbers of the scanned product in certain stores' racks.
"When a carton is full, I pull the carton out of the rack, seal it up, put it on a conveyor and off it goes to shipping," Reinecke explains. "What I'm doing is consolidating store orders and it's all by a light directed approach."