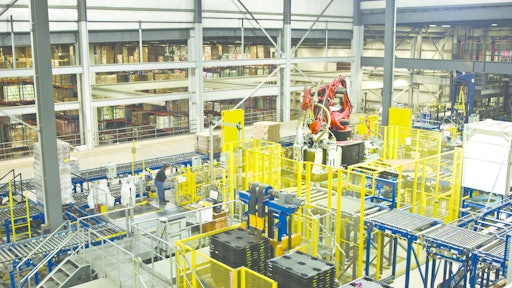 In the shadows of the apartment, hotel and office towers rising in recent years, an often unnoticed form of real estate has begun taking off in Chicago: warehouses, according to Crain's Chicago Business. Developers are on track to complete at least seven speculative warehouses—constructed without leases signed in advance—in Chicago between late 2015 and the end of 2017, adding up to more than 1 million square feet of space.
That is more than double the amount of spec industrial space built in the city in the previous 14 years combined, according to commercial real estate brokerage Cushman & Wakefield. And this could be just the beginning.
Overall industrial construction has ramped up in 2015 and 2016 in the city, after three years of no activity. The uptick in spec projects is especially surprising, though, because they're the riskiest type of development. Spec construction typically happens only when demand surges.
Developers are wagering that big changes in the economy, workforce and supply chain will cause urban warehouse space to be absorbed as quickly as it's built.
Amazon has been building up a network of mammoth warehouses outside the city.
To read more, click here.
Editor's Insight: E-commerce has created a need for more warehouses located close to major population areas. The food industry cannot afford to procrastinate in preparing for e-commerce, as it is the fastest growing sales channel for food. Grocery retailers are losing sales to "pure play" food e-commerce providers like Amazon.
The investment in warehouses for e-commerce fulfillment is still in its early phase. But if food companies wait too long in gearing up for omnichannel fulfillment, they will end up paying more for additional warehouse space located close to big population centers.
Food Logistics will explore the considerations food companies face in gearing up for omnichannel fulfillment in its September issue. 8-29-16 By Elliot Maras