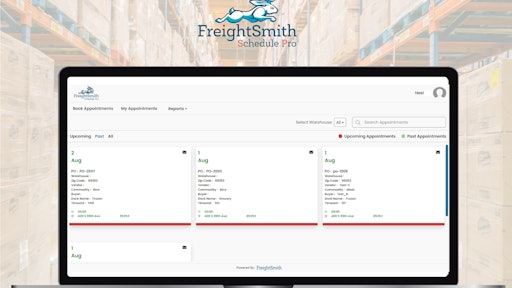 FreightSmith
FreightSmith launched FreightSmith SchedulePro, designed by experts from inbound warehouse operations to streamline and simplify warehouse appointment scheduling.
"We are proud to introduce SchedulePro, the foundation of a well-orchestrated receiving process and continuation of our obsession to digitize and drastically improve the inbound delivery experience," says FreightSmith CEO, Joe Curry. "This dynamic solution is designed to meet the needs of warehouses of any size, while offering scalability and customization so businesses can optimize their receiving performance."
From FreightSmith:
With an easy-to-use interface, SchedulePro allows carriers, shippers and receivers to reduce manual tasks and simplify communications to create accountability.
The platform's capacity and performance-driven scheduling capabilities allow distribution centers to set inbound appointment options to fit the unique needs of each facility.
Features include real-time digital appointment scheduling, simple and intuitive user experience, customer configurable scheduling, scalable plug-and-play deployment and more.
"We ae thrilled about launching this revolutionary new platform," says VP of strategy, Tim Wells. "SchedulePro provides our customers with an easy-to-use solution that will help them maximize their resources while optimizing their warehouse performance."