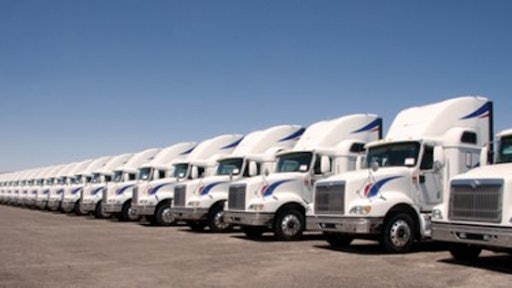 Getty Images
The transportation industry has almost always faced a driver shortage, though recent years have shown more capacity. A scarcity of skilled drivers presents a critical issue impacting consumers and businesses alike and the gap between the demand for qualified drivers and the available supply only continues to widen.
The American Trucking Association predicts the driver shortage could surpass 160,000 as soon as 2030. It's crucial we understand its causes and consequences to devise practical solutions. Failure to address this shortage poses a significant risk to the daily moving of goods of modern-day logistics and transportation systems. We need to collaborate to combat the problem and ensure a sustainable workforce for the future.
Tapping technology to problem solve
Technology offers innovative solutions that enhance efficiency, safety and productivity industry-wide. Tech-powered driver recruitment platforms and online training programs can help identify and onboard the next generation of drivers, keeping the talent pipeline full as older drivers retire from the workforce.
Technology can also streamline operations through telematics systems and logistics management software. This allows drivers to cover more ground effectively, easing day-to-day operations. By leveraging technology, drivers can reap the benefits, including optimizing fleet management and loads, route planning, enhanced driver safety and route planning.
2. Fostering goodwill between carriers and drivers
Carriers and drivers can strengthen their relationships in various ways. These include clear communication channels to establish a path of expectations, schedules and identify any changes that may arise. To set drivers up for success, carriers should provide the appropriate training and support programs that allow drivers to enhance their skills and stay updated with industry standards. Comprehensive compensation plans and training programs demonstrate that carriers value their drivers' efforts while promoting loyalty in their relationships. Carriers that make themselves more appealing to shippers – implementing a "Carrier of Choice" strategy – are more likely to get more consistent access to shippers' loads, and in turn, offer consistent work to drivers.
3. Building relationships with regional and local carriers
Both regional and local carriers are an integral part of today's growing parcel network as they serve a vital role. Regional and local carriers also often have a better understanding of their local labor market. This benefits local communities by emphasizing the advantages of working for a local carrier, like familiarity with the area and more predictable schedules. By using local drivers, capacity can be consistent through reliable schedules and keeps them happy by getting them home every night. By offering competitive compensation, regional and local carriers can adjust their packages to be more attractive to current and prospective drivers. Carriers must continually evaluate and improve the driver experience to create a mutually beneficial partnership and foster goodwill with drivers. Intentionally integrating into a community by building solid relationships between operators and drivers takes time and effort. A good broker can help you with this.
4. Broadening the workforce horizon
Increasing the workforce and addressing the ongoing issue of driver shortages can be supplemented by opening up the industry to a wider variety of people. Licensed truck drivers must be 21 or older to drive freight across state lines, although drivers must only be 18 to qualify for a CDL. Through proper introduction and training, individuals aged 18-21 could help fleets if the hiring pool was extended. By implementing apprenticeship programs, young aspiring drivers have the chance to operate commercial motor vehicles while ensuring they have the full skill set. Safety concerns are always top of mind with young drivers. That's why implementing enhanced training is imperative to the success of expanding the workforce horizon.
In addition to attracting young people, freight companies can also recruit a new class of drivers: women. Data from Women in Trucking demonstrates this trend, highlighting 13% of professional drivers in 2022 were women – up from 8% in 2018. In today's male-dominated industry, more initiative should be taken to recruit, train and retain female drivers. Female-focused apprenticeship programs can be valuable here, too, while allowing for hands-on learning and mentorship.
5. Harnessing the power of innovation
While most people are excited by emerging technology, it is especially appealing to the younger, tech-savvy generation entering the industry.
Autonomous trucking can serve as a driver assistance tool. Rather than replacing drivers, it can handle monotonous tasks such as route planning, automating tasks related to load scheduling, dispatching and tracking that allows drivers to focus on high-level functions. This can reduce fatigue and improve satisfaction. With the same skill set, individuals can be behind a monitor, instead of behind the truck. Beyond this, autonomous tools can help strengthen a fleet's safety record, helping quiet driver concerns about the hazardous nature of long-haul trucking.
As we continue to navigate the driver shortage, it's clear that technology, proper training and relationship building can play a pivotal role in overcoming this challenge. By streamlining day-to-day operations and prioritizing driver needs, we can ultimately foster a culture of adaptation and combat this nationwide issue.