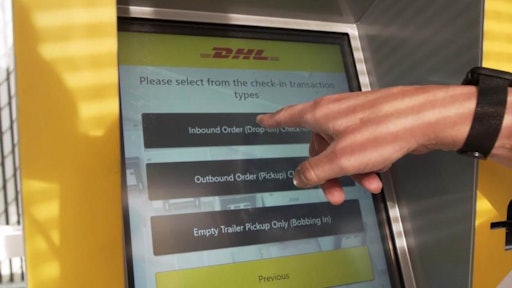 DHL
DHL Supply Chain launched DHL Driver Self Service, a digital offering that reduces the time it takes for truck drivers to check in and out of facilities.
"Our drivers are essential to the efficiency of our customers' supply chains. We are committed to continually improving driver experience and quality of life," says Jim Monkmeyer, president, transportation, DHL Supply Chain North America. "As our industry continues to face a labor crunch, it's more important than ever to deliver the technology advancements, like Driver Self Service, that attract and retain qualified talent and ensure we can place more drivers behind the wheel and keep supply chains running smoothly."
From DHL:
DHL

Driver Self Service fully automates the load check-in/check-out process.
At select sites, both

DHL

and non-DHL drivers will be able to scan a QR code when passing the entry gate of a facility, which allows them to complete necessary paperwork using their mobile phones or tablets. Drivers are then assigned a dock door via text message and provided periodic updates on the status of the unloading/loading process, all without ever having to leave the comfort of their cab. For those drivers who require physical paperwork, the same process can be followed using an onsite kiosk.
For those locations currently utilizing

DHL

Driver Self Service, load check-in and check-out times have decreased by 50%.
The application also includes additional safety, security and sustainability benefits. It more accurately captures driver's license and equipment information and tracks power unit details for carbon emission reporting.
"Across our organization we continue to explore ways to accelerate our digitalization efforts to drive greater value for our customers and our business," says Monkmeyer. "Incorporating new services and technologies for our drivers is just one of many examples of how we're continuously innovating to maintain operational excellence and ensure we remain the employer of choice for supply chain and logistics talent."