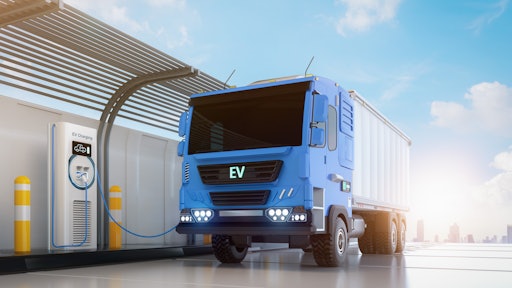 phonlamaiphoto AdobeStock_533284785
This year's Super Bowl saw three electric vehicle (EV) commercials aired throughout the game. In fact, least one-third of adults who watched at least part of the game said they are interested in purchasing an EV within the next year, and nearly double that share said the same for buying one in more than five years, according to a Morning Consult survey.
EVs were also on display at this year's Manifest show, showcasing everything from 100% battery-powered electric commercial delivery vehicles to full autonomous trucks.
That's why the Biden-Harris Administration's announcement -- aimed at creating a Made-in-America electric vehicle (EV) charging network – is so important. These steps will help the United States build a national network of 500,000 EV chargers along U.S. highways.
Here's how it works:
Biden's Bipartisan Infrastructure Law invests $7.5 billion in EV charging, $10 billion in clean transportation and over $7 billion in EV battery components, critical minerals and materials.
These flagship programs complement the Inflation Reduction Act's landmark support for advanced batteries and new and expanded tax credits for purchases of EVs to support installations of charging infrastructure. It also supports dozens of other federal initiatives designed to drive domestic manufacturing and build a national network of EV charging.
"Because of President Biden's leadership and record federal investment, EV sales have tripled and the number of publicly available charging ports has grown by at least 40% since he took office," according to a White House press release. "There are now more than 3 million EVs on the road and over 130,000 public chargers across the country. Further accelerating the buildout of a convenient, reliable charging network is critically important to make electric vehicle charging a seamless experience."
From the White House:
Effective immediately, all EV chargers funded through the Bipartisan Infrastructure Law must be built in the United States. The plan requires that, effective immediately, final assembly and all manufacturing processes for any iron or steel charger enclosures or housing occur in the United States. By July 2024, at least 55%of the cost of all components will need to be manufactured domestically as well.
The new Joint Office of Energy and Transportation released a notice of intent to issue a funding opportunity for its Ride and Drive Electric research and development program, designed to advance the goal of building a national network of EV chargers by supporting EV charging reliability, resiliency, equity and workforce development.
This network of 500,000 EV chargers by 2030 will support the National Electric Vehicle Infrastructure program (NEVI), a $5 billion initiative to create a coast-to-coast network of EV chargers focused on major highways that support the majority of long-distance trips.
The strategy is to ensure that EV chargers purchased through the NEVI program will be assembled in the United States, effective immediately, and fully compliant with Build America, Buy America requirements for manufactured products by July 1, 2024 to support investments in the supply chain consistent with an aggressive expansion of domestic manufacturing.