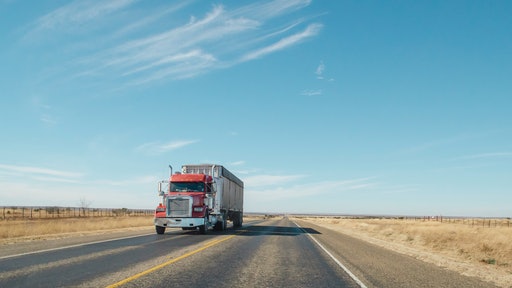 Pexels
According to the Bureau of Labor Statistics (BLS), "transportation and warehousing lost 22,000 jobs in February, including 9,000 in truck transportation. Employment in transportation and warehousing is down by 42,000 since October 2022."
The future of the industry looks rather bleak, according to this data. However, the BLS numbers only paint part of the picture.
Let's take a closer look at supply chain trends, predictions and the current state of the labor market.
Reallocation of transportation and warehousing jobs
The recent loss of transportation and warehousing jobs is relative to the expanded growth during the pandemic. BLS trendlines show a significant period of job growth from April 2020 to October 2022 due to the increased need for these workers. In the past six months, employers have been rightsizing their workforce now that the pandemic's influence on consumer behavior has subsided.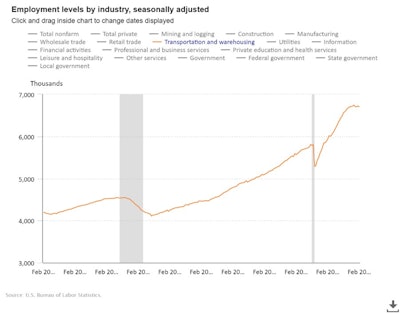 The increase in online shopping, as well as the need for personal protective equipment (PPE), was a big instigator of the COVID-19 hiring frenzy. With more consumers stuck at home and buying online, the need for transportation and warehouse workers surged. Employers hired rapidly to keep up with this unprecedented demand, and now they are shedding these surplus jobs as people return to the stores.
Truck drivers will always be in high demand, however. Even though the BLS shows 9,000 fewer trucking jobs were added in February, there will always be a shortage of CDL drivers.
Manufacturing: A mixed bag
Manufacturing jobs also show a significant period of growth from April 2020 to October 2022, though unlike transportation and warehousing, it has experienced marginal growth over the last four months.
"Manufacturing employment changed little in February (-4,000), compared with an average monthly gain of 21,000 over the prior six months. Despite this, employment in manufacturing has expanded by 150,000 jobs since its most recent January 2019 peak," the BLS reports.
In March 2023, six manufacturing industries reported growth while 12 reported contraction. Two of the biggest manufacturing industries registered growth in March.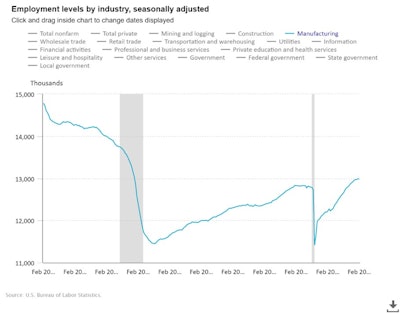 The recent increase in retail shopping (vs. online shopping) has marginally increased the demand for manufacturing jobs. In order for retailers to optimize their customer demand, inventory and supply chain management, they must consider all manufacturing options.
Just-in-time (JIT) manufacturing and just-in-case (JIC) manufacturing are two production strategies that companies use to manage their inventory and supply chain. JIT manufacturing is a system in which materials and components are delivered to the production line just as they are needed. This allows companies to avoid the costs and inefficiencies of holding large amounts of inventory, and to reduce waste by producing only what is needed.
JIC manufacturing, on the other hand, involves maintaining a certain level of inventory in case of unexpected disruptions to the supply chain. This approach can provide a buffer against potential shortages, but it also incurs the costs of storing and managing the additional inventory.
"Input prices faced by manufacturing firms increased drastically through the first quarter, as higher raw material costs pushed operating expenses up. Even so, the rate of cost inflation eased, and manufacturing firms remain upbeat in their expectations regarding the outlook for output over the coming 12 months," according to S&P Global's U.S. Manufacturing PMI.
Consumer spending patterns
Customer demand hasn't subsided, it has shifted. Inflation is a large contributor to increased consumer spending as the price of essential goods goes up.
Consumer spending is up, but spending patterns are swinging more towards services than goods. As the supply chain continues to normalize post-COVID-19, and post-economic downturn, spending patterns are expected to change, and because of the progress made by retailers with their inventory glut, the industry looks ripe for a more normal Q4 experience. Unfortunately, inflation is here to stay for the foreseeable future driven by many factors, one in which is wage inflation as labor shortages and declining participation rates continue to hamper the industry.