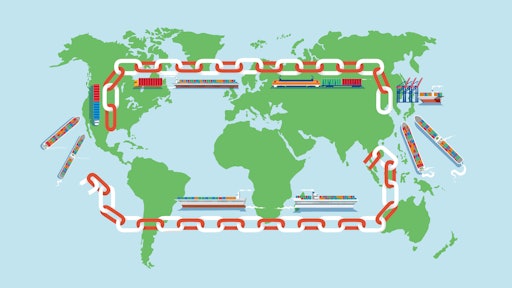 Reinhard - stock.adobe.com
Everstream Analytics acquired BlueNode to expand intermodal analytics solutions for global supply chain execution.
"We're committed to helping companies run the most efficient, resilient supply chains in the world, while making meaningful progress on their sustainability targets," says Julie Gerdeman, CEO of Everstream. "As the only provider offering true end-to-end visibility and risk management across planning, procurement, and logistics, we help companies build lasting supply chain sustainability. Shipment visibility is key to understanding critical relationships and the flow of goods around the world."
From GlobeNewswire:
BlueNode automates the enrichment of intermodal logistic data with an artificial intelligence (AI)-powered cleansing and integration engine that helps streamline logistics and facilitates carbon emission measurement and reporting.

BlueNode aligns the flow of information with the flow of goods to deliver improved data transparency, reliability and availability, powering confidence that underpins time-sensitive strategic decision-making.

Everstream Analytics

provides n-tier visibility, ongoing risk monitoring and predictive supply chain intelligence.
With the acquisition, Everstream will extend these insights to include the ability to make strategic decisions on maritime carbon mitigation that balances shipping time, expense and environmental impact. BlueNode's capabilities will enable improved data quality in the market of shippers, carriers, third-party logistics (3PL) providers, customs brokers and transportation marketplaces, as well as downstream intermodal partners.