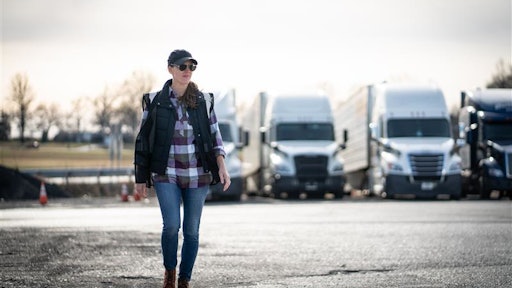 5m3photos
Truck drivers are the backbone of the supply chain as companies use trucks as part of their transportation operations to move goods. According to the American Trucking Associations (ATA), "trucks move roughly 72.5% of the nation's freight by weight. Trucking also moves $791.7 billion in gross freight revenues, which represented 80.4% of the nation's freight bill in 2019, according to ATA data."
In other words, when truck drivers are in short supply, goods don't move.
So, what do you do? Recruit more drivers? Retain current ones? Or, keep your drivers happy? And, how do you do that?
Competing for top talent
Carriers must be competitive to excel at driver recruitment and driver retention in today's drivers' market. To recruit new drivers, focus on campaigns to recruit new categories of drivers, such as women, and bring your campaigns to new locations, such as truck driving schools, driver's training programs and local department of motor vehicles (DMV) facilities.
Some companies emphasize new equipment or paying for schooling in their search for workers. Others offer apprenticeship programs for graduates of a CDL school under 21 years of age. Still, others participate in community and educational events to try to bring the idea of becoming a truck driver to students. Plus, your current drivers can be an excellent resource for recruiting new drivers.
If you focus on recruiting women to fill truck driver slots, consider offering women drivers a local fleet rotation or letting women drivers trade-off on long-distance trips so that they can return home at night to be with their families. Offer female-friendly perks, including blogs that women can read on the road, self-defense lessons, or wellness guides. By incorporating programs to help women succeed in your company, you'll engage and incentivize your female drivers and attract more women to your open positions.
Keeping drivers happy
To keep truck drivers happy, stay connected. As most drivers are taking a load on the road, it is important to continue communicating with them every few weeks. Ask drivers to provide insights into their well-being and happiness and any concerns about their job, customers, equipment, etc.  
Here are some other ways to keep your driver happy:
Provide reliable, properly maintained equipment to help drivers avoid breakdowns. No one wants to be stuck on the side of the road with a failed engine. Keeping trucks up to date improves the utilization of your trucking assets.
Use a mobile app to facilitate communication between the driver and the back office. If your dispatcher needs to change something about a delivery suddenly, he/she can text or phone the driver with instructions that can't be missed.
Use a solution that allows drivers to access their truck routes on a map and receive turn-by-turn directions, improving customer service with more accurate ETAs.
Automate track and trace, so you know drivers' locations in real-time. This enables easy updates like load arrival, departure, completion, and more. Users can see when a load is picked up, where it is now, whether it was delivered and the ETAs for the load's remaining stops.
Pay drivers well and on time. Drivers earning good money will continue to want to work at your business. Think of ways to incentivize your truck drivers as a form of reward, such as engaging drivers in simple contests and awarding gift cards.
Implement technology
Truck drivers want to be successful at their jobs; they want to be efficient and productive and keep moving. You can use technology to improve productivity and increase efficiencies.  Technology, ranging from transportation management systems (TMS), mobile apps and telematics can be the right solution to keep drivers happy as these technologies improve productivity and the work environment.
Eliminating paper-based processes means drivers can focus on driving rather than paperwork. Truck drivers often use documents that need signing upon delivery of the load. If these papers are scanned and put on a mobile phone or laptop, the driver can have the customer sign electronically, which helps the driver avoid shuffling through many forms to find the correct documents. Reducing the need to handle paperwork gives hours back to the driver. The ability to upload documents directly to the home office while out in the field speeds invoicing and shortens driver settlement times. 
Click here to hear more about technology in trucking:  
Automating day-to-day tasks for truck drivers can significantly improve their productivity. Mobile apps that communicate load assignments, directions, and instructions directly with the drivers improve driver productivity and efficiency. Dispatchers can alert drivers to changes in plans or traffic issues, providing the drivers with an immediate resolution to these issues. 
Technology, like a TMS, knows each driver's remaining hours of service (HoS). The TMS will only assign loads to drivers that they can complete. That way, drivers don't get stuck out on the road because they must wait their required time to meet HoS requirements. Plus, you can squeeze more drive time from your drivers with appointment times and transport plans that factor in efficient driving and rest times.
Telematics, ELDs and GPS devices track trucks and loads and display these on digital maps. Dispatchers can see what drivers can pick up a return load to avoid traveling with an empty truck. This improves asset utilization and bottom-line profitability.
Decreasing idling at stops, loading/unloading times and required paperwork adds driving hours to the day, making it possible for your drivers to be more efficient and happier.
To keep truck drivers happy, it takes a variety of techniques, from consistent and higher pay to greater benefits. Helping drivers reduce the amount of paperwork by using technology that automates business processes keeps them focused on driving and moving your freight. But, don't overload drivers with more apps and more data. Consolidate the information into one place where drivers and management can access it quickly and easily, making the data more actionable and drivers more efficient.