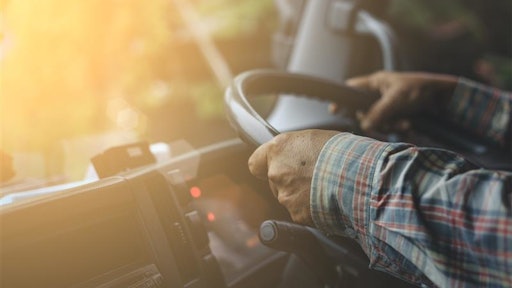 Urupong-truck driver
More and more, consumers expect same- or next-day delivery for nearly everything, including groceries. The unique circumstances of the last two years have accelerated that demand at an unprecedented rate.
That demand is a major part of the engine that drives the economy. But, the Coronavirus disease (COVID-19) crisis, widespread supply chain disruptions, a chronic labor shortage and a rise in remote work are increasing pressure on manufacturers, distributors and retailers.
It's not just that consumers prefer fast delivery over other shipping options. As same-day service becomes more common, consumers increasingly expect the experience to be as affordable, reliable and as convenient as standard shipping. At the same time, shortages, price spikes and logistical disruptions have impacted the supply side of the equation, complicating the production and distribution of many goods.
As a result, many businesses are facing a severe crunch, with increasing demand and elevated customer expectations on one side and supply and labor shortages on the other. But, this challenge, like many others, is also an opportunity.
Overcoming obstacles
Last-mile delivery — the process of getting consumer goods from a warehouse or distribution center to its final destination, whether that's a home, office or convenient pick-up location — is a trending topic for businesses in a variety of industries, and for good reason. Because consumers have an array of delivery options, companies that master this final stage of the supply chain can establish a distinct competitive advantage.
But, mastering last-mile delivery means overcoming some well-established obstacles that have persistently plagued businesses across all industries. The realities of last-mile logistics may limit the possibilities for customers in rural areas or outside set distribution networks. Additionally, the nature of some categories of products, like food, can limit delivery options. Opting for speed may require additional fees or preclude features like tracking, too.
Similarly, visibility and accessibility are very real challenges, particularly in remote or rural areas. Office buildings and apartments can complicate delivery, and so can limited business hours or lack of contact information. When it takes multiple trips to deliver a package, no one is satisfied.
Finally, inefficient routing wastes fuel and ultimately costs customers money. One-way streets, lack of parking or unloading spaces, unmarked buildings and traffic can all create delays, especially for non-experts.
Click here to hear more about what is happening in the last-mile space:
The risk of third-party providers
Reliable, accurate and fast delivery is no longer a luxury, but a necessity. In today's tight labor market, most companies that don't specialize in delivery need help meeting increasing demand and elevated consumer expectations.
Recently, many businesses have started to look into third-party last-mile delivery service providers to meet this demand. While some companies experience good results from these partnerships, there are some common shortcomings with third-party delivery providers:
Limited service. Some third-party providers don't offer evening or weekend service or only include it at premium prices. Confirm the days and hours you're paying for.
Added delivery fees.

Some companies offer "free" shipping but add "delivery" fees. Watch out for these and any other unexpected fees that might be tacked on to your costs.

Insurance.

Make sure any third-party carriers are adequately covered so you're not stuck with the costs of damaged or lost packages.
While last-mile delivery providers are expected to surge in popularity in coming years, some business leaders are looking for other solutions that mitigate the risk and cost of these services.
Software solutions and success
For businesses that depend on last-mile delivery but don't specialize in it, a software solution can be the best option for streamlining and managing delivery workflows. The leading delivery management platforms equip companies with tools that help increase operational efficiency, enhance customer experience and establish market advantage.
Features to look for in delivery and route management software include:
Scheduling. The right delivery management solution easily automates the entire route planning process and allows companies to track and optimize routes in real-time and adjust schedules as changes occur.
Dispatching.

Top delivery management software can send up-to-date routes and schedules directly to drivers' mobile phones, ensuring accuracy and also providing valuable insight into driver operations.

Tracking.

Mobile virtual tracking provides real-time visibility, asset tracking and data for coaching and safety.

Integration.

Solutions that offer a range of integrations maximize user value and provide critical flexibility.

Route optimization.

Advanced algorithms for continuous optimized routing increase operational efficiency.
As demand for fast and reliable delivery continues to grow, the limits of manual route management and third-party delivery services have become more noticeable for many businesses. Routing software solutions that provide powerful tools for maximizing efficiency, safety and productivity can benefit any companies that rely on last-minute delivery.