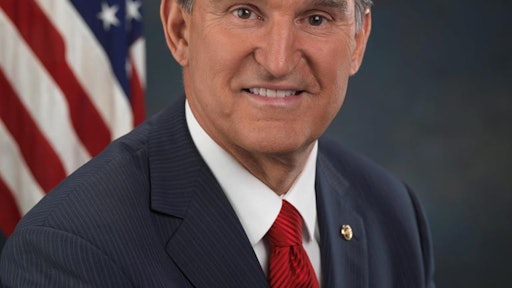 Sen. Joe Manchin, D-W.Va., is calling for a Senate hearing on a proposed merger between Canadian Pacific Railway and Norfolk Southern, which he has dubbed a "Wall Street takeover" of a prominent U.S. freight company, according to The Hill.
Calgary-based Canadian Pacific Railway has been making overtures to Virginia-based Norfolk Southern about a potential combination it says would "create a truly transcontinental railroad to better serve customers and the economy."
Manchin, a member of the Senate Commerce, Science and Transportation Committee, on Tuesday said the proposed merger "is an attempt by a Wall Street titan to purchase and dismantle an American rail company that has provided jobs for hundreds of West Virginians."
He called on lawmakers in the Senate to investigate the proposed combination, which he said "creates real and present dangers to hardworking people of West Virginia."
"We can't get any specifics from Hunter Harrison or Bill Ackman about where the $1.8 billion will come from in this deal with Norfolk Southern, but we know the harm they have done at Canadian Pacific," Manchin said in a statement.
"I'm calling for a Commerce Committee investigation into this merger because I want to ask Hunter Harrison what they are going to invest in, what they are going to build, and how they are going to help the people and the communities of our state," Manchin continued.
"West Virginia cannot afford a corporate partner more focused on short-term gains for stockholders than the hard-working men and women who show up to work every day. In this economy, I'm going to fight to protect every single West Virginian job I can."
To read more, click here.