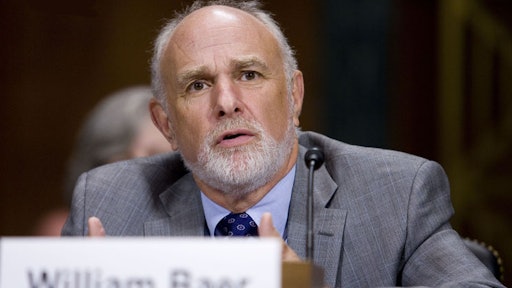 The U.S. Justice Department's top antitrust official on Wednesday raised competition concerns about a proposed voting-trust structure that would involve two rail giants if they merged, saying it could allow the companies to accomplish much of the tie-up before a government review was completed, according to The Wall Street Journal.
Calgary, Alberta-based Canadian Pacific Railway has made advances to Norfolk Southern Corp. and East Coast rival CSX Corp., seeking to create a North American railroad that stretches from the West Coast of Canada to the Gulf of Mexico and Atlantic Ocean in the U.S.
Under the proposed voting-trust plan, were Canadian Pacific to reach a merger agreement with Norfolk Southern, its chief executive, Hunter Harrison, would sell his company shares and move to lead Norfolk Southern during the estimated two years regulatory approval would take. During that time Canadian Pacific would be run separately by its chief operating officer, Keith Creel.
Canadian Pacific has petitioned the U.S. Surface  Transportation Board, whose approval is required for rail mergers, for an order saying the voting-trust structure is acceptable.
Justice Department antitrust chief Bill Baer, appearing before a Senate antitrust subcommittee, said the voting trust was "an area of concern" because it could allow merging parties to accomplish much of the merger before a government antitrust review had taken place.
"That strikes me as letting the fox into the chicken coop subject to an investigation later of why there are so many feathers lying around," Mr. Baer said. He said the department would be expressing its views to the transportation board, which is reviewing the arrangement.
A Norfolk Southern spokesman declined to comment. A Canadian Pacific spokesman said the temporary voting-trust structure, which has been used many times for other mergers, is designed "to ensure the independence" of both parties during the waiting period for regulatory review.
To read more, click here.