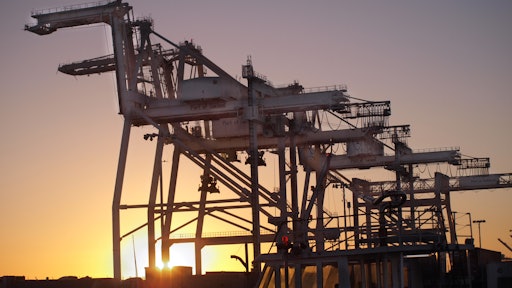 Getty Images
Port of Oakland is planning to install three 300-foot-tall gantry cranes to prepare for a new generation of mega-container vessels. the cranes will be delivered in about 18 months.
According to Logistics Management, the cranes will be delivered by project cargo vessels from China, and will arrive only partially assembled to assure clearance under the San Francisco-Oakland Bay Bridge.
"Big ships are the future," says SSA Containers President Ed DeNike in a statement to Logistics Management. "They're coming to Oakland and we're going to be ready for them."
The cranes are expected to go to Oakland International Container Terminal on Oakland Estuary. A $30 million order for the cranes was submitted last week, according to Logistics Management.
The new cranes are expected to be the tallest on the West Coast and are capable of loading and unloading the world's largest container ships.
International Container Terminal. The port said it would remove three older cranes from the line when new ones are installed.