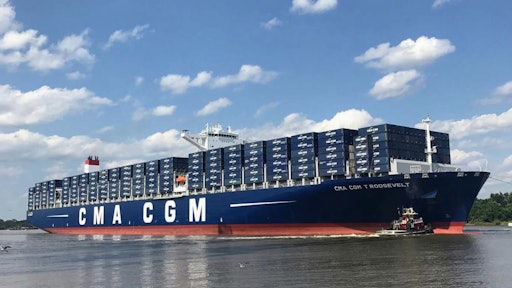 Port Tampa Bay
CMA CGM Group will begin serving port Tampa Bay in late May 2019 on its Pacific Express 3, or PEX3 service. The PEX3 port service rotation will be as follows: Singapore – Vung Tau – Hong Kong – Shekou – Ningbo – Shanghai - Busan – Panama Canal - Houston – Mobile – New Orleans – Tampa – Miami – Singapore.
"The PEX3 offers an outstanding service to and from Asia, and now shippers in Central Florida will have enhanced access to it," says Nick Fafoutis, Senior vice president and chief commercial officer at CMA CGM America. "With this new call to Port Tampa Bay, the CMA CGM Group is pleased to provide an invaluable routing option between critical Asian markets and a growing population base in Central Florida and the greater Southeast region. With the recent addition of Vung Tau on PEX3, the Tampa call will also be the first ever direct connection between the booming Vietnam market and Central Florida. These changes to PEX3 exemplify the customer-centric strategy that has propelled the CMA CGM Group to be the number 1 carrier in the U.S."
Port Tampa Bay is near Florida's fastest growing region and its largest consumer market. As trucking costs have increased, Port Tampa Bay's location is recognized as offering the lowest delivery cost solution for exporters and importers. From this central location, importers and exporters achieve significant savings in their truck delivery costs to serve the entire state, as well as reaching into markets throughout the Southeast and beyond. In addition, its position on the eastern Gulf coast compliments the western and central Gulf ports of Houston and Mobile. The three ports, together with the Panama Canal, have been jointly promoting the advantages of the all-water Asia-Gulf route and the growing markets along the Gulf coast.
"Ports America is proud to partner with the port in welcoming CMA CGM," says Mark Montgomery, President & CEO of Ports America, container terminal operator at Port Tampa Bay. "Together with the port, we're moving forward with expansion of the terminal, as well as adding cranes and equipment so we can continue to accommodate this growing market."