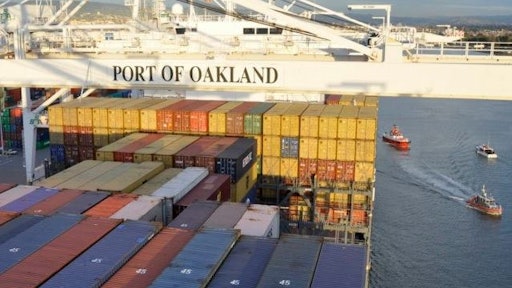 TraPac LLC, one of the Port of Oakland's largest terminal operators, has announced plans to double its terminal size which port officials say can increase efficiency and volume at the port, according to The East Bay Times. TraPac said it plans to lease an additional 57 acres and two vessel berths on the port's Outer Harbor, strengthening its position as the port's second-largest operator.
TraPac handles 20 percent of the containerized cargo moving through the Port of Oakland and manages two vessel berths and 66 acres of land. The new deal would give it four berths and 123 acres, much of which would be used for cargo handling.
"Our business is growing and placing new demands on our operations," said Mike Porte, general manager for TraPac Oakland. "With this new agreement, we can meet the demands and the service expectations of our customers."
The news follows steady growth at the port. In September, containerized export volume soared 10 percent compared with 2015. It was the eighth increase in nine months and the first double-digit jump since February. Through the first nine months of 2016, export volume increased 9 percent, mostly propelled by California growers shipping fruit, nuts and wine to Asia. The port has also opened a new rail yard and plans to build a new cold storage facility and additional warehousing space that will improve its ability to move cargo.
To read more, click here.