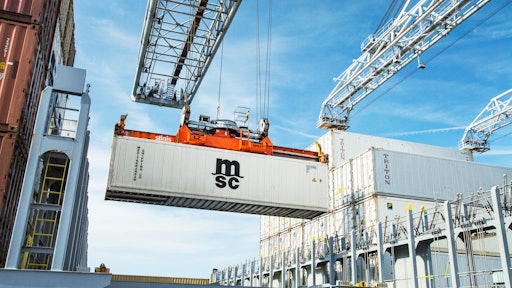 MSC Group
Major opportunities are on the horizon for ocean shipping as the rapid pace of technological change will continue unabated through 2019 and beyond, according to industry research conducted by Navis, a part of Cargotec Corporation. To round out 2018, the company offered its predictions on the biggest trends driving the industry over the next year—most of which included increased use of technology. Most notable among the trends was a rise in the use of smart containers as the lack of real-time, end-to-end visibility still remains a major issue in today's global supply chains, especially for products carried across the oceans. 
Navis' research indicates that 2019 could be the year that we start to see expanded use of smart containers in the market as shipping begins to run trials of the technology. Use of this technology has the potential to provide a new understanding of the conditions of both the containers and the product inside as it travels from Point A to Point B.
The industry is already seeing progress with Maersk Line announcing investments in inexpensive, disposable tracking devices, along with earlier initiatives to put sensors into its entire fleet of refrigerated containers. In September 2018, Maersk introduced its monitoring system, known as Remote Container Management (RCM), to all its refrigerated cargo customers. The technology combines location tracking with temperature and humidity monitoring from inside each of the shipping line's 350,000 reefer containers to give customers a complete overview of their reefer shipments.
"RCM gives visibility into the whereabouts and state of the goods in the container as it moves across the entire supply chain. Customers can interact with us to change or correct settings underway, and they can plan and optimize their supply chain based on the visibility they have at hand," explains Anne-Sophie Zerlang Karlsen, head of refrigerated cargo for A.P. Moller-Maersk.
RCM also enables its customers to make better decisions about their supply chains, Karlsen notes.
"In the past, if a shipment of bananas was transported with incorrect reefer settings, the shipper wouldn't know until the container was opened—often to discover a load of spoiled bananas. RCM will give you an alarm if something goes wrong, and the shipper can then work with Maersk to mitigate the situation—for example by having Maersk remotely correct the settings," she says.
Maersk has also seen many cases where RCM enables shippers to help manage correct loading practices by their vendors.
"Many companies require the suppliers to pre-cool the produce before loading. With RCM, they are able to detect the temperature of the cargo when it is loaded into the container. This is valuable information for better management of their supply chains," Karlsen says.
The value of that information is clear when you look at the growth Maersk is seeing in use of this product. According to Karlsen, Maersk has seen significantly higher reefer volume growth with RCM customers (+10 percent) than with non-RCM customers (5 percent), meaning "we are successfully growing our 'share of the wallet' in this segment, where many shippers use multiple carriers."
In addition, RCM customers now represent more than 70 percent of Maersk Line's reefer volumes.
While Maersk has seen strong results since the commercial introduction of RCM, it is still learning from the technology and its customers about the best ways to utilize it and making continuous improvements to the product and user experience. In fact, RCM 2.0 will be introduced in the first half of 2019.
"The Remote Container Management (RCM) product is a strong fit to the A.P. Moller-Maersk strategy to transform from a shipping and energy conglomerate into an integrated container logistics provider that leverages digital opportunities to create seamless customer experience across the supply chain," adds Karlsen.
Big data and fleet management specialist TRAXENS is also making waves in the smart container space, with plans to deploy 100,000 IoT-enabled containers by the end of 2019, including equipping 50,000 MSC dry cargo containers with smart container technology.
In a news release, MSC Group says the partnership with TRAXENS "will enhance supply chain management for shippers through unprecedented visibility of dry cargo flow from door-to-door, adding efficiency, safety and predictability."
TRAXENS provides shippers with an Internet-connected device to permanently affix on dry cargo containers. This transforms the container into a smart, connected object that collects and communicates real-time data on its position and movements throughout its journey. The device can also help monitor temperature, humidity level, shocks and vibrations, and doors opening and closing.
"The use of digital technologies like smart containers will bring substantial gains in efficiency, service, security and safety along the entire supply chain. It will also help manage delays and other problems along the supply chain where historically chasing information has been time-consuming and expensive," MSC says.
"MSC believes that the real-time tracking of containers is the future of the shipping industry," says Diego Aponte, president and CEO of MSC Group. "While shipping lines should of course compete on service, we will achieve better results for our customers by working in a more harmonized way on technology and innovation. Smart containers are a perfect example of where we can cooperate according to industry standards to make our services truly comprehensive, and TRAXENS is the top innovator in this area."
In the near future, TRAXENS solutions are also expected to facilitate easier and quicker pre-customs clearance for shippers.
In addition, CargoSmart, a provider of shipment management software, is connected to over 40 ocean carriers to advance supply chain visibility. In October, CargoSmart partnered with Solace to use its PubSub+ event broker technology and IoT connectivity to help top ocean shippers, including OOCL, improve the productivity and efficiency of their shipping management and vessel operations.
"CargoSmart aggregates and analyzes real-time vessel voyage data, port activity information and scheduling data from 40-leading ocean carriers, providing deep insights that help them improve the service and visibility they give customers while reducing costs," says Lionel Louie, chief commercial officer for CargoSmart. "Solace PubSub+ intelligently routes customized, filtered streams of IoT data from tens of thousands of vessels, sensors and control systems to applications, analytics engines and users that can use them to make smarter decisions that optimize operations."
Solace also lets shippers create a realistic real-time model of their entire operation through the creation of a "digital twin," a virtual representation of physical assets and sensors that are updated by their real-world counterparts in an event-driven manner. These digital twins let shippers use sophisticated simulation techniques to develop responses that effectively address scenarios that might otherwise impact their customers.
Follow Amy Wunderlin on Twitter.