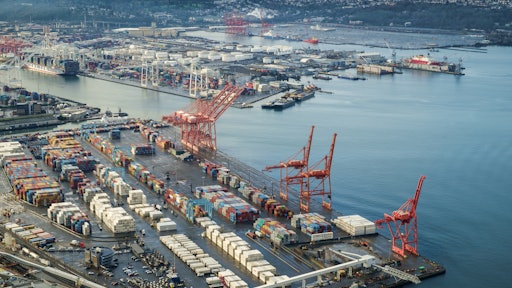 Getty Images
According to K5 News, the port of Seattle and port of Tacoma are finalizing a plan to renovate Terminal 5 and shift existing containers to other terminals in the meantime, creating significant changes at Terminal 46.
"It is a really significant investment," Port of Seattle Commission President Stephanie Bowman said during a meeting of the Northwest Seaport Alliance.
The ports will reportedly spend $340 million for phase 1 of the redevelopment of Terminal 5 of the world's biggest container ships. Stevedoring Services of America Terminals and Terminal International Limited as are expected to chip in $140 million and sign a 32-year lease to operate the terminal. If approved, constructed could begin this spring with anticipation to be completed by 2021.
Meanwhile, the Terminal 5 could take years as container operations were suspended in 2014. The Port of Seattle and NWSA have since gone through an environmental review process and master use permitting, K5 News reports. The entities have been issued a shoreline permit to make all improvements and secured the needed permits in November.
In addition, the port of Seattle is also finalizing plans to use 29 acres of the 86-acre site for a fourth cruise ship berth. It previously suggested the berth would be constructed with $100 million from the port, with the tenant assuming the other half of the cost.
To read the full original article, please click here.