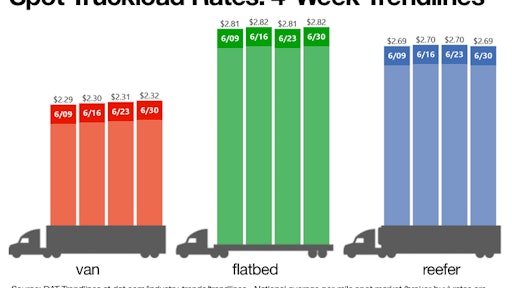 Urgency to move freight before the end of Q2 and ahead of the Fourth of July holiday helped propel the national average spot van rate to $2.32/mile during the week ending June 30, matching the average contract rate and setting a new national high for both rate averages.
Last week's van rate was 17 cents higher than the average van rate four weeks earlier. The national average reefer rate fell a penny to $2.69/mile and the flatbed rate increased 1 cent to $2.82/mile on the DAT network of load boards.
VAN OVERVIEW: The number of van load posts and truck posts remained the same as the previous week, which kept the load-to-truck ratio unchanged at 9.2 loads per truck. Weekly average spot rates increased more than 2% in 12 of the 14 top van markets, including:
Memphis: $3.25/mile, up 20 cents
Atlanta: $2.95/mile, up 15 cents
Los Angeles: $3.16/mile, up 9 cents
Columbus, Ohio: $2.75/mile, up 8 cents
Chicago: $2.69/mile, up 8 cents
FLATBED OVERVIEW: The national load-to-truck ratio for flatbeds remains high but it fell for the third week in a row, down to 68.6 loads per truck, the lowest ratio since February. That was due to a 8 percent decline in load posts and a 5 percent increase in truck posts.
REEFER OVERVIEW: Reefer load posts on DAT load boards rose 6 percent while truck posts increased 2 percent last week. That caused the load-to-truck ratio to increase from 12.7 to 13.2 reefer loads per truck.
Rates last week were driven by seasonal demand as well as the need to move higher volumes of refrigerated and frozen goods ahead of the Fourth of the July holiday. The average outbound rate from Los Angeles gained 9 cents to $3.71/mile, reflecting the need for reefer capacity in California, and several regional lanes made gains:
Atlanta to Philadelphia: $4.08/mile, up 57 cents
Green Bay to Wilmington, Del.: $4.12/mile, up 6 cents
Elizabeth, N.J. to Boston: $4.90/mile, up 25 cents
Dallas to Houston: $3.61/mile, up 28 cents