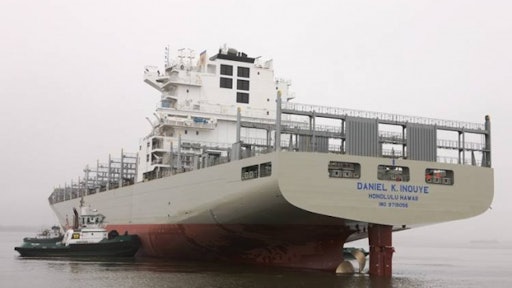 Matson Inc and Philly Shipyard opened the largest containership ever built in the US, MarineLog reports.
The vessel is the first of two new ships being built for Hawaii-based Matson by Philly Shipyard at a total cost of approximately $418 million, MarineLog reports. The ship is the first of four that Matson will put into its Hawaii service during the next two years.
The vessel is designed to serve Hawaii and is built with LNG-compatible engines, setting a new standard for cargo transportation in Hawaii. The Daniel K. Inouye ship incorporates the latest environmentally friendly technology, including dual fuel engines that can be adapted to use liquefied natural gas, double hull fuel tanks, fresh water ballast systems and a more fuel efficient hull design, MarineLog reports.
The Daniel K. Inouye vessel is 850-foot long, 3,600 TEU capacity and will travel at a speed of 24 knots, ensuring on-time deliveries in Hawaii from Matson's three West Coast terminals in Seattle, Oakland and Long Beach.