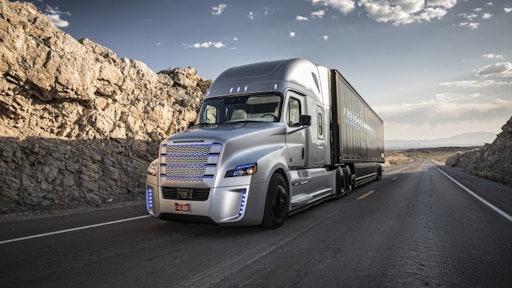 Trucks.com reports that Daimler Trucks will launch a full line of electric trucks and buses starting with a small scale pilot later this year and will move to full-scale production by 2021.
The nearly silent, electric version of its Freightliner Cascadia heavy-duty truck was unveiled during a meeting with Wall Street analysts and investors, Trucks.com reports. The Freightliner truck that it is modeled after is the top-selling heavy-duty truck in the US.
the company is expected to build 30 of the Freightliner trucks to test out later this year. The goal is to learn how they perform and how customers will use them before ramping up to a full scale production.
The eCascadia will have up to 730 peak horsepower, according to Trucks.com. The batteries have 550 kilowatt-hours of capacity to provide a range of up to 250 miles and can be charged to a range of 200 miles in 90 minutes.
The truck is expected to be used for local and regional distribution, typically where trucks are used for shuttling containers at ports.
The eM2 truck, an electric version of its M2 medium-duty truck, is expected to be used for pickup and delivery, food and beverage delivery and last mile logistics applications.
Both the Freightliner eCascadia and the eM2 are designed to meet customer needs for electrified commercial vehicles .
Trucks.com reports that Daimler is moving to electric trucks and buses global standard are increase emission rules. Currently, Paris, Madrid and Mexico City are just a few major cities that are considering placing a ban on diesel cars and trucks.
During its meeting with Wall Street analysts and investors, Daimler did not give any indication on prices or marketing projects. It only provided the basic outline of its electric truck plans.
Daimler's commitment to electric trucks will face competition with the likes of Thor Trucks and Tesla. However, the company has a commanding market position in the US, a vast dealership network and a book of customers who order trucks by the hundreds at a time, Trucks.com reports.