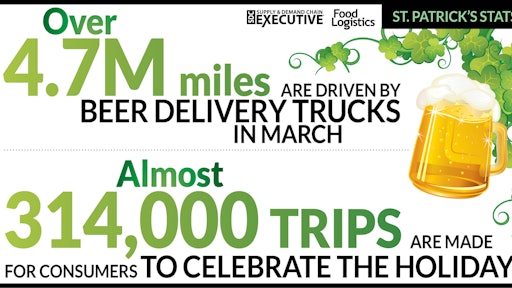 The beer industry is going into overtime to prepare for St. Patrick's Day.
According to Verizon Connect, over 4.7 million miles are driven by beer delivery trucks in March to prepare for the Irish holiday. Nearly 314,00 trips are made so that consumers are able to throw back a cold one and celebrate.
Did you know:
New England has 340 breweries pouring craft beer to the largest Irish population in the United States? Fifteen percent of New England residents claim they have Irish ancestry.
Maine holds the longest daily beer delivery distance and longest driving hours for the whole year.
Living up to Wisconsin's drinking reputation, Milwaukee requires 50 percent more trips than any other beer city in the United States.