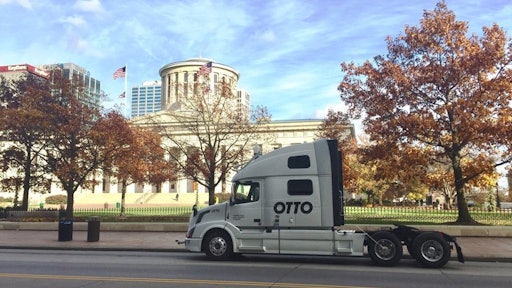 Driverless trucks will soon hit Ohio roads with the help of a $15 million investment from the state for a "smart road" located in the central part of the state.
During a visit to Dublin, Ohio Gov. John Kasich announced the creation of the Smart Mobility Corridor, a 35-mile stretch of U.S. 33 in central Ohio that runs through Logan County. Officials say that section of U.S. 33 will become a corridor where technologies can be safely tested in real-life traffic, aided by a fiber-optic cable network and sensor systems slated for installation next year.
The technology will allow automotive testing, research and manufacturing facilities to test smart transportation technologies on a highway that carries up to 50,000 vehicles per day through rural and urban settings in a full range of weather conditions.
This data will also provide more frequent and accurate traffic counts, weather and surface condition monitoring, and incident management improvements.
"Data collected on this corridor will allow automotive innovators to test and refine jobs creating technologies that are going to help move people and products more safely and efficiently than ever before," said Jerry Wray, Ohio Department of Transportation director.
For more information on Ohio's development of a smart highway, visit Ohio Smart Road