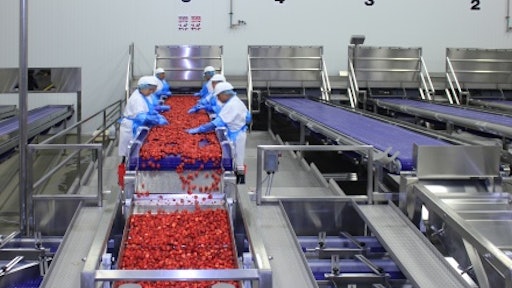 Fisher Construction Group was named the winner of the International Association for Cold Storage Construction (IACSC) Built by the Best Award for their project with Lineage Logistics and Titan Frozen Fruit.
Lineage Logistics contracted with Fisher Construction Group to build a 216,777 sq.ft. LEED certified facility, which includes 151,000 sq. ft. of cold storage and dock space, and 65,000 sq. ft. dedicated to onsite food processing for Lineage's tenant Titan Frozen Fruit. Fisher developed solutions to challenges during the construction of the LEED-certified facility, at times managing over 120 workers in 10 trades, to allow Titan Frozen Fruit to start processing strawberries just seven months after ground breaking.
"I speak for the entire project team in saying that we are honored to have been chosen as the winner of this prestigious award," said Scott Guimond, Project Manager, Fisher Construction Group. "The project certainly had its challenges and we are happy we found the solutions needed to help Titan meet the deadlines around a crucial berry harvest time."
With the capacity to blast freeze 1 million pounds of product per day, the state-of-the-art facility will play a major role in meeting the expanding food processing needs in the Santa Maria, California region.
One of the most unique factors of the project is the shared resources between the third-party logistics company (Lineage Logistics) and the food processor (Titan Frozen Fruit). The partnered facility gives Titan the benefit of a shared refrigeration system and having their refrigeration needs managed by onsite refrigeration expert Lineage Logistics.
The IACSC Built by the Best Award was created in 2016 to recognize members of IACSC, a Core Partner of the Global Cold Chain Alliance (GCCA), as the world's leading experts in building temperature-controlled facilities of all types. It was created by members of the IACSC Marketing & Brand Awareness Committee. In addition to Fisher Construction Group, 17 other IACSC member companies participated as subcontractors on the project.
Guimond will be joined by: Jim Romine, Senior Director of Engineering for Lineage Logistics, Dan Powers, Fisher President/CEO and Bill Langley, Fisher In-House Principal Architect, to conduct a keynote presentation about their project at the Opening General Session of the 36th IACSC Conference & Expo, taking place November 10-12 in Fort Lauderdale.
More information about the IACSC Built by the Best Award can be found online.
For more information on the 36th IACSC Conference & Expo please visit the website.