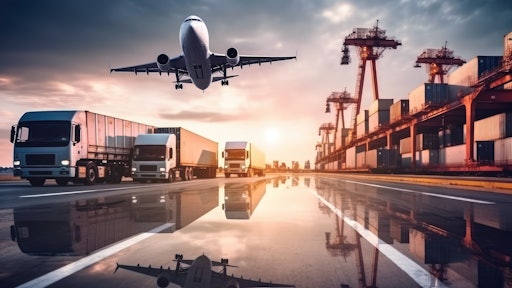 AKA-RA/stock.adobe.com
The transportation industry experienced an unprecedented surge in demand as the global economy adapted to changes post-COVID. Today, the world and the economy continue to evolve and the industry now finds itself in the midst of a 'freight recession'. This shift reflects the changing dynamics of global trade, consumer behavior and economic conditions, now hitting major players in the shipping space.
I'll spare the details that we already know: the pandemic hit, traditional supply chains were disrupted and in obvious fashion, the transportation industry underwent a remarkable transformation. E-commerce and home delivery services skyrocketed as consumers shifted their purchasing habits online, technology advancements were pushed to the forefront to improve capabilities and this demand for logistics services led to record profits, growth and creation from the companies in the mix. Fast forward 3 years later and the normalcy of life has somewhat returned, albeit much different than before, and now supply chains are feeling the squeeze from an economy and lifestyle that continues to toe the line of up and down.
Back in July, reports emerged that Yellow Corp., the third largest less-than-truckload carrier in the U.S., would announce bankruptcy, leaving at least 30,000 employees without work and a large payback to the government from the COVID relief funds. Recently, tales of government intervention have touted in a fight to keep the business going, extending payback terms in an attempt to solidify jobs.
In similar response to change, Convoy, a digital brokerage built on the heightened switch to technology in supply chain, announced closure last week. Though the alarm bells have been ringing since earlier this year, this closure has signaled the true nature of the business moving forwards as investments in trucking decrease and the population strategizes the use of technology coupled with human collaboration.
Eric Masotti, president of logistics at Trailer Bridge, says a key component of the digital brokerage model of Convoy was the idea of taking the human element out of the business, allowing for a lower SG&A when their business achieved scale. "Unfortunately, it underestimated the importance of people. I firmly believe the secret to being successful in this business is to combine a dedication to building relationships with technology that bring efficiencies to your partners," explains Masotti.
From Yellow to Convoy, and whatever comes next, it's clear that changes and challenges are ongoing. We can blame changing consumer behavior, supply chain adaptations, rising costs and ongoing economic uncertainties, but the blame game never really brings about a way forward. Instead, the search for solutions is on to ensure a resilient future for the industry and workforce.
Partnership, collaboration and a wealth of flexibility will be key to surviving and supporting the 'freight recession' —as it's been dubbed. According to Masotti, "we often say, 'relationships matter' and 'logistics is personal' in our marketing efforts and conversations, but it's not just a saying or catchy ad campaign; it is our heartfelt belief and how we approach each day," and this approach offers perspective and fosters unity that, clearly, the transportation industry so desperately needs right now.