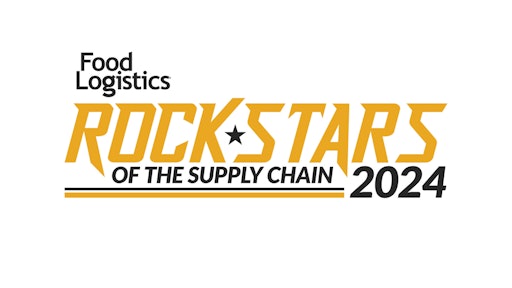 Nominations are open for Food Logistics' Rock Stars of the Supply Chain award, which NEW THIS YEAR, recognizes Top 100 influential individuals in four distinct categories within the cold food industry, whose achievements, hard work and vision have shaped the global cold food supply chain.
Food Logistics reaches executives in the cold food and beverage sector (growers, producers, manufacturers, wholesalers, packagers and grocers) and the logistics sector (transportation, warehousing, distribution, software and technology). If your company or your customers are a part of this reach, then you are eligible!
The key to a winning submission???? Answer in complete sentences, provide as much detail and information as possible, be sure to tell a story of the nominee's journey and achievements. There are no character or word count limits. Provide examples, be thorough. Those submissions with little information or incomplete sentences generally do not win.
"Supply chain rock stars are the backbone of the cold food chain. These professionals are the ones inventing, developing, creating, launching, executing and improving. They're the reason the cold food chain continues to combat disruption and maintain efficiency," says Marina Mayer, editor-in-chief of Food Logistics and Supply & Demand Chain Executive. "Get those nominations in so we can help honor and celebrate their achievements."
NEW THIS YEAR:
The Top 100 Rock Stars of the Supply Chain award is broken down into four distinct categories (select 1):

Top Warehousing Stars -- Recognizes professionals in the cold storage and warehousing space.
Top Shippers -- Recognizes professionals in the transportation space, including freight, trucking, rail, air cargo, ship/ports, etc.
Rising Stars -- Recognizes young or newer professionals (39 and under) whose achievements, hard work and vision have shaped the supply chain network.
Lifetime Achievement -- Honors company leaders who've made outstanding contributions to the supply chain space. Must have at least 10 years' documented experience in supply chain and logistics.
NEW THIS YEAR:
Each category will be limited to 25 winners (Top 25 per category) with (1) overall winner in each category. Those nominees not in the Top 25 of their category will receive an honorable mention distinction. Overall winners for each category will receive the highest-level promotional package, which includes:
Executive Profile in Online Article (Headshot & Bio)
Virtual Video Interview with Editor-in-Chief, posted to FoodLogisitcs.com.
Company Logo Placement in Overall Winner Interview – Scrolls Along Bottom of Video Player
Full Award Logo Usage
A Commemorative Plaque
Deadline for submissions is Monday, Nov. 27, 2023.
CLICK HERE to access the nomination form. CLICK HERE to view the criteria of this award.
And, CLICK HERE to preview the questionnaire.
CLICK HERE to check out some FAQs.
For questions, please contact editor-in-chief Marina Mayer at [email protected].
Check out previous winners here, including video interviews and more!