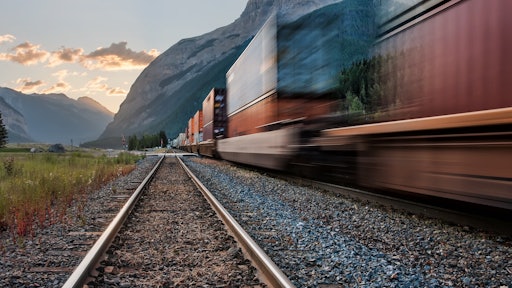 James Wheeler from Pexels
As one of the nation's oldest forms of shipment, rail has the capacity to move impressive amounts of goods nationwide throughout all hours of the day. While the world has modernized, the rail system is still such an integral part of the food logistics system, even during a world pandemic.
In this time of crisis, the rail sector is unable to shut down. The novel Coronavirus disease (COVID-19) has put a standstill on most of the world's economy, but consumers still need basic goods and agricultural shipments to live.
Rail, like many other parts of food logistics, has been categorized as "critical infrastructure," making companies who operate in this field an essential business. This allows these companies to continue operating despite stay-at-home regulations.
But, how are intermodal and rail operations able to stay safe and in business throughout all of this?
The difference is palpable. It is difficult to get anyone on the phone and secure interviews, as workers are stressed thin trying to manage shipments with limited personnel while others, whose jobs allow for it, work from home with little notice.
According to the Association of American Railroads (AAR), the industry has put numerous procedures in place to keep workers safe while ensuring the delivery of essential goods is possible. Employees are continually screened before shifts for any signs of the COVID-19. For those that do contract the virus and are unable to work, insurance coverage has broadened to allow for testing, telemedicine and assistance to help with the absence from work.
Rail and intermodal companies are also limiting group environments, moving meetings to virtual settings instead of in person and forcing any personnel that can to work from home. Many employees are also now permitted to use their personnel vehicles at times when they would previously need to use a work vehicle.
"The industry holds daily calls among cross-functional teams to share information and best practices to keep their railroad employees and their families — as well as the larger community — safe," the AAR said in a statement. "Railroads are also in constant communication with the federal partners at the U.S. Department of Transportation, the Department of Homeland Security and the White House as well as state and local officials on evolving public health developments and efforts to contain the spread of the virus."
While these employees are figuring how to operate in the "New Normal," like so many others, the sector is seeing an economic slowdown since COVID-19 hit the United Sates. A report from the AAR showed that weekly rail traffic saw a decrease of 11.8% of carloads and intermodal units compared to the same time period last year.
However, different sectors throughout the economy are impacted differently. For instance, carloads containing auto parts were down 70% compared to the same week the previous year. But, carloads with chemicals grew by 4.6% and petroleum grew by 3.5%.
"No consumer imports means no ISO boxes, which is 50% of rail intermodal volume," says Theodore Prince, chief strategy officer and co-founder of Tiger Cool Express. "Of the remaining 50%, domestic, probably one third is LA-Chicago, and of that 80% of the Eastbound is transloaded prior waterborne cargo, which is more volume loss. On the other hand, preponderance of o/o are in high risk for COVID-19 and are concerned about entering and exiting hot zones, which is good for intermodal."
Prior to COVID-19, intermodal may have already been experiencing a downturn. The Intermodal Association of North America's (IANA) Intermodal Market Trends & Statistics report showed that domestic containers fell 2.7 % from 2018, international shipments fell 9.1% and trailers were down 21.4%, which is the worst the industry has seen since the previous recession.
"We haven't seen full-year declines like these since the 2009 recession. Looser trucking capacity played a role on the domestic side of intermodal, while tariffs and tough comparisons to 2018 volumes affected international," says Joni Casey, president and CEO of IANA, in a statement. "A comeback could be hastened by a number of factors, including further resolution to trade issues, but it's difficult to predict that timing."
Modernizing the fleet
Like many other sectors of logistics and the cold chain prior to the pandemic, intermodal was looking to technology to modernize. Visibility has become a necessity throughout all aspects of logistics, but intermodal companies use it to create a more symbiotic relationship between truck and rail. By tapping into electronic logging devices (ELDs), rails can be better prepared for the exact timing that a trucked shipment will arrive.
For instance, project44 released an ocean-to-rail intermodal visibility.
"Collecting data from trucks is connected by ELDs, telematics and other IoT devices," says Raji Bedi, senior vice president, product management at project44, in a statement. "Unfortunately, these devices are not present on a majority of containers. project44's solution is able to produce an IoT-like experience without a physical device within the container and deliver on our promise of end-to-end visibility tracking."
Both government agencies and privately owned rail systems focus on more than just technological solutions to modernize the rail system--for them it's about updating the actual fleets and infrastructure. Reducing emissions and improving efficiency are some of the top priorities for rail operators.
The International Railway Association is one of many looking to cut its carbon footprint. In fact, it maintains hopes to cut railway operations by 50% by 2030 and 75% by 2050 and cut final energy consumption by 50% by 2030 and 60% by 2050, relative to a 1990 baseline. Doing so will modernize infrastructure, and fleets can help support this, estimating a 0.3-3% emission reduction in national transport by 2030.
In a post-COVID-19 future, it is unsure how the economy and the rail system will move forward. But, companies plan to keep their employees safe, while remaining in operation and eventually future proofing their operations.