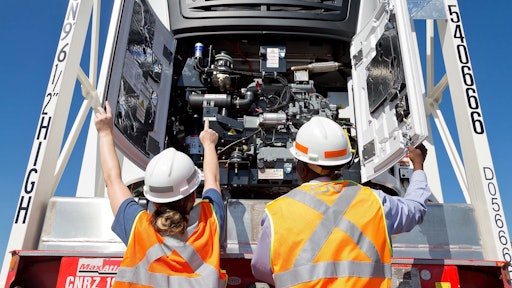 Over the last couple years, intermodal freight volumes have steadily increased. The Intermodal Association of North America reports that total intermodal volumes gained 4.7 percent in 2017. With fuel rates, labor challenges and the electronic logging device rule affecting the trucking industry, more shippers are turning to rail as part of their intermodal and overall supply chain strategy.
Food Logistics had an opportunity to speak with Kerwin Belle, commercial manager, cold supply chain for CN in Toronto, Ontario, as well as Todd Carter, vice president, domestic intermodal marketing for BNSF Railway in Fort Worth, Texas, about intermodal rail trends and shipment of temp-controlled food goods.
Service is paramount for shippers of refrigerated goods given the time and temp-sensitive requirements. How are you investing from a service perspective to attract and retain refrigerated shippers to rail, especially in the current market as shippers are looking at rail solutions to mitigate tight truck capacity compounded with rising fuel rates?
Kerwin: It's two-fold. First, we have been acquiring equipment each year since 2013. Our fleet currently stands at 720 and by the end of this year we'll reach 820. CN has been consistently buying a minimum of 100, 53-foot reefer containers to meet the growing demand that's coming forth
Second, is the focus on technology to record every minute a product is in our possession. We now have historical data if there's any temperature excursions or mechanical failures. It also allows our dedicated office team to examine real-time situations and react accordingly. All of this is part of our record $3.4 billion capital investment in infrastructure, equipment and technology. We are investing for the long haul, buying locomotives and rail cars, building new track and yard capacity and hiring hundreds of new conductors to serve our valued customers.
Carter: BNSF has invested more than $60 billion in our network since 2000, and we plan to spend an additional $3.3 billion in 2018. Of this year's planned spend, approximately $500 million is slated for various capacity expansion and efficiency projects. In recent years, we have strategically focused on investing at hubs across our network, including at facilities in key food and beverage markets.
Describe the advantages of using rail as part of a larger temp-controlled food intermodal strategy.
Kerwin: There's the obvious one around sustainability and green initiatives by replacing trucks on the road. We can power up to a 12,000 or 14,000-foot train with three locomotives that could carry a couple hundred containers. That could potentially remove 200 trucks from the road, per train start.
Rail also allows for more cost certainty. We're different from truck in that we don't redeploy resources based on seasonality. If you're a shipper that needs dedicated service, transcontinental from east to western Canada, or north to south from Canada to the U.S. or Mexico, we are running trains 365 days a year in that corridor.
Rail also is more competitive on longer hauls. Anything less than 500 miles and rail is challenging; however, the longer haul value is when we see many 2,000-3,000 mile runs. Over 500 miles - that's where the rates make sense.
Carter: Adding rail to a company's intermodal strategy gives its supply chain the broadest reach. Rail provides access to capacity, with one train capable of hauling the equivalent to hundreds of truckloads at once. BNSF's expedited transit services compete favorably with single driver, over the road trucking, and offer the ability to ship anywhere in the U.S. We also partner with the top refrigerated intermodal and motor carriers to provide seamless, consistent service.
What investments are you making in products and services that target temp-controlled food shipments?
Kerwin: It comes back to technology investments. Shippers need to know that a chilled load needs to run at 2 degrees Celsius or 34 degrees Fahrenheit over the length of haul on our network without a variance. We've tested equipment that allows someone from his or her computer in Ontario, Canada to remotely adjust the temperature of a unit that's in Mexico. That type of technology didn't exist 15 or 20 years ago.
Our containers are satellite equipped and GPS tracked. Thus, in this world of cellphone towers, we can tap in and send a message to the unit 5,000 miles away if the temperature needs an adjustment or to conduct a diagnostic if it's failing mechanically. We can pro-actively notify our pre-approved vendors or CN employees prior to arrival at destination.
Carter: In addition to our extensive capital investments, temperature-controlled freight moves on BNSF's expedited intermodal network. We continue to establish new service lanes so our customers have access to new markets within their supply chain. In recent years, we introduced two new service options that benefit our temperature-controlled customers: direct service from the Pacific Northwest to Texas and have expanded our reach into México.
How do you ensure that shippers have access to the right equipment at the right time?
Kerwin: CN's mainline reach spans 3 coasts, 15 ports and 23 terminals. I spend a great deal of time on network planning and development. We ask customers for a forecast (ideally a historical one) of what they did in March the previous three years. This enables us to reposition equipment in the key areas where customers are sourcing their product.
As we solicit customers and they approach us, we may not have service in specific regions. In these cases, we may have to partner with another railroad. Those are things we have to identify before we can make a commitment in terms of a long-term customer solution.
What processes have you implemented to support food safety and remain in compliance with the FDA's FSMA?
Kerwin: Anyone at the managerial level is required to complete FSMA training. Our drivers are constantly being updated on safe practices for loading. We have what's called a Pre-Trip Inspection (PTI) program. Prior to a driver leaving with a piece of equipment from any of our yards, they go through a pre-check and a checklist. Our 53-foot reefer containers must be washed, sanitized, debris-free and we follow FDA or USDA food guidelines on safe handling and storage of food product prior to arrival at the customer for loading.
There's also more senior managers who oversee the drivers to ensure this process and checklist in the yard has been completed. When a driver receives the green light to disengage from the terminal, there's someone to go through the checklist and inspect the unit.
Describe your focus on the cold chain and how that impacts the global supply chain.
Kerwin: We set up a program so that you receive a clean, food-grade piece of equipment at origin. Once the paperwork is stamped and the seal is applied, we're not going to touch that equipment (or break the original seals). We simply will load and unload it from a train and perform first and last mile services if requested.
CN extends our temperature-controlled service to our steamship line partners. We provide railcar gensets (CN owns 69 in total) to power non-CN-owned, 40-foot containers while on the train. These two large generators can power up to 17, 40-foot reefer containers. We call this service Intelligen as it allows us to record real-time plug performance, monitor temperatures and amperage, and retain historical data to understand any exceptions that may have occurred in transit.
We service 15 ports and 23 inland terminals. To prevent breaking the cold chain, reefer containers are picked up at the port and loaded directly onto our trains. Sixty-foot cables are used to connect those containers to our genset power supply. Thus, the unit is not reliant on its own fuel. This really allows CN to connect the global supply chain and provide produce and other temp-sensitive products to our customers 365-days per year regardless of seasonality.
Companies in this article