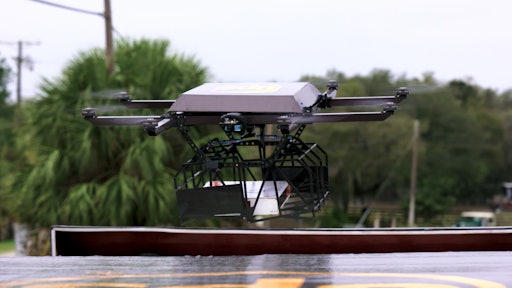 With the 2017 holiday season in our rearview mirror, companies (especially retailers) across the globe are looking closely at deliveries—what went well, what went disastrously and what we can all learn from delivering during the busiest time of the year. Some carriers struggled to process record high delivery volumes, and there's growing pressure for companies to meet the rising "need-it-now" consumer mindset. This, coupled with massive growth in e-commerce and online ordering, has led many companies to take a closer look at last-mile delivery: the final and most important leg of shipment that ends at a customer's door.
When materials and components routinely cross thousands of miles in their supply chain journey, it seems implausible that the final, short stretch of home delivery could pose a challenge. The last mile is historically inefficient, however, and can account for 40 percent to 50 percent of a company's logistics costs. Between continuously changing routes, rising fuel costs and the burdening cost of delivering individual items to distinct locations, it's increasingly important for companies to remain on top of innovative solutions that address delivery concerns, specifically as it relates to the last mile.
The final stage of delivery is the physical touchpoint between a company and their customers, meaning this final stage of the process has the largest impact on customer satisfaction and sets customer expectations for future interactions (e.g., How was the delivery process? Did the product reach the customer in time? Was it delayed? Is it damaged?). From the company's standpoint, the last mile also offers great opportunities to drive new efficiencies. This balance between customer satisfaction and delivery optimization has caused the last mile to be top-of-mind—and rightly so.
Reaching Customer Expectations—and Cutting Costs
From customer satisfaction to transportation cost savings, the final leg represents a chance for organizations to win over customer perception as much as it does for order fulfillment. Therefore, it's imperative that companies optimize last-mile logistics and understand current delivery innovations, while also remaining in tune with what emerging technologies will impact the final mile. Doing so makes all the difference in both overhead and customer satisfaction ratings––and smart companies are learning to get on board. Balancing cost to serve and customer delight is like walking a tightrope, as innovative technologies are often unproven, not standardized and require significant investment. However, through transparency, increasing trust with customers and partner suppliers, and proactive planning these efforts can fit hand-in-hand.
Transparency should be at the top of the list and an integral part of any shipping option. Many companies now offer consumers real-time updates into the status of a package. It not only provides companies with peace of mind, but also to customers who want to know: Where is their shipment currently? When will they be receiving it? Who is delivering it? All of this can often be answered with something as simple as the click of a button on a computer or smartphone, but this only happens with true collaboration between companies and their suppliers.
This extends into other industries as well. When you think of online shopping, grocery is hardly the first item you'd think to purchase online. However, it's projected that online sales of grocers could expand to $100 billion annually by 2025. Grocery retailers that offer online shopping often provide same-day delivery or on-site pick-up options. Yet the same concerns still ring true, leaving companies to cut delivery and transportation costs while also meeting their customer's demands and delivery expectations. Grocery adds another level of complexity, as the products can often come with certain requirements such as temperature-controlled trucks and packaging.
Keeping the customer happy is critical. However, so is quality and meeting budget. Enhancing and streamlining last-mile delivery is an important step, but investing in these innovations and the technologies to do so comes with a price. The pressure of needing to get shipments to customers eclipses the cost to make it happen far too often. For example, companies may do whatever it takes to get a shipment to their customer as fast as possible in an effort to meet the consumer's growing demands—regardless of cost. This results in a loss of a steady stream of profit. Companies should be able to tackle every mile (not just the final one) without worrying about wasted time, resources or hefty price tags. This is why companies need proactive attention when it comes to their last-mile approach.
Last Mile Innovations and Drone Delivery
As e-commerce continues to advance, there's a growing need for a more viable solution to deliver in heavily congested and confined urban areas. For these reasons, last-mile delivery becomes increasingly difficult in urban areas. Testing is in process with shipments delivered to a hub location via truck, with the last mile delivered via drone. In recent years, there has been a great deal of publicity about the use of drones in delivery. These rural, hard-to-reach areas are a good option for delivery approach.
While it's unlikely we'll see droves of drones delivering packages throughout neighborhoods in the next year or so, it is on the horizon. In the future, drones (and other innovative technologies) will be at the forefront of the supply chain and become a priority—and possibly a necessity—to remain competitive in the industry. Until then, there are hurdles to overcome. Clarification of Federal Aviation Administration (FAA) regulations and limitations of battery technology are the biggest issues currently holding drone technologies back and will need to be addressed before this last-mile delivery method becomes mainstream.
What Can Be Done…Now?
Despite these existing hurdles, the supply chain is changing and will continue to transform. As a result, the demand for last-mile delivery will continue to grow, even as fulfillment timelines lessen (on both the consumer and business side). Perfecting the last mile and continuing to address customer needs, while also understanding the current state of transportation and delivery innovations, is becoming increasingly important. Companies, supply chain executives and innovation leaders are all eager to address the challenges of last mile delivery and look to remain on top of growing innovations in this space.
GPS-enabled trucks, trains, boats and/or aircraft can automatically deliver real-time data to your customer. This visibility into the shipping process emphasizes a level of trust and transparency, directly addressing the customer concern. This also cuts down on customer service inquiries and frustration on the customer's end, making them more likely to return for future orders and recommend the brand. Customers may sometimes even choose to order from a specific e-commerce store due to their experience with visibility and quick delivery or vice versa. If a retailer is not transparent or is slow in their delivery, they may lose a customer.
IoT sensors that provide monitoring of environmental and security issues in transit can provide enhanced visibility on food and temperature sensitive materials. These devices continue to develop in reliability, feature set and cost efficiency. With configurable options such as how often the device reports the status of the shipment (which can be a single case or pallet), battery life can be prolonged and still provide the needed customer visibility.
Emerging technologies and ecosystems, such as blockchain, self-driving trucks and the sharing economy, will have a future impact on further enhancing the customer experience and last-mile delivery. In recent testing, Walmart reduced the time to track food items from weeks to minutes utilizing blockchain technology. This required trusted collaboration and resulted in higher traceability and transparency. With the rise of sharing, utilizing crowd-sourced delivery mechanisms (such as the mom on her way to soccer practice dropping off your shipment from the local grocer) provides greater diversity of options for the consumer around their delivery.
Technology alone can't perfect the last mile. Companies must also incorporate proactive planning, and route planning is a critical way to develop realistic delivery timelines and select the most efficient driving route before rubber ever meets the road. Just take UPS for example. By instructing their drivers not to turn left during their routes, the company saves more than 10 million gallons of fuel each year. The final mile is responsible for a significant part of a company's overall delivery costs, so it's simply a smart business practice to focus on and optimize it.
As we look to the 2018 holiday season (because it will creep up quickly), it'll be interesting and insightful to keep an eye on these last-mile innovations and trends. We can expect that delivery volumes will surpass this past year's, so it's up to companies to learn their lesson and address their growing customer demands, while also reducing transportation costs. Forward-thinking companies are already considering how to optimize operations to improve customer satisfaction while meeting (and exceeding) the customer's demanding delivery timelines.