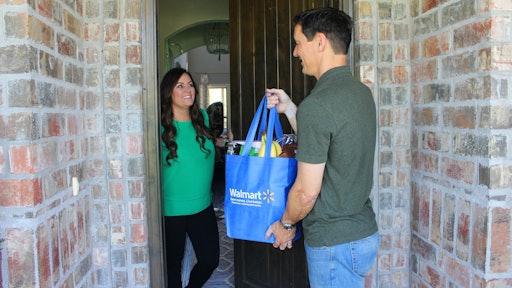 Walmart
Walmart has added four delivery companies to its team to help expand its online grocery delivery option. Point Pickup, Skipcart, AxleHire and Roadie will help delivery groceries in metro areas across four states.
"Customers love our Grocery Delivery service. AS they are busy managing jobs, soccer practice, dance lessons and social schedules we are on a mission to do more than keep a little extra money in their pockets," says Tom Ward, senior vice president of digital operations at Walmart U.S. "With the help of these new delivery partners, we're making grocery shopping even easier by bringing the everyday low prices of Walmart right to the front door of customers."
To use Walmart's delivery option, customers can place their orders online or on the existing Walmart Grocery app. After orders have been picked by personal shoppers, a member of the delivery partner's team retrieves the order from the store and delivers it to the customers' home. With its newest delivery partners and personal shoppers, thousands of customers will be able to shop for and have fresh groceries delivered to their doorsteps.
Companies in this article