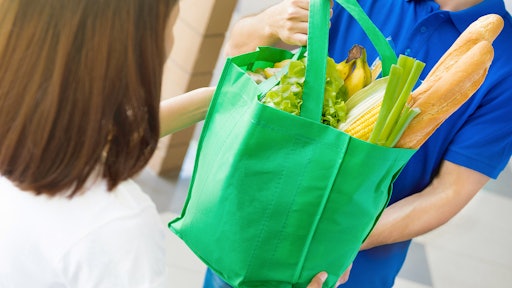 A recent study by Capgemini has found that 97 percent of retailers believe that existing methods of last-mile delivery options are not sustainable. Meanwhile, the food and grocery sector are playing catch up with consumer demand for better and faster last-mile delivery services while at the same time mitigating associated profitability risks.
The study found that three-fourths of consumers are willing to reward retailers who get the last-mile experience right with their loyalty and increased spending, meanwhile, at least 40 percent reported that having a delivery service is a "must" for food and grocery products. Though, last-mile delivery is the most expensive part of the supply chain, City Logistics reports.
At least 40 percent of customers are ordering groceries online each week, and that number is expected to reach 55 percent in the next two years. If a grocer doesn't offer a delivery service, 20 percent of respondents said that they are prepared to switch retailers. Fast and effective delivery increases customer loyalty, as the survey found that 74 percent of satisfied customers intend to increase spend by as much as 12 percent with retailers they frequently purchase from. Adding to that, 82 percent of customers have shared positive experiences with friends and family, allowing the company to gain more customers.
Meanwhile, the study found that there are profitable opportunities that come from automated last mile experiences. City Logistics reports that warehouse and product sorting represents one-third of supply chain costs, and recognizing this opportunity has 89 percent of respondents investing in the mechanization and automation of store back-rooms to expedite fulfillment and deliveries.
City Logistics reports that automation and technology solutions could help retailers improve profitability while meeting customers' delivery expectations. Having more back-room automation would reduce the cost of click and collect services and from-store deliveries, driving profits up by at least 14 percent.