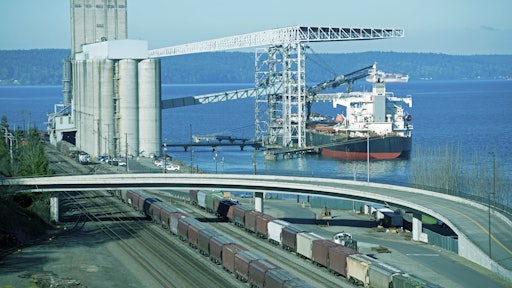 Agriculture imports and exports are a constant bright spot for U.S. foreign trade. Exports of bulk commodities such as wheat and rice continue to remain in high demand, while high value products such as dairy, meats, poultry, live animals, oilseed meals, vegetable oils, fruits/vegetables and beverages are growing in response to an expanding middle class and changing diets in emerging markets.
China is now the top export market for U.S. agriculture products, along with Canada, Mexico, Asia and Latin America.
The caveat is that while U.S. agriculture exports are growing, so too are non-tariff barriers in foreign markets.
In March, Robert Guenther, senior vice president, public policy at the United Fresh Produce Association, told the U.S. House of Representatives Committee on Agriculture that non-tariff trade barriers are a growing problem.
"As tariff levels have been brought down, there has been a corresponding increase in non-tariff barriers. Examples of non-tariff barriers include, but are not limited to, restrictive import and administrative procedures or product or processing specifications. Exports of commodities such as apples, pears, peaches, citrus and potatoes to countries including Korea and Mexico have been limited due to non-tariff barriers, among other examples," he said.
In 2012, China surpassed Canada as the leading export market for American farm goods. However, according to the U.S. Trade Representative's 2015 National Trade Estimate on Foreign Trade Barriers, "China remains among the least transparent and predictable of the world's major markets for agricultural products, largely because of uneven enforcement of regulations and selective intervention in the market by China's regulatory authorities."
Inconsistent practices by Chinese customs and quarantine agencies delay or halt shipments of agricultural products into China, states the USTR's report. "In addition, SPS (sanitary and phytosanitary) measures with questionable scientific bases and a generally opaque regulatory regime frequently create difficulties and uncertainty for traders in agricultural commodities, who require as much certainty and transparency as possible."
China's increased domestic subsidies for its cotton farmers as well as for producers of hogs and pork were also cited in the report. It's not just American pork exporters who are negatively affected, but beef and poultry producers are also feeling the impact of questionable SPS measures implemented by China's regulatory authorities.
Last year, for example, "China continued to block the importation of U.S. beef and beef products, more than seven years after these products had been declared safe to trade under international scientific guidelines established by the World Organization for Animal Health (known by its historical acronym OIE), and despite the further fact that in 2013 the United States received the lowest risk status from the OIE, i.e., negligible risk. China also continued to impose some unwarranted state-level Avian Influenza import suspensions on poultry. Additionally, China continued to maintain overly restrictive pathogen and residue standards for raw meat and poultry," the report states.
Taking advantage of GTM software
As globalization drives the expansion of U.S. agriculture imports and exports, the interest in global trade management (GTM) software is likewise growing. Simply put, GTM software helps companies improve sourcing and procurement, vet foreign suppliers, manage global transportation and streamline the import/export process.
Anthony Hardenburgh, vice president, global trade content at Amber Road, notes that food imports and exports are subject to a very complex regulatory environment, much more than existed 10 or 20 years ago.
"Something as simple as an avocado can have different duties based on seasonal rates," that can vary from country to country, he explains. This is in addition to other considerations, such as if it is organic or non-organic or if any chemical applications were used, all of which can involve several government agencies, resulting in more complexity.
Amber Road boasts an extensive team of highly skilled international trade specialists in 145 countries who monitor a variety of regulatory rules and changes for the agriculture sector along with many other verticals, including automotive, electronics, chemicals and pharmaceuticals.
This massive global knowledge is a competitive advantage for Amber Road and the company's GTM software, says Hardenburgh. Last year alone, the company performed 13.5 million updates to its software due to ongoing changes in trade regulations.
Nonetheless, "It's something that takes years to build because it's more than just a monitoring software. We've developed talent and built a team, and made sizeable investments in automation and automation tools. Our GTM is literally the culmination of tens of millions of dollars invested over a decade," he says.
And it's not just Fortune 500 companies who are candidates for GTM software, Hardenburgh says, but small- and medium-sized companies too.
Today's GTM software customers also demand service level agreements that facilitate quick turn times from customs agencies and other government agencies and exceptionally high levels of accuracy.
Customers are also savvier, observes Hardenburgh, which ultimately forces vendors to create higher quality software and truly demonstrate—not just say—that it delivers what it claims.
Furthermore, GTM software is getting more recognition from the C-suite than in prior years.
"Today we're increasingly reaching a different audience," says Hardenburgh. "CFOs are looking at the supply chain more holistically. They are interested in more than just compliance risk and transportation management. They're looking at free trade agreements like the TPP (Trans-Pacific Partnership) and others, they're thinking about duty drawback, and they're asking big questions from 'how does this impact my business?' to "how do I realize savings?'"
The trends away from manual processes to those that are automated are also driving business. In May, Marine Harvest ASA, the world's largest supplier of farmed Atlantic salmon, announced it had selected Amber Road's Restricted Party Screening solution to monitor its worldwide trading partners.
According to Amber Road, "With international authorities imposing more, and increasingly tough, trade regulations, Marine Harvest realized it was time to upgrade from manual to automated screening. In particular, with Russia specifically targeted for additional sanctions and security, the Oslo-based company moved quickly to boost its compliance assurance."
Johan Sorensen, manager of business systems at Marine Harvest, said, "Amber Road provides a straight forward and fast solution to screen our customers and suppliers, providing the security that we don't do business with anyone on a denied party list. Additionally, the U.S. banks we work with require us to screen our suppliers and customers in order for us to make use of their financial services."
Will The Thawing U.S.-Cuba Relationship Heat Up American Food Exports?
The recent move to begin dismantling decades-old trade and diplomatic barriers between the U.S. and Cuba is whetting the appetite for American agriculture exporters, but there is still much work ahead.
For one, the U.S. has lost market share to foreign competitors. Prior to the Cuba trade embargo, the U.S. was the biggest supplier of rice, but Vietnam is the top supplier today. Europe and Canada provide most of Cuba's wheat, despite the U.S. being the world's largest global exporter of wheat. Even U.S. poultry exports to Cuba, previously a star performer, are losing market share.
The overall losses are significant. During the first quarter of 2014, U.S. agriculture exports to Cuba were valued at $160 million. But so far this year, they've only reached $83 million.
To many of those involved in the U.S. agricultural community, the only way to effectively compete with foreign suppliers for a share of Cuba's $2 billion annual market is to remove the 53-year-old U.S. trade embargo against Cuba.
An executive with Cargill Inc., the Minnesota-based agribusiness giant and co-founder of the U.S. Agriculture Coalition for Cuba, says the opening of a new export market means a new source of revenue. Not only that, with Cuba a mere 90 miles away, American food shipments can reach Cuba much quicker than those from competing countries, said the executive.
The cash-only requirement imposed on Cuba by the U.S. also hurts U.S. agriculture exports. Typically, most purchases are therefore made by credit, with Cuba going to a third country for a loan. The additional bureaucracy and fees associated with this type of purchase dampens the attractiveness of buying U.S. farm goods.
Although recent developments aimed at improving relations between the U.S. and Cuba are promising, it's going to take more time before the U.S. agriculture interests reap the full reward.
For more info:
United Fresh Produce Association, www.unitedfresh.org
Amber Road, www.amberroad.com
Marine Harvest ASA, www.marineharvest.com
Cargill, Inc., www.cargill.com
41515676: iStockphoto US-Cuba handshake