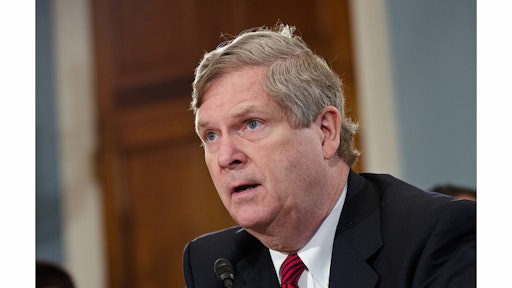 Agriculture Secretary Tom Vilsack announced that the U.S. Department of Agriculture (USDA) has recently reached agreements allowing U.S. beef and pork producers greater access to consumers in Mexico and Peru. The two agreements announced Friday will allow U.S. producers to export slaughter cattle to Mexico and expand access to consumer markets in Peru for U.S. fresh and chilled pork. The Secretary made the announcements during a meeting with producers in Des Moines, Iowa.
"Our priority at USDA is not only to open or reopen markets for our producers, but to help drive U.S. economic growth through trade by supporting and creating American jobs on and off the farm," said Secretary of Agriculture Tom Vilsack. "Mexico is an important market for U.S. cattle producers, with the potential to import $15 million of live U.S. cattle per year and we expect Peru's market could generate $5 million annually in additional pork sales."
The U.S. and Mexico reached an agreement that takes effect immediately and will allow U.S. producers to export slaughter cattle to Mexico for the first time in over a decade. The USDA has been working with Mexico since 2008 to reopen this market and the final agreement was reached between USDA Under Secretary Ed Avalos and Enrique Sanchez-Cruz with SAGARPA during meetings in Washington, D.C. Exporters and producers can find the required documents on the APHIS website or through their local Veterinary Services office.
Similarly, USDA has conducted extensive negotiations with Peru's Servicio National De Sanidad Agraria (SENASA) since 2012 to expand access for U.S. fresh, chilled pork and pork products. USDA's Food Safety and Inspection Service export library will be updated to the new export requirements for these pork and pork products exports.
"More than one million people go to work every day thanks to exports of American-grown products. Expanded U.S. agricultural exports mean more new jobs, but our farmers and ranchers will miss out on new markets for American products if Congress doesn't act on Trade Promotion Authority early this year and if we don't continue to build support for a Trans-Pacific Partnership with Asian nations."
USDA continues its push to eliminate all remaining trade barriers to U.S. cattle and cattle products stemming from past detections of bovine spongiform encephalopathy (BSE). USDA Animal and Plant Health Inspection Service continues to work with its trading partners to ensure any unnecessary requirements for U.S. origin beef are eliminated. The World Organization for Animal Health (OIE) considers the U.S. to have negligible risk for BSE. This is OIE's lowest risk category for this disease.
The U.S. Department of Agriculture continuously seeks opportunities for U.S. agricultural products and producers to expand access to overseas markets and contribute to a positive U.S. trade balance, to create jobs and to support economic growth. The past six years have represented the strongest period for American agricultural exports in the history of our country. In fiscal year 2014 American farmers and ranchers exported a record $152.5 billion of food and agricultural products to consumers worldwide.