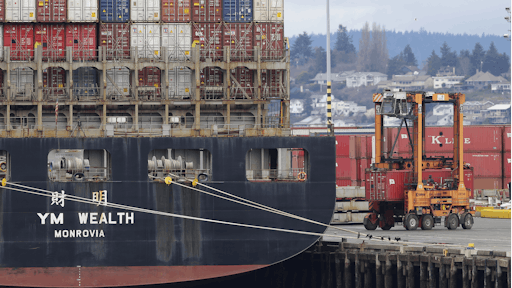 Ports are coming back to life along the U.S. West Coast after dockworkers resolved a nine-month labor standoff, though the cargo backlog from ships waiting offshore may take eight weeks to clear, according to Bloomberg News.
At the International Longshore and Warehouse Union's dispatch hall in Wilmington, Calif., about 1,500 jobs were posted for the night shift Saturday, compared with the usual 800 to 1,000, said Mondo Porras, the local's vice president.
"They've turned the fire hose on," Jon Slangerup, chief executive officer of the Port of Long Beach, said in a telephone interview. Both the Pacific Maritime Association and the union are "committed to digging out of this as quickly as possible," he said.
The five-year contract reached Friday after U.S. Labor Secretary Tom Perez imposed a deadline for a deal, averted a shutdown of 29 ports that would have cost the U.S. economy $2 billion a day. The strife had reduced productivity at West Coast ports by as much as half since November, with California citrus fruit bound for Asia spoiling on the docks, while carmakers flew in components at more than 10 times the cost of sending them by sea.
The West Coast ports, responsible for 43.5 percent of U.S. trade, have been operating at reduced capacity since late October as dockworkers slowed cargo and employers cut shifts.
Read the full story HERE.