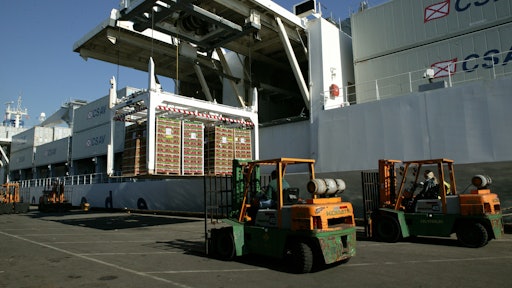 Two years after food shipments to West Coast ports slowed, the U.S. agriculture industry is hopeful that early contract discussions will not result in a similar scenario in 2019, according to an article in the September Food Logistics.
While ports in the New Orleans region dominate in the handling of bulk agricultural exports, the top five ports for containerized exports include Los Angeles, Long Beach, Oakland, Tacoma and Savannah. The top five ports for containerized agricultural imports are New York, Los Angles, Oakland, Long Beach and Houston.
"The ability to move products at all came to a halt entirely in 2014 and 2015 because of the West Coast port shutdown, resulting in millions of dollars in lost revenue for state growers," according to Chris Cargill, the East Washington director of the Washington Policy Center, an independent research organization in Washington State. "Fresh fruit and vegetables rotted at the 29 ports along the West Coast during the strike. Washington state apple growers alone estimated they lost nearly $100 million. Other Washington farmers and growers were hurt as well, as their products became worthless while awaiting shipment."
An analysis prepared for the Washington Council on International Trade estimates that in-state businesses lost approximately $769.5 million during the shutdown, and that doesn't include the global market share lost by growers, which may take years to recover, Cargill points out.
The U.S. Department of Agriculture commented on the effects of temporary closures in its report, "A Reliable Waterway System is Important to Agriculture," echoing Cargill's concern that agricultural shippers may find it difficult to win back customers following the West Coast port slowdown.
To read the entire article, click here.