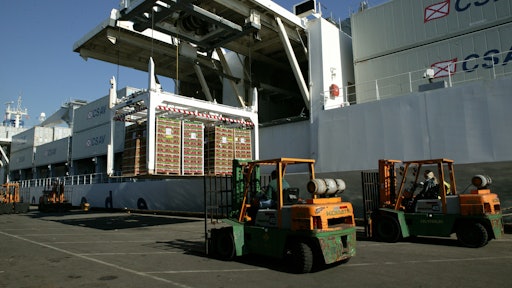 According to the U.S. Census Bureau, 73 percent of U.S. agricultural exports and 65 percent of imports were waterborne in 2014, which illustrates the integral role that ports play in the global food supply chain.
While ports in the New Orleans region dominate in the handling of bulk agricultural exports, the top five ports for containerized exports include Los Angeles, Long Beach, Oakland, Tacoma and Savannah. The top five ports for containerized agricultural imports are New York, Los Angles, Oakland, Long Beach and Houston.
The relationship between the agricultural sector and ports is highly interdependent—agriculture relies heavily on ports to help in the safe and efficient handling and transportation of commodities through key gateways. In turn, rising volumes of agricultural shipments, including temperature-controlled shipments, are driving business for ocean carriers and ports.
The agriculture sector is also a significant economic engine for states like California and Washington. Figures from the Washington Policy Center, an independent research organization in Washington State, show that agriculture adds $51 billion annually to the state's GDP and makes up 13 percent of the state's economy. Chris Cargill, Eastern Washington Director at the Center, notes that while Washington "is known for advanced technology and airplane production, the number of people working in both the growing and food processing industries surpasses 160,000—more than Microsoft and Boeing employment combined."
He adds that, "Without the ability to export, Washington's agricultural production would be severely limited. In 2014, the state exported more than $16 billion worth of food and agricultural products to people around the world, half of which were grown or raised in Washington. This included fresh fruit, vegetables, meat, wheat, seafood and dairy."
Japan ranks as the leading market for the state's agricultural exports, followed by Canada, China/Hong Kong, Philippines and South Korea.
Nonetheless, "The ability to move products at all came to a halt entirely in 2014 and 2015 because of the West Coast port shutdown, resulting in millions of dollars in lost revenue for state growers," states Cargill. "Fresh fruit and vegetables rotted at the 29 ports along the West Coast during the strike. Washington state apple growers alone estimated they lost nearly $100 million. Other Washington farmers and growers were hurt as well, as their products became worthless while awaiting shipment."
An analysis prepared for the Washington Council on International Trade estimates that in-state businesses lost approximately $769.5 million during the shutdown, and that doesn't include the global market share lost by growers, which may take years to recover, Cargill points out.
The U.S. Department of Agriculture commented on the effects of temporary closures in its report, "A Reliable Waterway System is Important to Agriculture," echoing Cargill's concern that agricultural shippers may find it difficult to win back customers following the West Coast port slowdown.
"U.S. exporters compete on the basis of world prices," stated the USDA. "Temporary closures and restrictions on traffic in harbors and channels due to flooding, drought, sedimentation, groundings, natural disasters, man-made disasters, slowdowns, strikes, and lockouts can lead to congestion, delays, spoilage, diversion to other modes and ports, higher transportation costs, and lost sales."
Furthermore, "Higher transportation costs can result in lower cash bids in interior markets. U.S. exporters may be unable to pass on higher transportation costs, as customers can purchase similar products from other countries."
During this year's 16th Annual TPM Conference in Long Beach, Calif., Perry Bourne, director of international transportation and rail operations for Tyson Foods, recounted the impact of the West Coast port slowdown on his company's chilled meat shipments.
"We've had disruptions at the ports before," he acknowledged, "but not like this." Tyson took a hit of over $80 million to its bottom line in the third quarter of 2015 because of the port problems and the resulting demurrage charges that Tyson accrued with its rail carriers. "The sad part is it really increased costs for the shippers and we had no dog in the fight; we were dealing with impacts that affected our business and yet we had no control over them," Bourne said.
ILWU, PMA to Discuss Contract Extension
The current contract between the International Longshore and Warehouse Union (ILWU), which represents about 20,000 workers at 29 ports along the U.S. West Coast, and Pacific Maritime Association (PMA), the industry representative for 78 shippers, marine terminal operators and stevedores, expires on July 1, 2019.
In August, the ILWU agreed to the PMA's request to discuss an early extension of the contract. Jim McKenna, president of the PMA, has indicated that a "logical" extension of the contract would be for three to five years.
He also appears committed to avoiding a repeat of the 2014-15 West Coast port slowdown.
"Negotiations are more visible now. There is pressure on both sides, and pressure does a lot to get things done," McKenna told attendees of the Agriculture Transportation Coalition annual conference in June.
Not surprisingly, agricultural shippers are hopeful the two sides can reach agreement on a contract extension.
A farm journal quoted Mike Steenhoek, executive director of the Soy Transportation Coalition, who said, "Such a contract extension will provide greater predictability of the supply chain for those industries, including agriculture, that depend upon West Coast ports."
In an August 15, 2016, post on the Midwest Shippers Association website, Steenhoek explained that while containerized soybean and grain exports were affected by the West Coast port slowdown, U.S. meat exporters that ship via reefer containers were hardest hit because the perishable nature of the meat cannot easily withstand supply chain delays.
Highlighting the domino effect that this had in the agriculture sector, Steenhoek noted that, "The domestic livestock industry is our most important customer. Any harm absorbed by the livestock industry will be felt by those soybean and grain farmers producing the food the animals consume. The West Coast port disruption was such an example."
The U.S. Federal Maritime Commission stated in its latest update, "U.S. Inland Containerized Cargo Moving Through Canadian and Mexican Seaports 2015: Diversion, Port Expansion, and Shifting Market Shares," that port congestion is a leading cause for cargo diversions. Admittedly, there are numerous factors contributing to port congestion, including vessel alliances and the resulting impact on terminals, as well problems with chassis availability. However, deteriorating labor relations like those that materialized at West Coast ports during 2014-15 contributed in cargo diversions to competing ports in Canada and Mexico, the FMC stated.
USDA's

Fast Facts:
U.S. agriculture is expected to contribute $16 billion to the U.S. balance of trade in fiscal 2016
Exports are forecast to reach $138.5 billion, while imports are forecast to reach $122.5 billion
Forestry and fishery products, and critical farm inputs such as fertilizer, feed, and fuel also move on the U.S. waterway system
Agriculture Secretary Tom Vilsack noted that every $1 billion in farm exports supports roughly 8,400 jobs
The U.S. exports approximately one-quarter of the grain it produces. On average, this includes nearly 45 percent of the wheat, 35 percent of the soybeans, and 20 percent of the corn