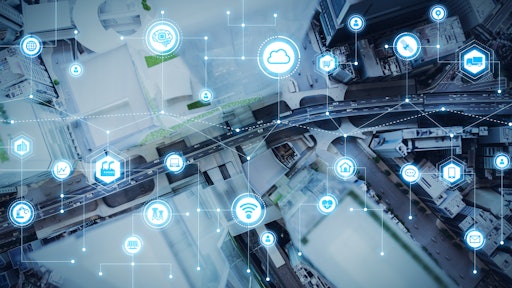 Getty Images
The New Silk Road will link China to the Middle East and Europe by intermodal rail and road, cutting the current 40-45 days of transit via sea freight to 16-18 days over land. However, the route traverses harsh terrain and severe weather as it snakes through parts of China, Kazakhstan, Russia, Belarus, Poland and Germany. Temperatures can reach minus 40 degrees Celsius in the winter—an unacceptable level for perishable goods that can range from foodstuffs to notebook computers.
"If you talk this type of transportation, telematics is one of the most important requirements," says Jan Koolen, managing director of Unit 45, an intermodal transport company.  
With telematics, logistics companies can monitor temperatures inside of containers and detect needs for engine and other truck or rail maintenance, so the right technicians and parts can be ready to effect a repair at the next stop—and know at any given point in time where cargo and transport vehicles are.
All are indispensable tools for goods track and trace. 
Protecting Perishables
"Food safety and loss are key elements that benefit from track and trace technology," says Krenar Komoni, CEO and founder of Tive, which provides supply chain visibility solutions. "It includes traceability and tracking from the producer to the consumer and is a vital safety component, given the fact that one in 10 persons in the U.S. will experience an episode of food illness this year." 
Christian Allred, senior vice president and general managener of global sales for IoT and M2M provider Orbcomm, agrees. Allred also places track and trace within the broader category of Internet of Things (IoT) accountability that sensors, software, equipment and mobile devices now provide. 
"Today, live data from hundreds of thousands of smart reefer trailers, containers, vans, pallets, packaging and other food chain assets is being used in domestic and cross-border operations to improve asset allocation, utilization and maintenance; drive scheduling and operating efficiencies; reduce cargo damage, waste and loss; boost visibility into delivery cycles; and enable safety, quality and regulatory compliance," says Allred. "Modern IoT devices don't only locate, they also sense and trace—everything from temperature to humidity to atmosphere composition to shock to tampering. Optimizing shelf life for perishables is of course one of the key benefits." 
Because IoT technology tracks and monitors the condition of refrigerated transport assets and their cargoes in real time, any deviation from the required temperature, humidity or other key conditions can be quickly identified. "This could be because a reefer unit wasn't plugged in, there was a machine malfunction, the refrigeration machinery wasn't set correctly, or the doors were left open too long during load/unload," explains Allred. "Hand offs are frequently the weakest links in the chain." 
In addition, because IoT monitoring and tracking enables companies to detect problems from afar, including remote adjustment of transport unit temperatures, damage and loss are also reduced. 
"Beyond shelf life, the ability to verify perishable cargo condition through the supply chain also has huge value for producers and retailers who are looking to validate food quality and safety and build consumer trust," says Allred. "And these days of course, shelf life might not even be in a retail store.
"Food e-commerce and home delivery are changing the fundamentals of food logistics and online shopping, and mobile apps are breeding more educated and demanding consumers who expect greater traceability, safety and sustainability," he adds. "IoT devices and sensors will play a key role in providing supply chain visibility right through from point of production to the end consumer."
Overcoming Adoption Hurdles
The best news for food supply chains and perishable goods is that the companies engaged with them have awareness of the need for track and trace and full supply chain visibility. However, it remains a challenge to fund the technology and business process changes that are needed. 
"Adoption today is far more a when, not if conversation for many traditional reefer transportation and cold chain players, whether over-the-road, intermodal or maritime," says Allred. "Food logistics is being disrupted by multiple external forces, and transportation providers are increasingly aware that they must have a digital transformation strategy in place to stay competitive. The past few years have seen some very large deployments across fleets that are tens or hundreds of thousands strong, as well as many small operators." 
Nevertheless, upfront costs are still a barrier in many organizations. Yet, this is an area where vendors can help, especially if they can provide flexible financing options. 
"Vendors can also help by providing ease of use for their platforms, help to companies as companies modify business processes, and the creation of business value and ROI for technology investments," says Tive's Komoni. 
Buy-in from throughout the organization is also essential. 
"When companies adopt a supply chain visibility, track and trace platform, they need to focus on how they can resource the project, and set it as a key priority across the supply chain," says Kathleen Marcell vice president of customer success at FourKites, which provides real-time tracking.
"If they wanted to really make an impact by using a visibility platform, they can't just have one team using it," she adds. "They would need buy-in internally across the organization—from their carriers and other stakeholders—and focus on how it impacts the organization as a whole…A visibility solution will uncover inefficiencies and operational challenges within an organization, but by itself, it cannot solve the issue. With the insights uncovered by the system, users can then modify their operations to maximize efficiencies across their supply chain. And to do so effectively, there must be buy-in and commitment to change across the entire organization." 
Current Track and Trace Issues
Track and trace technology is making inroads in food safety and food freshness and spoilage prevention. But there are still track and trace technology issues that the industry needs to tackle. Chief among these are improving battery life and durability for devices and achieving interoperability for companies that are using multiple vendors and systems. 
Improving battery life
Sensors and other IoT devices depend on extended battery life as they are deployed in or moving through remote locations where they can't be easily serviced. 
To improve battery performance, vendors are making telematics devices smaller and using rechargeable batteries, solar power and energy harvesting. 
"To ensure connectivity we use both satellite and cellular networks to ensure connectivity in even the most remote locations," says Allred. "We also implement robust designs that can withstand extremely harsh environments…If we can do this and deliver devices that are self-powered with solar recharging technology or low power consumption and long service life, we can eliminate the need for frequent battery changes." 
Interoperability
The slow evolution of common standards for connectivity and data exchange in the IoT world and proprietary operating systems by IoT manufacturers are two major setbacks for track and trace and supply chain automation.
The emergence of cloud-based platforms that can interoperate with many different types of IoT devices and sensors is starting to bridge the gap, however. These platforms are capable of collecting and aggregating data from many different IoT sensors, devices and systems—and bringing them all together on a common platform. 
"APIs and interoperability are crucial to avoid creating new data silos," explains Allred. "The IoT data ecosystem needs to allow users to integrate multiple smart devices and suppliers, plus other information sources, which is exactly what we are doing today." 
Taking Track and Trace to the Next Level
There are many companies that have aggressively adopted track and trace and full visibility of the supply chain with great results, yet others are lagging. Adoption still plagues small- to mid-sized companies because they often lack the internal expertise and financial resources to move forward. 
Yet, even for these companies, solutions like track and trace are becoming more affordable and easier to adopt. Smaller suppliers are also receiving mandates to adopt from key business partners and customers. 
For companies looking to enhance their track and trace and supply chain visibility journey, here are four key recommendations: 
1. Perform a feasibility study before implementing new technology
According to Tive's Komonil, a feasibility study doesn't require anything more than a small team. He suggests first evaluating "the systems you already have in-house. What are the holes you are trying to plug? Can you simply upgrade your systems, or do you need to augment or replace them?" 
2. Perform a proof of concept
The proof of concept begins with an RFI or RFP that you deliver to prospective vendors, followed by narrowing the field of vendors down to two or three, says Komoni.
"Be sure to evaluate the vendors not only for their solution, but for their 'fits' with the culture and systems of your organization," he adds.  
5. Thoroughly interview your prospective vendors
Accoridng to Allred, here are some questions you should ask prospective vendors:
What is your track record, scale and scope of operation?
What is your R&D budget?
How have you helped other users deploy and scale?
How have others deployed your solutions beyond simple track and trace?
What support services do you offer?
Do you offer a complete package of devices, software and network connectivity?
Do you have cloud and mobile apps?
Are your solutions interoperable?
4. Have a vision for where you want your technology investment to take you
"Companies need to glean insights from their raw data that allow them to make performance improvements across the board," says FourKites' Marcell. "The data provides a broad, comprehensive overview of their supply chain operations, but also gives them ability to drill down into specific data about facilities or distribution centers, and gives them a clear understanding of their operations."
Mary Shacklett is the president of Transworld Data, a technology analytics, market research and consulting firm. Prior to founding the company, she was vice president of product research and software development at Summit Information Systems. She may be reached at mshacklett@twdtransworld.com.