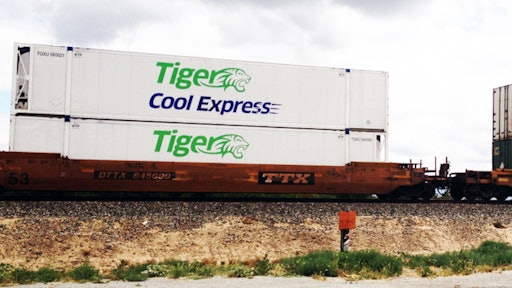 Union Pacific's acquisition of Railex LLC's refrigerated and cold storage distribution assets in January shook up the way the food and beverage industry looks at moving goods. The oldest form of transportation, rail freight has always played an important role in the supply chain, but a report, "Rail Freight Transportation Market in North America 2017-2021," released by Research and Markets in January, forecasts the market in North America to grow at a compound annual growth rate (CAGR) of 5.57 percent between 2017-2021.
The momentum is thanks in part to increased congestion on roads and highways due to inadequate infrastructure, making the transportation of goods over North American roads more difficult. The result is a delay in deliveries, high fuel consumption—and for the rail and intermodal sector—a flood of shippers making the switch to rail transportation as it has proven to be increasingly cost effective and reliable.
Taking advantage of this surge in rail transportation, startup Tiger Cool Express saw a gap in moving fresh produce, opening its doors in 2013.
"The business plan was designed around food stuff, specifically produce and processed foods, because produce was the last commodity that had very long lengths of haul because it is grown in places that are geographically and seasonally advantageous, but it is consumed where the people are," explains Tom Finkbiner, CEO of Tiger Cool Express. "It's grown in California, Washington and Mexico, and it is consumed in the Upper Midwest and the Northeast. It is the last commodity with a long length of haul—averaging over 2,000 miles—that the rails did not really address. It was our idea to fill that gap."
And though he agrees the condition of American roadways plays a part in rail's rebirth, he believes the growth rail and intermodal has seen in the food and beverage industry is largely due to the transportation mode's consistency of service, which stems, ironically, from the rail network's large investment in infrastructure over the last 40 years.
"The condition of the road service in the United States is poor, but the condition of the rail beds and the railroad lines is better than it has ever been," he says. "A steel wheel and a steel rail ride is much better than a rubber tire on a badly pitted concrete road."
The Association of American Railroads (AAR) estimates that from 1980 to 2016 the U.S. freight railroad system reinvested more than $630 billion, investing $26 billion annually in the last five years alone. It's important to note, however, that unlike alternative modes of freight transportation, which are maintained with taxpayer money, the vast majority of U.S. rail infrastructure is privately owned and preserved by the rail industry.
In 2014 and 2015, BNSF Railway Company, one the largest freight railroad networks in North America, made an $11 billion network investment, adding more than 200 miles of double-track, 875 miles of Centralized Traffic Control to help manage rail traffic, 18 new sidings and 25 extended sidings, as well as a $3.5 billion investment on its Northern Corridor route.
Last year, BNSF also completed a $100 million New Mexico capital plan, which included the construction of a new bridge and secondary track, effectively double tracking all but 4 miles of the approximately 2,200-mile Southern Transcon route connecting the West Coast to major intermodal markets such as Chicago, Dallas/Fort Worth and Kansas City.
The privatization of the railroad can be traced back to the deregulation of rail freight under the Staffers Act, which was passed by Congress in 1980. Free from government price setting, railroad companies were able to find new customers and charge higher prices if they could promise reliability. They set about investing in their infrastructure in order to provide it.
In the years preceding deregulation, the railroads' investment in physical capacity lagged the federal government's investment in roads, and much like we are seeing with our roads today, the industry was plagued by high rail congestion and unpredictable service.
Environmental Impact
According to the report by Research and Markets, one of the major drivers for this market is also the environmental efficiency of rail transportation. Compared with other modes of transportation, rail freight has a lower impact on the environment, and provides 55 percent more fuel efficiency. In addition, transportation through rail freight reduces highway congestion, which directly results in lower greenhouse gas emissions and pollution levels.
Energy efficiency and speed appear to be a significant factor in Union Pacific's acquisition of Railex, a refrigerated rail service and third-party logistics leader who will play a key role in Union Pacific's Food Network, transporting fruits, vegetables and other temperature-sensitive cargo across the United States.
"The Railex team developed a fantastic business changing how fresh food arrives on America's tables, offering food shippers fast, reliable door-to-door rail based transportation solutions," says Brad Thrasher, vice president and general manager—agricultural products at Union Pacific, in a news release. "The integration of their highly efficient cross dock facilities and logistics capabilities into Union Pacific's broader Food Network allows us to offer our customers increased access to a wider range of capacity and service solutions in a rail-centric cold chain."
Union Pacific Food Trains directly serve Railex's Delano and Wallula facilities, located in the heart of major agricultural production regions. The Food Train network provides a fast and reliable service from these growing regions to the Midwest consumer base via Chicago and further into the heart of the Northeast region via the CSX.
Cost is the most obvious benefit of rail's efficiency, but not the most important, according to Finkbiner. "Steel wheel on steel rail is the most efficient form of transportation, so you have a definite price advantage. But secondly, you have an environmental and safety advantage."
Finkbiner adds that "on a CO2 or fuel basis, intermodal is 4 to 1," meaning you use 4 gallons in the trucking business to every one in the intermodal business to move traffic on a comparative basis.
Gaps Left to Fill
Railroads carry huge amounts of corn syrup, french fries, canned goods, fresh fruits and vegetables, corn and soybean oil, frozen chickens, sugar, beer and wine, pasta, as well as nonperishable food items such as corn syrup, flour, pasta and canned goods. In fact, approximately 258,000 loaves of bread can be made from a single railcar of flour, according to the AAR, who also note that, each year, railroads carry tens of thousands of carloads of flour to bakeries all across the country.
Additionally, they carry several hundred thousand carloads of soybean meal, dried distillers grains, and other types of animal feed and pet food. The AAR reports that in 2015, U.S. Class I railroads carried 1.4 million carloads of grain—5 percent of total rail carloads—or 139.1 million tons.
Despite these numbers and its growth in the last few years, railroads are still far from the food and beverage industry's favorite mode of transportation, facing strong competition from trucks and barges to carry grain. According to USDA data, the truck share of total U.S. grain transport was over 60 percent in 2013 (most recent data available), compared with just 25 percent for railroads and about 10 percent for barges. Railroad revenue from grain in 2015 was almost $5.3 billion—7.5 percent of total revenue.
Unsurprisingly, the Research and Markets report states that one of the major factors hindering the growth of the market further is increase in rail freight congestion. Increased transportation of freight volume of commodities across the United States and the growing trade activities between the United States and Mexico have resulted in an increase in the volumes of freight being carried across railroads. This has, in turn, resulted in increased traffic on the rail freight lines.
A gap also exists in the length of haul, Finkbiner says. Somethings he doesn't see changing anytime soon because of constraints in service and geography. But if people are able to understand those challenges and the requirement so what they are shipping, significant cost savings can be had using rail freight transportation.
"Using rail, intermodal or a box car is different from using a truck, and people need to understand that. It's not difficult, it's just different," Finkbiner explains.
"If people recognize the differences and utilize it properly, they can get a better quality delivery at a lower cost to them, and that really is what everybody is looking for," he adds.
For example, a supermarket warehouse or buyer, purchasing fruits and vegetables wholesale and distributing them locally, needs to be aware the shelf life of each item. Onions, potatoes and carrots have a long shelf life, with 30-plus days per item. Then you have some intermediate shelf-life items, at about two weeks or more. Those are things like stone fruit, grapes, celery and Brussel sprouts. Lastly, you have really short shelf-life items (less than two weeks), which is anything that looks like a berry, cherries and leaf like items like lettuce.
"In the past, rail service wasn't fast or consistent enough to haul that middle commodity, but as the service gets faster and more consistent, there are significant savings to be had in that area. I don't know if you would ever put a container full of cherries with a value of $4 or $5 pound wholesale on a rail container, though."
Average transit from the Pacific Northwest to New England is 6-7 days in a rail car. Normally those types of commodities are hauled by team drivers—that is two drivers in the cab that alternate. A team can deliver cross-country in two or three days.
Finkbiner notes rail works best for anything with a long length of haul. "Currently with the very low cost of trucks, rail really works best over 1,500 miles in length of haul," he adds.