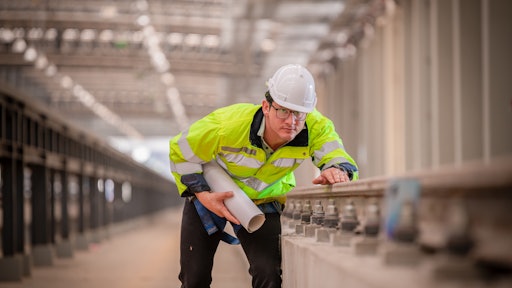 APchanel/adobe.stock.com
There is no doubt across the freight community in the fallout from COVID-19, there remains a significant demand for improved efficiency and operation control. Heading into 2023, concerns about freight rail service are already setting off alarm bells including a narrowly avoided strike with a supply chain running on life support. The problem is so severe that CNN recently reported, "Many of the problems tangling up the supply chain, driving up prices and slowing the economy can be traced to the steady decline in freight rail service in recent years." Operational control and efficiencies remains an obstacle for much of the industry. Innovations rise to meet challenges and bring new technologies to help transform freight rail and American infrastructure.
It is no secret that rail systems across the United States have been falling behind their global and European counterparts for decades. Even for something as rudimentary as Wi-Fi, the current bandwidth aboard American trains continues to fall well short of customer demand across the country offering only limited browsing services and is further impeded by regular disruptions in coverage and connectivity. But thinking beyond customer rail, freight runs on networks and relies on high-speed operations to run smoothly and correctly. Having access to reliable gigabit broadband along the wayside, loading stations and on-board trains would enable these services and allow for freight to potentially leap ahead of rail in Europe.
The reality is that freight rail cannot wait for the long overdue investments necessary to deliver the broadband capacity it needs to meet its latent demand now and in the future.
The current issue with rail systems
One proven solution designed specifically for railways is rail-5G, a safe, wayside internet network for trains, stations, staff and communities. A series of poles and antennas are mounted along the track to ensure direct line of sight and 100% coverage for an "always-on" connection, whether the train is in a tunnel, crossing a bridge or in deep countryside. Rail-5G requires no profound structural changes for deployment to the railways and can be deployed on existing infrastructure. The beamforming antennae can be deployed on self-powering poles to give operational systems, railroad assets and passengers access to an average of 1Gb/s, or more, of continuous connectivity expanding the operational capacity. Rail-5G is currently the world's first and only solution deployed on operational railways, capable of delivering over a gigabit of bandwidth and being solar-powered as the most cost-effective technology that is wholly dedicated to the railroad. While rail-5G is being deployed in Europe on commuter and highspeed rail, it will soon be deployed in the United States where the same concept is applicable for freight and should be considered in tandem.
This technology and fully integrated solution were born out of a desire to finally meet customer demand to drive reasons to use rail. But this innovation can equally be scaled to best meet the needs of freight rail. Having already successfully deployed rail-5G in the UK and Spain, it is no longer an issue of capability but cost and having been developed by rail experts for the railroad, rail-5G has been designed to be a fraction of the cost of mobile data services. Compared to traditional mobile providers, rail-5G offers a new way of looking at gigabit connectivity to power Wi-Fi along train routes. Along with access anywhere for additional safety, operational system, station Wi-Fi and poorly served local communities. This will be a game changer for freight rail, where their operation capacity and automation can rely heavily on access to broadband networks and perform seamlessly at the same time.
Future plans that will help with rail issues
Knowing that the technologies we use today are often locked in for decades to come, evolving with the times is critical for all industries, including rail. Part of that evolution is also ensuring that new innovations are not harmful to the future of the planet. Much like American car companies have long started shifting focus from gas to electric-powered vehicles through global collaboration and technological innovation, the time has come for the decarbonization of the railways, to make the shift to sustainable and net-zero compliant infrastructure and technologies. As the United States begins implementing President Biden's Infrastructure Package and transforming its rail systems, there will be both an opportunity and a need for an innovative, globally collaborative and sustainable connectivity solution for American railways.
Modernizing America's infrastructure means futureproofing its technologies for generations. Rail-5G offers a solution for decades to come, and the deployment of digital infrastructure that will support the railroad long into the future. Rail-5G was designed specifically for the railroad and architectural simplicity to ensure its exceptionally low maintenance, as much for safety as reduced cost. It comes with proven safe installation methodologies and techniques such that it can be added to routes without causing major service disruptions, cutting both time and costs for a strong return on the investment.
Rail-5G has the potential to revolutionize transportation for both the consumer and freight rail. As the United States modernizes its infrastructure, and with it its telecoms, rail-5G is a formidable solution that ticks all the key boxes of sustainability, deliverability, affordability and maintainability to meet industry and customer demand for years to come.