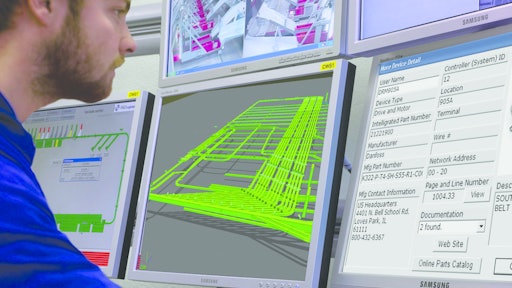 In the warehousing industry, it's all about handling more products and doing it faster. Automation tools, including palletizers and picking systems, are a great way to stay on top of these demands.
Why automation? It's the obvious go-to solution for the proliferation of SKUs. And, it also addresses the need for faster shipment turnaround, which ultimately keeps the end customer satisfied. Automation also maintains order accuracy—an important aspect for safety (particularly with food and beverage products) and controlling costs.
Although automation is a crucial tool for meeting various demands, it can be further improved when paired with software solutions such as a warehouse management system (WMS) or a warehouse control system (WCS). These software solutions work in tandem with automation to keep track of products inside the warehouse, which in turn enhances a warehouse manager's visibility of the overall operations.
Benefits of integration
There are plenty of good reasons to integrate a WMS or a WCS system with automation. One of the biggest benefits is having the ability to see where your products are at all times in the warehouse. A warehouse control system, which is essentially the central control system for the entire warehouse, can give a food or beverage company real-time communication with their automation equipment and more.
"A warehouse control system has visibility into everything," says Greg Cronin, executive vice president of Mason, Ohio-based Intelligrated. "That visibility can be provided to the supervisors and management so they can better balance a facility and know where to put their resources."
A WCS system also allows users to view multiple facilities at once and in real time. This makes it easier for warehouse managers to react quickly to a situation that materializes at any one of his facilities.
User-friendly WCS solutions make it easier for warehouse managers to manage complex automation systems. Having the ability to see where products are at all times makes it possible for warehouse managers to provide the best routing options for products, which boosts efficiency in the warehouse. Ware house control systems are often integrated with warehouse management systems to facilitate data exchange and further enhance control of the facility.
Warehouse management systems can help a food or beverage company efficiently automate their reordering process, among other things.
"What you want is your 'first in, first out' [method] so that your shelf life is preserved," says Steven Hawkins, director of automation for Jacksonville, Florida-based Stellar, a global engineering firm with many projects in the food and beverage industry. "You can track this through the entire process."
Similar to WCS systems, WMS systems also provide enhanced visibility inside the warehouse. A warehouse management system facilitates and manages the warehouse workflow of function such as picking and packing. Warehouse management systems also provide management with better inventory accuracy.
In order to monitor the activities in the warehouse, WMS systems often use technologies such as Auto ID Data Capture (AIDC) and Radio Frequency Identification (RFID). These technologies collect data on the food or beverage products in the facility and sends it to a computer system. RFID technologies are used to track and trace specific products or shipments.
When the WMS is integrated with automation, a warehouse manager gains full control into how the automation equipment is performing.
"The warehouse management system gives you entire visibility to what's happening in the warehouse," says Chad Collins, chief marketing officer of Colorado Springs, Colorado-based Accellos. Although integration between automation and software solutions like WCS and WMS clearly offer benefits to a company, there are also some challenges as well.
Challenges with automation and software
There are some challenges that should be understood when integrating automation equipment and warehouse software. For one, automation tends to make a warehouse more static, which can be a challenge if products are constantly changing.
"We see a lot of customers who have a lot of changes in their distribution centers," says Collins. "Although they could get some benefits from automation, they stay away from it because it really limits their flexibility."
In order for a food or beverage company to fully benefit from automation, the facility and operations need to be properly and fully evaluated beforehand. Although automation equipment may make a warehouse more static, the advantages of using automation, e.g. improving performance, can certainly outweigh the downsides.
There are other challenges with integrating automation and software, too. Since most warehouse management systems are designed for a particular purpose, it also has to correspond with the automation from a comprehensive integration standpoint. A food or beverage company should review various software options in order to choose the best solution that complements the company's automation equipment.
Meanwhile, another potential barrier is the upfront cost of the automation equipment, which can be pricey. Although automation equipment can sometimes present a financial stretch for some companies, the financial benefits are substantial, starting with managing labor costs, training, and other personnel issues.
Equipment breakdowns, while infrequent if maintained properly, can be devastating to a company's operations, especially in a just-in-time environment.
"It can bottleneck if it goes down, so a good portion of your operations are stalled until you get that fixed," says Chuck Fuerst, direct of product strategy for Minneapolis, Minnesota-based HighJump. However, "You can have downtime with any of your existing labor forces as well."
Software differences
With a number of options to choose from, which warehousing management system is right for your operations?
According to Accellos' Collins, "We're really unique in that we focus on small to midsize businesses." The company's WMS solution—AccellosOne WMS—is specifically designed for companies with less volume and complexities in the warehouse. AccellosOne WMS, which manages data such as order accuracy and shipping accuracy, is able to remain up and running with minimal IT resources.
RedPrairie's on-demand warehouse management system, like that offered by Accellos, is also geared towards small- to medium-sized businesses, but can also work well with larger businesses with more complex needs. The on-demand solution provides visibility for warehouse inventory and also helps to ensure food safety and quality control.
Giving the customer the ability to customize their solution is key to HighJump, and their solution does just that. HighJump's solution is also offered in 9 languages that include: Czech, Dutch, English, French, German, Italian, Japanese, Portuguese, simplified Chinese, and Spanish.
Finally, Intelligrated's WCS system allows customers to drive operations at a faster pace. Their WCS system provides an easy to understand user interface on their Route Manager system and offers intelligent routing options to increase overall efficiency.
Looking forward
As the software market continues to mature, software companies are looking to find ways to refine and improve their warehouse solutions. Enhancements in technologies such as RFID, bar-coding and other sensor technologies are happening concurrently.
"The Food Safety Modernization Act (FSMA) and product traceability initiatives require us to track data at a very granular level," says Tom Kozenski, vice president, product strategy, at RedPrairie. "That creates new needs for the market."
According to industry experts, RFID and sensor technologies will be placed on products in order to let companies know the exact status and location of each product. These technologies can give important information to companies, such as the temperature of a product and when that product is set to expire, which is important for tracking and traceability initiatives.
Industry experts also see the use of automation in food and beverage warehouses continuing to rise. The evolution of automation systems will continue to become a more adaptable solution for food and beverage companies. With an increasing adaptability in automation this gives food and beverage companies a competitive advantage for their business by selecting the right equipment for their warehousing needs.
Along with the ongoing growth in automation, improvements in environmental controls are also on the rise. According to Stellar's Hawkins, Stellar has customers in the Western U.S. who are looking into solar panels in order to decrease their energy costs; others are looking into better insulation in the warehouse.
Mobile capabilities are also becoming more sophisticated. And, being able to have access to a WMS or a WCS system via a smartphone or tablet is a convenient and flexible way to keep on top of your warehouse operations while on the go.
Companies in this article