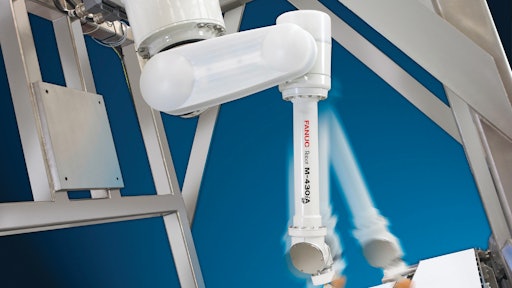 The implementation of robotics in food and beverage facilities yields various benefits that can lead to a higher throughput and a decrease in expenditure beyond labor savings. Robotic machinery can help to alleviate warehouse workers from challenging tasks. Understanding the key trends and benefits of robotics can help potential customers decide if robotics are right for their needs.
According to industry experts, the robotics market in the food industry is steadily growing. One of the most recent causes for this growth is due to the passage of the Food Safety Modernization Act of 2011 (FSMA).
FSMA's influence on robotics
The Food Safety Modernization Act of 2011, which focuses on preventing food contamination, has had a noticeable impact on the robotics industry. In a manual operation, there is a higher chance of data errors in relation to tracking tainted products. Companies that utilize robotics systems in their facilities are better equipped at tracing potentially contaminated perishable items and preventing further contamination.
"There's a lot more attention being paid to food safety," confirms Dick Motley, senior account manager, national distribution sales of Fanuc Robotics, Rochester Hills, Michigan. "You can get very accurate production counts out of a robot and understand exactly what it handled."
Since robotic automation knows where all of the products are at all times, it also enables a company to more quickly and easily quarantine contaminated products.
"If a particular case of product is tainted you have to trace it back to its origin," says Bill Torrens, director of sales and marketing at RMT Robotics of Grimsby, Ontario, Canada. "Not only in the building facility, but the original manufacturing machine that perhaps tainted the food."
A number of benefits
Robotic automation offers a number of benefits to the food and beverage industry. One of the biggest is the ability to produce a higher throughput velocity. Since robots never tire, they are able to manufacture at a faster and more accurate rate in comparison to manual labor. Robots also handle products more precisely, which can lessen product loss due to damage.
Another advantage is a reduction in labor costs, although according to Torrens, there may be some confusion on this point.
"What's really happening is a proliferation of SKUs," he says. "The change in SKU proliferation has facilitated a change in the warehouse and now the warehouse has to adapt to this."
This explosion in SKUs can cause much congestion along with a decrease in throughput in a facility. In order to address the congestion issue, the tireless nature of robots alleviates the problem and can help a company easily adapt to an increase in SKUs. When aided by robotic machinery, the effective management of growing SKUs actually allows companies to offer a higher variety of products, which ultimately results in an increase in customer satisfaction and other benefits.
Furthermore, the ability for a robot to switch between handling products is another benefit in robotic automation. Robots are also built to operate in various harsh environments, such as extreme cold. With the assistance of the robot, warehouse workers are no longer subjected to extreme environments in the workplace and are therefore much safer.
There are various types of robotics systems, such as robots that pick individual products or robots that palletize products. The robotics industry offers more than just palletizing and picking robots in the food industry.
"There are applications where the robots are performing cutting operations on different meat products," says Fanuc's Motley. A robotic cutter can provide consistent productivity, decrease workplace injuries while also reducing food contamination. Furthermore, robotic cutters are more efficient in minimizing waste in comparison to manual cutting.
When considering any robotics system, it is imperative that a company checks to make sure sanitary standards are at the highest level in order to prevent contamination. Robots that are useful in the food industry should be able to withstand an acidic and alkaline wash down in order to prevent the robots from rusting and to prevent the growth of bacteria. These robots are generally in accordance with a protection rating of IP 67, which means that the robot is dust proof and protected against sporadic submission in water between 15 cm and 1 m.
U.S. Department of Agriculture (USDA) approved robotics equipment meets the standards of sanitary design, which further decreases the risk of contamination and will ensure the ability to safely sanitize equipment.
When it comes to flexibility, many robotics systems can be mounted in many different positions such as ceiling, floor or wall mounts. This feature increases the robots usefulness in tight facility spaces.
"Robotics automation in the warehouse actually performs a significantly higher throughput per square foot than any other technologies, manual or otherwise," says RMT's Torrens. "You could process twice as much product in half as much space."
Future expectations
As robotic technology matures, industry experts agree that robots are getting a lot more sophisticated and more accommodating to food and beverage customers. One of the latest advancements allows robots to "see and feel."
According to Stuart Cooper, vice president of sales at Flexicell in Ashland, Virginia one example includes advances in integrated vision, which helps assure robotic guidance. The latest vision system innovation is hyperspectral imaging that can see more than the human eye can see because it has the capability to observe a broader range of wavelengths.
Robotic fore-sensing, which gives a robot the ability to feel, is another technological advancement.
"That's more in the developmental stage, but I see that becoming a bigger part of robotics going forward," says Fanuc's Motley.
Industry experts say higher safety developments are another key area that will get more attention in the future. For instance, Fanuc's Dual Check Safety (DCS), which can help monitor robot speed and avoid hazardous situations, is an important step toward a safer work environment.
With the use of the DCS program, Motley says it's "more reassuring, more user-friendly and more comfortable for the operator to understand how the robot system works."
Ultimately, this will help take away the intimidation factor of handling a robotics system, he points out.
Companies in this article